A recipe with a difference – have you tried horse meat?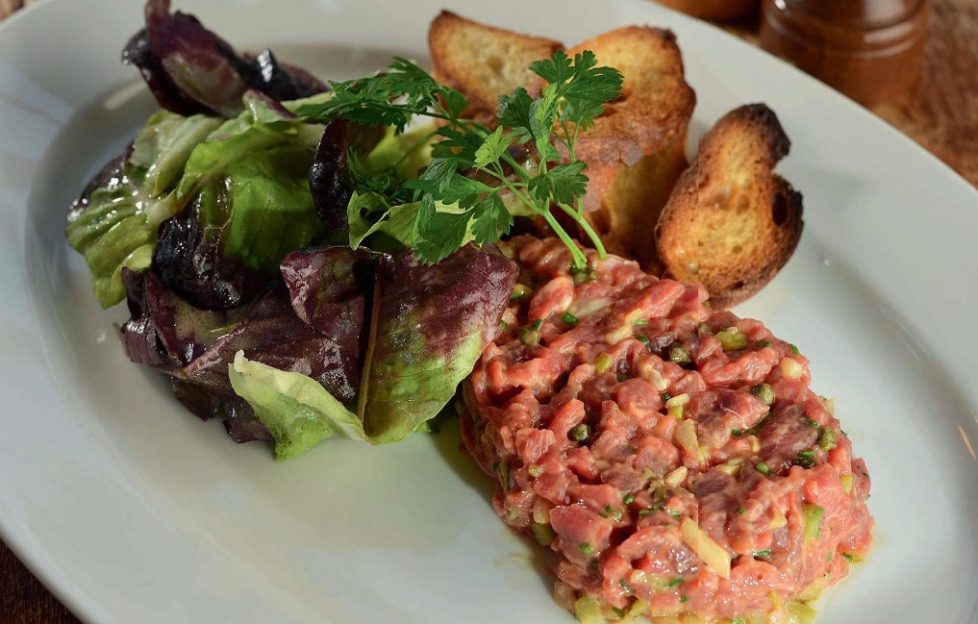 Tartare d'onglet de cheval (serves four)
400g horsemeat hanger steak
1 onion/shallot, peeled and diced very finely
half a clove of garlic, crushed
2 tbsp of finely chopped
2 tbsp of finely chives
2 tbsp of finely chervil
2 tbsp of finely tarragon
ketchup
olive oil
tabasco
Worcestershire Sauce
baby capers
chopped gherkins
salt and pepper
1 egg yolk
Tips: One or two tricks for any steak tartare: the meat and the rest of the ingredients should only be mixed when you are ready to serve. Do not mix and then place it back in the fridge.
The meat should be as fresh as possible. I use hanger steak as I love the texture – it is a meat with a little bit of resistance, not too tender, and perfect for tartare. We have served steak tartare at the restaurant since we opened in January 2009. Horsemeat was introduced early in 2010 and has been a success from day one.
Method: Cut and dice the meat by hand using a very sharp knife. The size of pieces is up to you - either very fine or slightly larger dice. Set the meat aside in a mixing bowl in the fridge while you prepare all the other ingredients.
Chop the remaining ingredients and place them all in the large mixing bowl with the meat. Season well with salt and pepper, add the egg yolk and mix using a large wooden spoon. Mix well for a couple of minutes and taste it. Season again and taste again until you've got it right.
Serve with croutons, a green salad and sautéed potatoes.
Variation: You can keep the ingredients separate in little dishes so guests can help themselves and add as many or as few as they like.
Notes: I buy my horsemeat from a farm in the Franche-Comté area of France. The Percheron and Compté horses are bred for their meat, helping to sustain the rare breed. I have seen it on sale in Edinburgh, at George Bower in Stockbridge (www.georgebowerbutchers.co.uk).
Remember that the quantities stated in the recipe are only a guide – you can make your tartare to suit your own personal taste. You can use other meat, such as venison, duck, beef or rosé veal.
Recipe © Fred Berkmiller | https://www.lescargotbleu.co.uk/
When Fred Berkmiller first suggested putting horse meat on the menu in his Scottish restaurants 20 years ago, he was laughed out of town.
Now his customers can't get enough of unusual cuts of meat.
'If I'd tried to serve heart, horsemeat or lambs' testicles in the 1990s, I would have been told no chance,' says the French chef.
'But the whole country is fed up of prawn cocktail and avocado followed by a fillet steak. They want real food again. Food is your fuel and also your way of life. People want to enjoy life again.'
Like rabbit, which came back into fashion in the 1990s, horsemeat is enjoying a renaissance.
This was partly propelled by the horsemeat scandal of 2013, where beef burgers were found to contain cuts of horse, highlighting the low quality of processed meats.
In fact, horsemeat can be an ethical choice. As Berkmiller points out, the meat he uses is from a breed that would be dying out if it was not being farmed in a sustainable manner.
(This recipe was originally published in 2015)