A recipe for vegans to try out this Christmas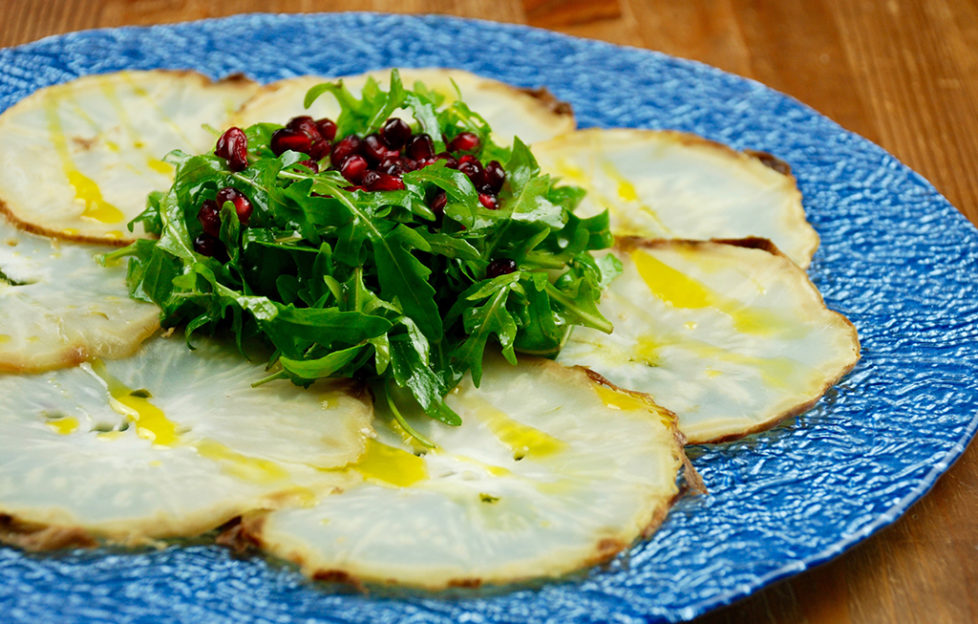 Vegan Celeriac Carpaccio with Rocket, Pomegranate Dressing & Truffle Oil by Gregor Law (Serves 4)
1 medium celeriac (about 750g) washed & roots trimmed
3 tsp Supernature white truffle infused rapeseed oil
1 tbsp Supernature rapeseed oil
1 packet (approximately 90g) rocket salad leaves
For the dressing: 1 tbsp pomegranate molasses
1 tbsp white balsamic vinegar
2 tsp rapeseed oil
½ tsp dijon mustard
Salt & pepper to taste
To finish: Seeds of ½ pomegranate
Pre-heat your oven to 170°C.
With a skewer – make 4 vertical holes in the top of the celeriac within a 5cm circle of the middle (like the points of a compass) each about ¾ way deep.
Use one teaspoon of the truffle infused oil to drizzle down into the holes.
Coat the whole celeriac in the tablespoon of plain rapeseed oil.
Place the celeriac on a roasting tin and roast for 1 ½ hours until it is tender in the centre.
Whisk the dressing ingredients together and check for seasoning, then set aside.
Arrange four serving plates.
Arrange four serving plates.
Once cooled, remove a thin slice of the outer skin from the top and discard. Place the celeriac on its side and continue to carefully slice whole discs about 5mm thin, placing three or four discs out equally between the 4 serving plates, leaving a little centre gap for the rocket leaves.
Whisk up the dressing again and drizzle enough through the rocket leaves to just coat them lightly.
Share the leaves out equally between each plate, placing the leaves in the centre, and top with the pomegranate seeds.
Drizzle the remaining 2 tsp of truffle infused oil equally over the celeriac on each plate and serve.
Scottish Field has brought you several delicious recipes over the last few weeks.
We've brought you plenty of ideas for Christmas, but over the next few days, we've some ideas for the vegans in our lives, courtesy of chef Gregor Law, featuring Scottish Cold Pressed Rapeseed Oil.
Gregor said: 'Whatever the product or ingredient, I strive to provide recipes that are enjoyable to make and share, without over-elaborating, and without compromising flavour.
'Dishes that everyone can enjoy as often or as infrequently as they wish, and more importantly, together with friends and family, with dietary constrictions or not.'
Today's recipe is for Vegan Celeriac Carpaccio with Rocket, Pomegranate Dressing and Truffle Oil.
Gregor said: 'Roasting a whole celeriac provides a wonderfully rich and earthy flavour that's complemented perfectly by white truffle oil.
'I use Supernature's Scottish cold pressed rapeseed oils in this recipe as I believe they have the best flavour and they don't overpower the celeriac. Using a pomegranate dressing with the rocket contributes sweetness and balance and a little Christmas atmosphere too.'
For more information, visit: www.supernature.uk.com
Recipes by Gregor Law, co-author of Cooking for the Senses. Cooking for the Senses, presents a new way of looking at food and flavour. Published by Jessica Kingsley Publishers, Cooking for the Senses is on sale now for £25.  For more information visit www.jkp.com/uk/cooking-for-the-senses-1.html/
The Scottish Cold Pressed Rapeseed Oil Group is a collective of producers from throughout Scotland, who together work to promote cold pressed rapeseed oil and share why every household should have a bottle of it in their kitchen.  For more information, visit www.scotrapeseedoil.co.uk