A pleasant recipe for Asian poached pheasant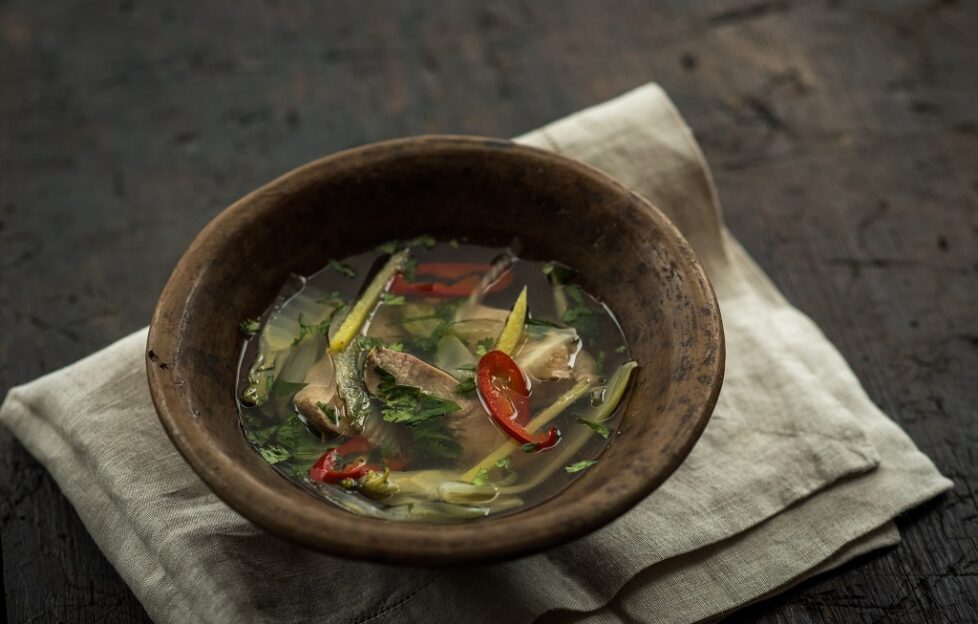 Asian poached pheasant (serves 2)
2 pheasant breasts, skinned, boned and all sinew removed
600ml Game Stock or Chicken Stock
1 fennel bulb, trimmed and sliced
1 lemongrass stalk, outer layer removed, stalk bashed and cut in half lengthways
2 teaspoons peeled and thinly sliced root ginger
1 teaspoon coriander seeds
1 teaspoon fennel seeds
½–1 fresh red chilli (depending on how spicy you like your food) sliced, to serve
chopped coriander sprigs, to serve
sea salt and freshly cracked black pepper
Season the pheasant breasts all over with salt and pepper, then set aside.
Heat a heavy-based saucepan over a high heat. Add the stock, fennel, lemongrass, ginger and coriander and fennel seeds. Season with salt and pepper and bring to the boil, then lower the heat.
Add the pheasant breasts to the stock and poach for 8–12 minutes, depending on their size, until tender. Remove the breasts from the pan and cut each one into 4 pieces.
Add the chilli and chopped coriander to the broth and adjust the seasoning with salt and pepper, if necessary. Return the pheasant meat to pan and warm through, if necessary, then serve.
Recipe © Great British Game Week | http://www.facebook.com/GreatBritishGameWeek/
We continue to mark Great British Game Week,now in its fifth year, with a delicious pheasant recipe.

Running until Sunday, the week-long promotion is a celebration of enjoying wild game, promoted by BASC's Eat Game initiative in partnership with the British Game Assurance's Eat Wild campaign.
The week will be a focus for lots of events, dinners and special offers promoting game to consumers around the country.
People will be encouraged to taste game for the first time and try new products which have game in them such as pies, sausages, burgers and charcuterie.
This week, we're bringing you a host of tasty recipes which were created by Scots chef Tom Kitchin.
More information on Great British Game Week can be found at www.facebook.com/GreatBritishGameWeek/