A healthy miso veg and gyoza noodles recipe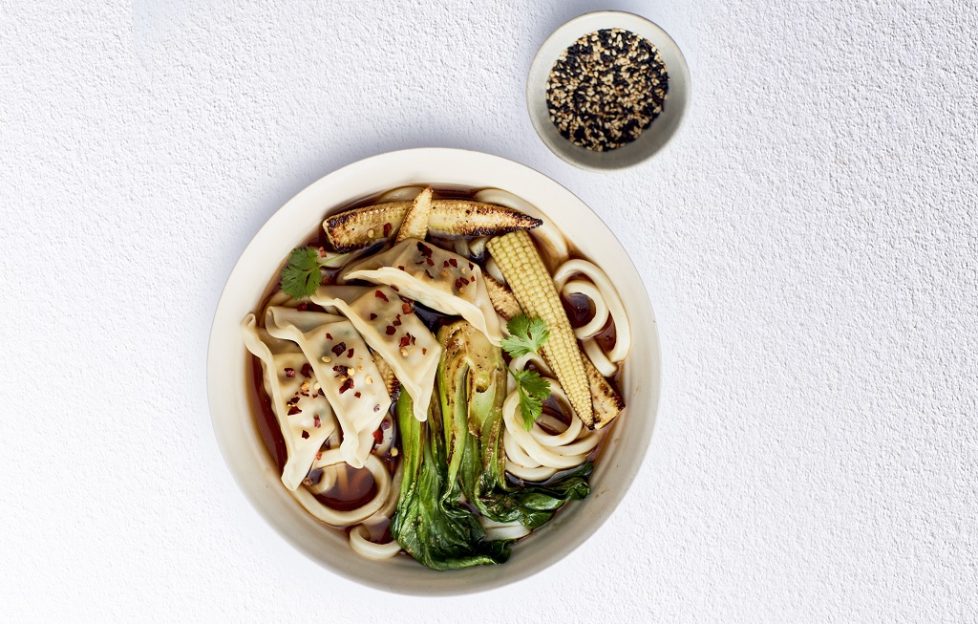 Miso veg & gyoza noodles (serves two)
1 itsu classic ramen brilliant'broth
8 itsu vegetable fusion gyoza
1 sachet itsu miso'easy traditional
2 portions 'heat & eat' udon noodles
2 baby pak choi
4 baby corn
Sesame seeds
Coriander
Pour the classic ramen brilliant'broth into a saucepan and heat to a simmer.
Empty your miso'easy sachet into a bowl and mix.
Cut the pak choi and baby corn down the centre then brush the cut sides of the veg with miso'easy and grill or pan fry 'cut side down' until golden [about 5 mins].
Place the gyoza into the broth and simmer for 3 mins.
Carefully remove the gyoza and place to one side, then add the udon noodles to the broth and leave to stand for 2 mins.
Divide the noodles & broth between two bowls.
Finish with coriander and a pinch of sesame seeds.
Recipe © itsu / Gok Wan | https://www.itsu.com/
Celebrity chef and fashion icon Gok Wan has created some delicious easy healthy recipes.
Gok is working with itsu – the Asian-inspired, healthy food brand – to come up with recipes which are perfect for lunches whilst working from home.
Today, we share his recipe for miso veg and gyoza noodles.