A delicious foccia to make at home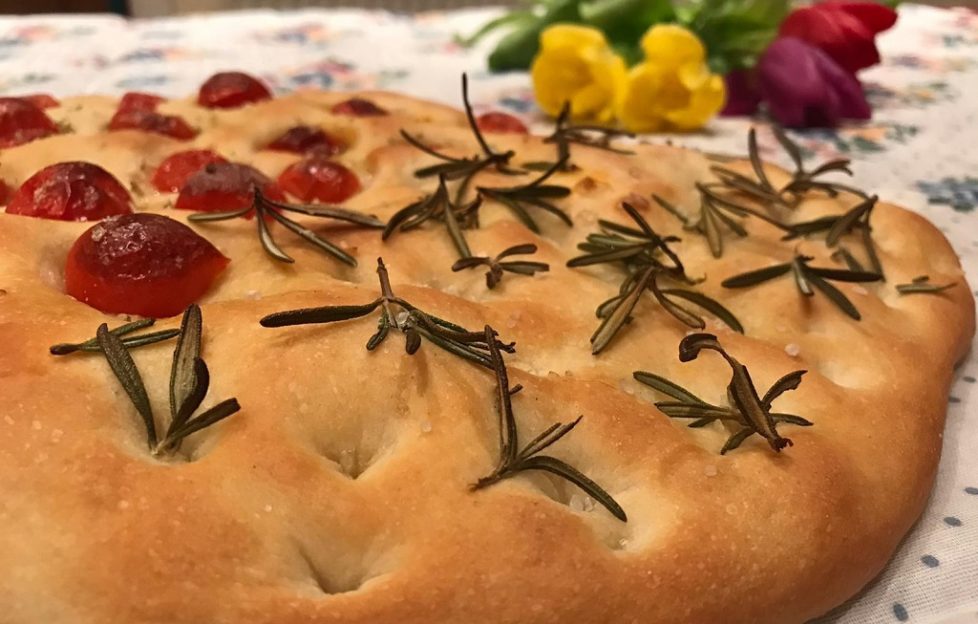 'Nonna Carmela's Focaccia' by Katia Crolla (Serves 4)
150g potatoes – peeled and diced
200g strong flour
100g plain flour
7g dried yeast (I use easy bake)
130g water
30g olive oil
8g salt
12 cherry tomatoes (approx.)
Dried oregano and/or fresh rosemary
Pour water into a saucepan and bring to the boil.
Add your diced potatoes and boil these until they are soft and easy to mash. Do not add salt to this water. Drain potatoes and transfer these to a bowl.
Add the biscuits, cocoa and coconut to the butter and condensed milk and stir together. make sure it is well stirred.
Mash the potatoes with a fork until smooth.
Set the potatoes to the side and let them cool completely before using them.
Sift both flours into your kitchen mixer bowl. Add the dried yeast, water, potato mash, 10g of olive oil and salt to the bowl.
Using the dough hook of your kitchen mixer and turn it on at low speed for 15 minutes. The dough will be soft and sticky after the 15 minutes – don't panic
Place the dough onto a floured surface (I use plain flour for this). Knead the dough by hand for 2 minutes to make it homogeneous.
Dust a bowl with some plain flour (I always like to use a glass bowl so we can watch our dough rise - but this is just our preference). Place the dough in the middle of the bow and cover it with cling film.
Move the bowl to a warm area and let it rise for 1 hour. Around 10 minutes before your dough is ready, cut your cherry tomatoes into halves and place into a small bowl along with a generous pinch of salt and mix well. Place into your fridge. The dough should now have risen.
Line a baking tray with greaseproof paper, you may use half the remaining oil for this. Pour a little oil over your hands and fingers, this helps to avoid the dough sticking to them.
Slightly stretch the dough, hooking your fingers underneath helps and place onto the lined baking tray. Once the dough has been stretched make some dimples on top with your fingertips (kids love this part). While doing so push outwards to help the dough stretch more.
Cover the tray with a kitchen towel. Preheat your oven to 200°C (400°F)
You can now let the dough rise for a further 30 Minutes then pour the remaining oil on top and make some more dimples if you like.
Place the cherry tomato halves on top (cut side down) and drizzle the tomato juices over the top of the dough for extra flavour. Sprinkle sea salt all over.
Bake for 20 minutes, rotating the tray halfway through for an even finish.
Remove your focaccia from the oven and place on a cooling rack for 15-20 minutes and sprinkle dried oregano all over.
Recipe © Katia Crolla / East Coast Restaurant | https://eastcoastrestaurant.co.uk
As lockdown continues, we are all looking to find things to keep us busy.
Thanks to Katia Crolla, owner of the East Coast, a restaurant in Musselburgh, East Lothian, we can try making a delicious bread.
The East Coast is the next chapter for the Crolla family, who have been serving the folk of Musselburgh from its venue on North High Street since 1974. Styles may change, but great flavours, family heritage and warm, friendly service remain as important to Katia and Carlo Crolla today as they did 47 years ago.
East Coast is now home to fresh new Seafood & Grill restaurant and a modern fish and chip shop.
Despite East Coast being temporarily closed due to the going lockdown, Katia Crolla is continuing to cook and bake at home with her 10-year-old son, Donato.
In time for Mother's Day on Sunday March 14, Katia has now revealed her secret focaccia recipe for people to make at home, which was handed down to her from her own Nonna Carmela in a hand-written recipe book which had been translated from Italian to English.
When Katia always makes her Nonna Carmela's recipes she says she: 'Always feels a strong connection to her and her Italian heritage.' Before moving to Scotland, Katia's Nonna Carmela was a live-in cook for an upper-class family in Belgium.
Katia Crolla is a second-generation Scottish Italian. Her Nonna Carmela and the rest of her family originate from Filignano in Molise in the south of Italy.