Ondine makes waves at National Restaurant Awards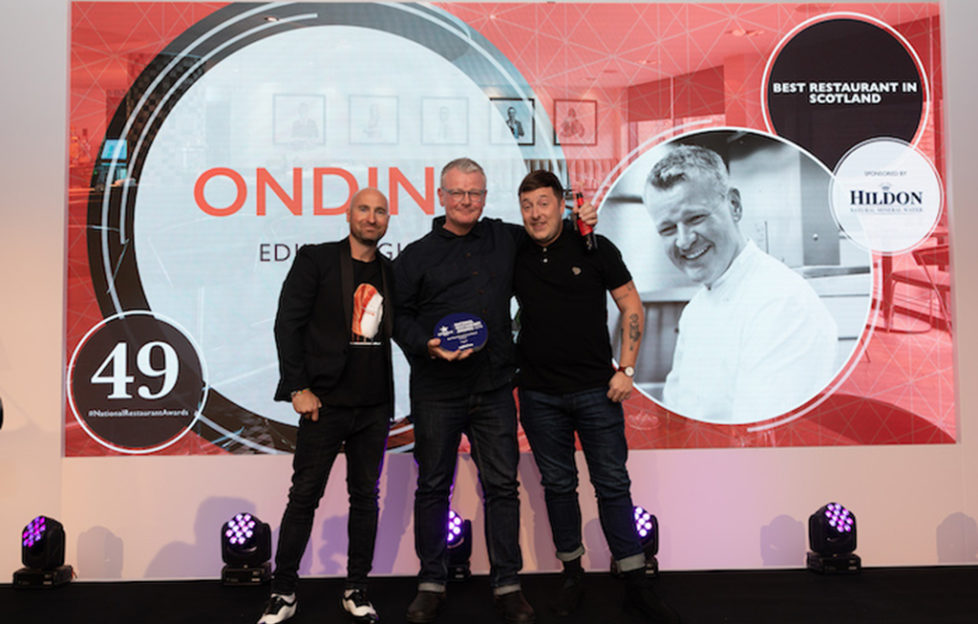 Edinburgh's Ondine has been named the Best Restaurant in Scotland and the 49th best restaurant in the UK at the 2019 Estrella Damm National Restaurant Awards. 
Located in the heart of Edinburgh on George IV Bridge, Ondine is owned by acclaimed chef, Roy Brett. The award-winning seafood restaurant serves the freshest fish and shellfish from the shores of Scotland and beyond.
The Estrella Damm National Restaurant Awards, which are now in their 12th year celebrates the top UK restaurants as voted for by the country's biggest chefs, food writers, critics and industry experts.
The top 100 restaurants were announced at the annual ceremony which was held at the Hurlingham Club in London on Monday. The evening was attended by the biggest names in the culinary and hospitality industry. The aim of the evening is to recognise the 'brilliance and vibrancy of the UK's eating out scene, and reward the very best chefs, front of house staff and restaurants the country has to offer.'
As well as being named the 49th best restaurant in the UK, Ondine also took the prestigious title of the Best Restaurant in Scotland for the second year running.
2019 is Ondine's 10th year in business. To mark this milestone, Roy will be welcoming guest chefs throughout the year to cook in the Ondine kitchen for collaborative chef events. The first guest chef was Tom Brown in March and the celebrations are set to continue when Ondine will welcome James Knappett and Shaun Searley on 30 June.
Chef Proprietor of Ondine, Roy Brett said: 'It is a real honour for us to once again be named the Best Restaurant in Scotland at the National Restaurant Awards. As we celebrate a decade in business, it's a very special year for us and to do so with our friends and peers in the industry makes it even more momentous.
'We'd like to a say a big thank you to all of our customers, friends and partners that have helped get Ondine to where it is today.'
Organisers of the awards, Restaurant magazine said: 'The quality of the fish and shellfish served at Roy Brett's Edinburgh flagship Ondine is second to none. It's therefore no surprise that the restaurant has become something of an institution in the Scottish capital.
'The sleek space accentuates a sense of both class and luxury that's also felt in Brett's cooking. A "proper seafood restaurant" is how Brett describes his place and it's hard to argue with him.'
For the full list of the top 100 restaurants in the UK and more information on the National Restaurant Awards, visit https://www.nationalrestaurantawards.co.uk/.
Ondine is located at 2 George IV Bridge, Edinburgh EH1 1AD. To find out more, visit https://www.ondinerestaurant.co.uk/.