Nick Nairn and Tom Kitchin champion eating game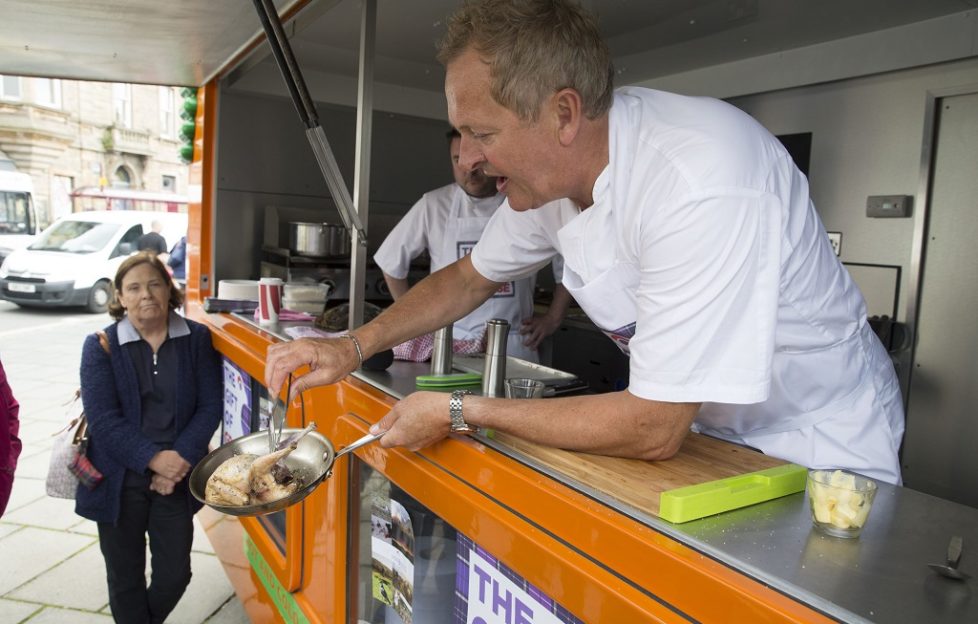 Demand for Scottish grouse is continuing to rise in the UK, Scandinavia and mainland Europe, as leading chefs champion its use in top restaurants and at home.
As Great British Game Week gets underway (25 Nov – 1 Dec), top chefs including Tom Kitchin and Nick Nairn have backed grouse as one of Scotland's food jewels and are supporting the use of this delicious and healthy game meat in their kitchens from the moment the grouse shooting season starts in August.
The chefs' backing comes as a leading game dealer, Ardgay Game, is reporting a three-fold rise in sales for grouse.
Michelin-starred chef, Tom Kitchin, chef proprietor of The Kitchin, said: 'To me, grouse symbolises all that is great about Scottish produce. The game we have access to here in Scotland is so outstanding, I feel it's my duty to share the passion I have for it. We serve grouse at my restaurant The Kitchin, our sister restaurant Castle Terrace and gastropub The Scran and Scallie and I hope that others can share in the enjoyment of eating wonderful Scottish grouse from the moment it comes into season.
'The flavours of game can be really exceptional, and I'm excited that more people are getting into eating it. People are becoming more interested in knowing where their meat comes from. There is nothing better, and more traceable, than birds straight from the Scottish moors.'
Renowned chef and keen shot, Nick Nairn said: 'I really value many different aspects of the grouse season but the pinnacle for me is being able to create a fantastic roast grouse dish. It has long been acknowledged that Scotland's food and drink and country sports sectors are truly world class and it is heartening to witness the increased demand and appreciation for Scotland's wild grouse.
'Grouse is a sustainable and delicious food that Scotland leads the way on and I encourage as many restaurants and customers to cook with grouse as often as possible during the season.'
Part of Scotland's natural game larder, the 'hill-to-plate' credentials of wild grouse and its sustainability are widely recognised. The availability of grouse has also increased, with new restaurants and farmers markets now selling oven-ready grouse and grouse fillets to the buying public.
Ruaridh Waugh, technical director of Ardgay Game, a leading game meat exporter, said: 'Grouse is known as the 'king of game' and seen by top chefs as one of Scotland's food jewels. It is a delicious, low-fat and sustainable meat and it's no surprise to see it growing in popularity amongst the general public with an appetite for Scotland's natural game larder.
'Our UK sales of grouse have gone up three-fold over the past two years. There is also international demand for Scottish grouse, with dynamic markets in Scandinavia and mainland Europe. Foreign customers want produce with provenance and quality at heart and Scottish grouse has exactly that.'
Gamekeepers carry out year-round moorland management for red grouse that offers a rich biodiversity in which a wide variety of wildlife and habitat can flourish. Grouse are wild birds and shooting programmes take place on estates during the season only when there is a sustainable surplus.
Scotland is blessed with having one of the richest larders in the world, with many wild and natural foods available throughout the seasons of the year.
The country's food and drink is internationally renowned and the industry is worth around £14 billion to the economy each year. Combined with 115,400 people being employed in the sector in one or more of the 18,850 Scottish food and drink businesses, the contribution it makes to the economy and its place in the world is vital.