Exploring age at Jenkyn Place
English sparkling wines have grabbed a lot of headlines for their fresh fruity flavours and bright acidity, but what happens when the fizz starts to age? Peter Ranscombe travels to Jenkyn Place to find out.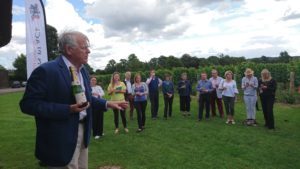 The south-east of England was once a land of hops, the aromatic flowers that add citrus flavours and a distinctive tang to pints of beer. Yet a change is sweeping over the south coast.
In many areas, hops are now giving way to grapes, including at Jenkyn Place, which property investor Simon Bladon bought in 1997 and where he planted his first grapes in 2004, selecting the classic primary Champagne trio of Chardonnay, Pinot Meunier and Pinot Noir to grow on his greensand soils. More vines followed in 2007 and 2010, with his first vintage being produced in 2006.
A step-change came with the 2008 vintage, the first to be produced by Irish winemaker Dermot Sugrue, who cut his teeth at Nyetimber, arguably the best-known name in English sparkling wine, before moving to Wiston, where Jenkyn Place's grapes are now taken for him to turn into award-winning fizz.
Champagne-fan Bladon – who also fishes on his beat on the Spey – had been served a glass of Sugrue's wine at a furniture sale at Nyetimber and fell in love with the taste, prompting him to seek out the Irishman when the time came to turn his grape-growing hobby into a more-serious business.
New vintage
Sugrue has since overseen Jenkyn's 2009, 2010 and now 2013 vintages, with wines not made in the intervening years after grapes weren't available in the required quantities or didn't meet the high-quality standard set by the vineyard's early years.
Jenkyn's previous wines had been aged for four years on their "lees" – the sediment left behind from the dead yeast that gives sparkling wine its fizz and which adds body, richness and flavour to the bottle – but Sugrue, Bladon and his daughter, Camilla, who is now heavily-involved in the family business, judged that the 2013 was ready after three years.
The 2013 Jenkyn Place Brut also departs from its previous vintages in that it has a higher "dosage", the amount of sugar added just before the drink is bottled to help balance sparkling wine's naturally-vivacious acidity. While the previous 2010 bottle took a dosage of eight grams of sugar per litre of wine, the trio of experts decided that the 2013 tasted best with 10g/l.
That's not to say the 2013 tastes in any way sweet – it's got fresh lemon and green apple aromas and flavours, along with a riper red apple element that I suspect will come to the fore over time. There's all the zippy acidity you'd expect from a young sparkling wine, but it's well-balanced by the concentrated fruit flavours.
Rolling back the years
The launch of the 2013 – which is a blend of 62% Chardonnay, 24% Pinot Noir and 14% Pinot Meunier – also provided a great excuse to crack open some of the previous vintages, allowing for an exploration of how English sparkling wine ages.
The 2010 Brut (£28.50, jenkynplace.com) – a similar 60% Chardonnay, 32% Pinot Noir and 8% Pinot Meunier – still retains its fresh acidity but the "autolytic" characteristics – the bread, toast, cake and biscuit aromas and flavours – are coming much more to the fore now following a few more years of bottling ageing, with toasty notes and more concentrated red apple flavours.
Toasty aromas are becoming even more pronounced in the 2009 Brut, with 65% Chardonnay, 25% Pinot Noir and 10% Pinot Meunier. There's a richer and rounder mouthfeel, with peach flavours joining the red apple and quince.
The 2008 Brut – with its 72% Chardonnay, 18% Pinot Noir and 10% Pinot Meunier – has sweeter brioche aromas joining its toasty notes, with a whiff of smoke and some strawberry and raspberry scents, which are joined by peach and apricot on the palate, finishing with a touch of brown sugar.
Time travellers
English sparkling wines are still produced in relatively-small quantities and so it's fascinating to see how the small number of survivors from older vintages have aged.
The 2007 Brut was my pick of the bunch, with intense raspberry flavours, a rounded feeling in the mouth and a touch of spun sugar on the finish. A pronounced nose reveals peach, apricot, brioche, toast and more of that raspberry.
The "assemblage" or blend for 2007 consisted of 60% Chardonnay, 24% Pinot Noir and 16% Pinot Meunier, following a similar pattern to the 2006, which had 1% more Chardonnay and 1% less Pinot Noir. The 2006 Brut felt to me like it still had plenty of ageing left ahead of it thanks to its bright acidity, with aromas of raspberry, subtler strawberry and spun sugar.
While it will be many years before the output of the English wine industry reaches the levels at which we'll regularly see older vintages on the shelves of our local bottle shops, it's still worth keeping an eye out for earlier wines – especially when they show the developing complexity of Jenkyn Place's offerings.