Footballers back bid to curb alcohol consumption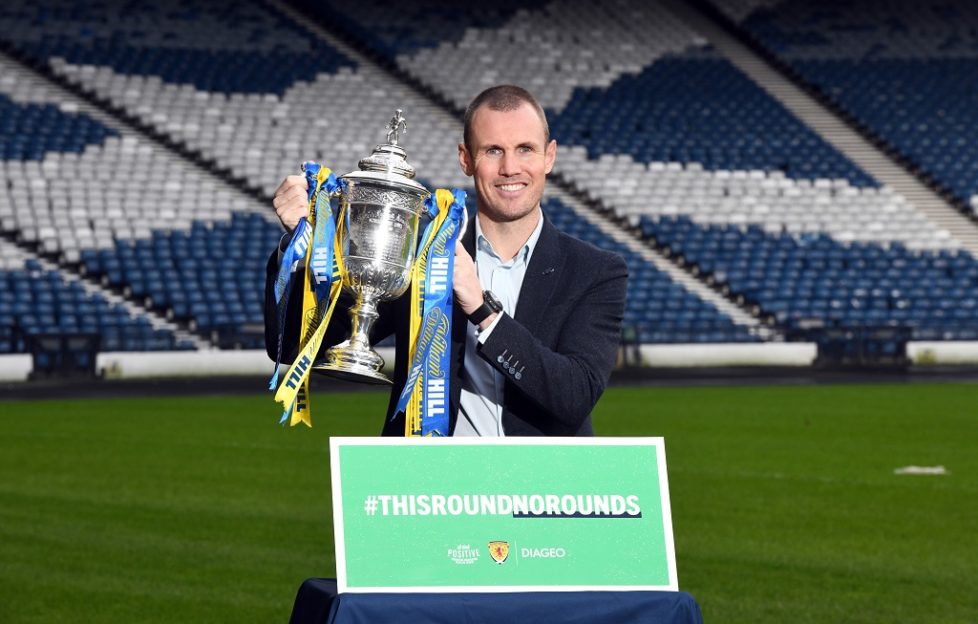 It's not something that many people would admit – but Hibernian captain David Gray and ex-Scotland forward Kenny Miller are proud to be a couple of round dodgers!
The footballing pair have teamed up with Diageo and the Scottish FA to star in a short film that challenges the culture of drinking in rounds, after signing up as official ambassadors of the This Round, No Rounds campaign.
The film coincides with the fifth round of the Scottish Cup, which has been created following a recent survey that found 62% of Scots are more likely to drink alcohol to excess because of the common culture of drinking in rounds with friends, with a quarter claiming peer pressure prevents them skipping a round.
The new video highlights the benefits of being a 'round dodger' and focuses on keeping the memorable moments of the beautiful game exactly that: memorable!
The football stars are also seen in the video encouraging football fans to test their alcohol knowledge by taking the Drink IQ Test and as a result, hopefully changing the way that they think about drinking.
This video forms part of the wider This Round, No Rounds campaign commissioned by Diageo in partnership with the Scottish FA, which will be rolled out across social, digital and media and at Scottish Cup games for the remainder of the season.
Kenny Miller, who counts Hibs, Rangers, Celtic, Wolves and Derby County among the clubs in his career before retiring yesterday, said: 'I'm delighted to be an ambassador for this campaign, and I look forward to supporting the Scottish Football Association and Diageo in their efforts to change alcohol culture in football for the better.
'I urge fans across Scotland to get behind this campaign, to take the Drink IQ test and to change the way they think about drinking alcohol.'
David Gray said: 'I am pleased to add my support to The Scottish FA and Diageo's important This Round, No Rounds campaign, and I ask fans to also pledge their support and commit to not drinking in rounds for this round of the Scottish Cup. Just a few small changes to the way we consume alcohol can make a huge difference.'
Diageo also aims to reach a much wider audience and hopes to transform how people in Scotland think about consuming alcohol.
Ian Smith, head of corporate relations for Diageo Scotland said: 'We are committed to challenging the negative aspects of alcohol culture in Scotland and to encouraging people to think about and change their drinking habits and behaviours and are honoured that David Gray and Kenny Miller are supporting our This Round, No Rounds campaign.
'There are a number of reasons, such as peer pressure, which lead to people feeling they can't skip a round. We want to challenge that pattern.
'We have received fantastic support from the Scottish FA again this year, we are in our second year of the partnership, and look forward to rolling the campaign out over the next few months in the lead up to the Scottish Cup Final. We hope through harnessing the power of football, we can encourage fans and consumers across the country to change the way they consume alcohol and drink responsibly.'
Chris Rawlings, commercial director of The Scottish FA said: 'We are delighted to be working with Diageo on the This Round, No Rounds campaign and thrilled that both David Gray and Kenny Miller have pledged their support as our campaign ambassadors. Football plays an integral role in communities across Scotland and, as such, it is our responsibility to use the platform we have to promote a balanced approach to alcohol consumption.'
According to the study commissioned for Diageo and the Scottish FA almost 63% of Scots claim to regularly drink more than five drinks in one sitting (the amount considered to represent binge drinking), with 62% claiming that they are more likely to drink that amount when drinking in rounds with friends. 63% of Scots also admit that they are unlikely to sit a round out when drinking in this way, with almost 25% citing peer pressure as a key reason for not skipping a round.