The flavour will change with every bite you take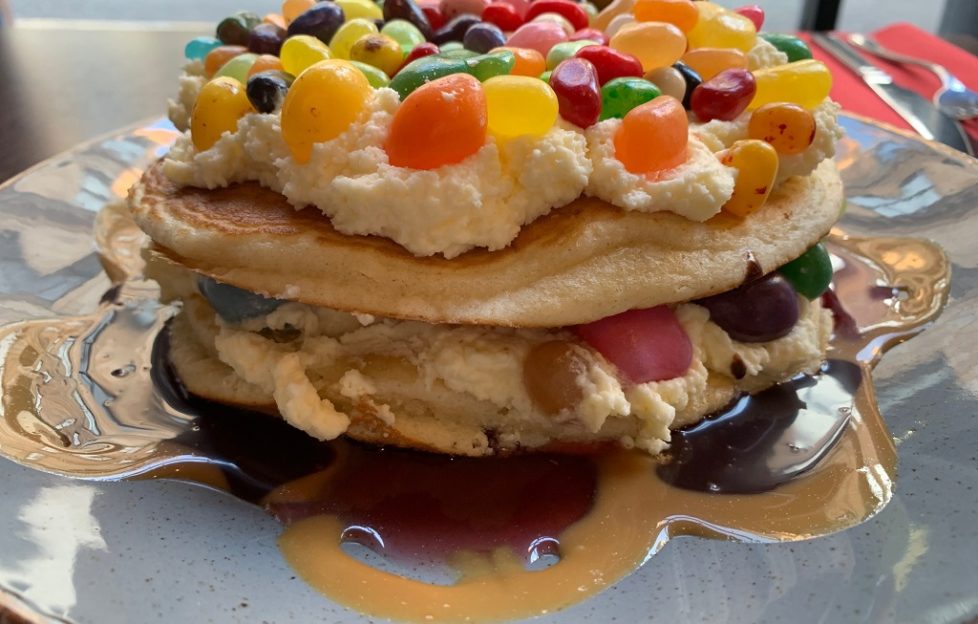 Ever tasted a Willy Wonka-style pancake with a fascinating flavour that changes with every bite?
Glasgow-based burger, hotdog, pizza and pancake chain TriBeCa has come up with what could be the ultimate in weird pancakes to delight your tastebuds.
Arriving at the Merchant City branch of the restaurant chain just in time for Jelly Bean day from today, Monday, the concoction takes its inspiration from Harry Potter's Bertie Botts Every Flavour Bean.
Although TriBeCa have left out some of the less appetising flavours like vomit, ear wax, farm dirt and bogeys.
Instead you can indulge in making up your own flavours as the restaurant arms you with three pancakes, syrups and a bowl of jelly beans with flavours ranging from marshmallows all the way through to Strawberry Jam.
TriBeCa's commercial manager Colin Drummond said: 'Jelly Beans are a big favourite in any respectable American restaurant and we thought we'd celebrate National Jelly Bean Day by encouraging people to make their own pancake by mixing the famous jelly belly beans to make flavours like bubble gum, chocolate pudding, tutti frutti and many more.
'We give you the pancakes, cream, syrup and a bowl of jelly belly beans and every bite with be different.'
The Beantastic Delight will be available at £9.95 on Monday.