Merienda's plates are small but perfectly formed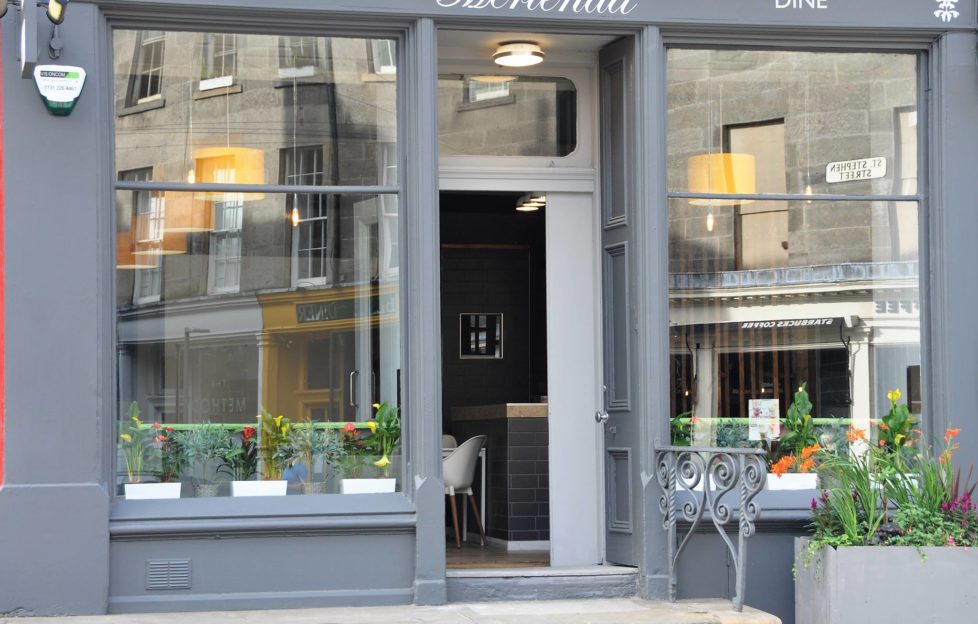 It's all the rage you know – small plate dining.
From traditional Spanish tapas to chic Scandi sharing menus, everyone is at it. But Merienda in Edinburgh's Stockbridge is doing something quite different with their wee plates. Yes, this is Mediterranean-inspired small plate dining, but it's a million miles away from tapas.
Imagine, if you will, creating your very own fine-dining tasting menu. Choosing as many courses as you would like, and ordering more if you're still hungry. Yes, you can share if you like as everything will arrive at the table as it is ready, rather than in the usual structured manner of a tasting menu, or you can keep all of your chosen dishes to yourself, if you're that way inclined.
The menu here has split Scotland's ample larder into sections. From Farms & Pastures we chose the Aberdeen Angus carpaccio with aged pecorino and vinaigrette Raffaelli (£8.30), the rich, melt in the mouth beef pairing perfectly with the creamy yet salty cheese and sharp dressing. I'm a sucker for a bonbon and didn't regret picking the perfectly cooked herb crusted lamb and bonbon with deeply flavoured confit ratatouille and rich red wine jus (£8.50).
The Fields & Gardens selection proved to be a tough choice but the whipped feta, toasted pecans, roast beetroot and broad beans (£7.00) was literally a work of art.
Delicately piped cheese, punctuated by nuts, cubes of earthy, sweet beetroot and micro herbs (grown in the kitchen) and the freshest bread sticks to scoop it all up with. The seared Scottish asparagus (£7.20) was a seasonal treat and provided a satisfying contrast to the lemon and honey emulsion. The cauliflower beignets
with spinach emulsion and aged parmesan (£7.20) proved to be a refined and elevated version of the classic cauliflower cheese. Rich and comforting it saw more than one clash of forks as we politely grappled over the little deep-fried nuggets of goodness.
Rivers & Seas brought seared scallops with chorizo in a red wine and pea puree (£8.50), the scallops perfectly cooked but sadly overpowered by the sweet and spicy sausage. The meaty olive oil poached halibut (£8.50) fared better with its plate-fellow of crispy pancetta, grapes and sherry sauce. Although the fish and fruit combination split our table's opinion Brexit-style.
The soft and pillowy sundried tomato focaccia with basil oil (£3.50) was so good that we ordered it twice and the house hummus with coriander (£5.00) is also a must-try.
Please bear in mind that the plates here are little and don't judge when I tell you that we both had dessert as well as enjoying the cheese plate (£9.50).
The burnt cheesecake with caramel grand marnier mandarins (£7.00) looked like being on a sticky wicket when I realised it had no base, but I had to eat my words, along with my cake, when I realised that the burnt top more than made up for the absence of biscuits. The caramelised banana with white chocolate cremeux, dulce de leche and streusel and vanilla ice cream (£7.00) was essentially a deconstructed banoffee pie – that is in no way a criticism. Who doesn't love a banoffee pie? And there was much to love about this rich, creamy and decadent pud.
The interior of Merienda is understated elegance and its small size allows the restaurateur, ex-private chef Campbell Mickel and his team to provide great front of house service. This is fine dining and we both have good appetites, but if you count up the dishes that we chose it comes to a grand total of 13.
If you're looking for the unique foodie experience of a tasting menu where you have the freedom to design your own meal I can't think of anywhere else in the capital that you can do this.
And if that's not reason enough to toddle along to Stockbridge then go because the food at Merienda is achingly gorgeous, the plates are the very definition of small but perfectly formed and the food is delicious, fresh and seasonal.
Merienda, 30 North West Circus Place, Edinburgh EH3 6TP
0131 220 2020