A special pair of bank holiday weekend bagels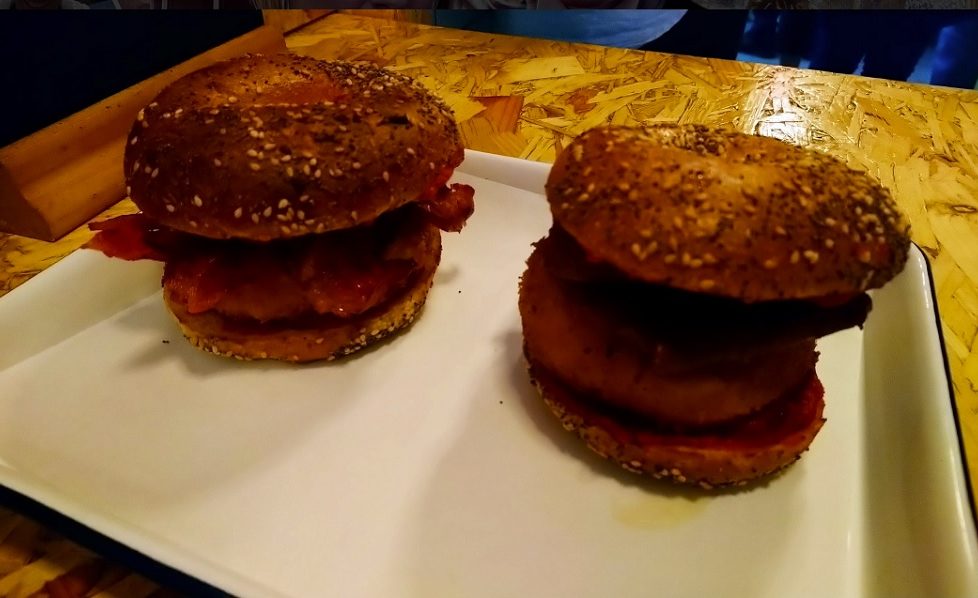 There are few things guaranteed in life – taxes, disappointments, death, and delicious creations from Bross Bagels.
The last one is most definitely my favourite of these. Bross Bagels are already something of a legend in Edinburgh, despite being a relatively new business.
I love a bagel – and I would never have expected them to be united with another of my favourite foods, macaroni cheese.
But this weekend, they shall be, for a bank holiday weekend special.
Owner Larah Bross has created two special creations to mark the occasion, in regular and vegan form.
The vegan bagel is so full of flavour and has a texture that makes it almost indistinguishable from the regular version – beautifully baked to perfection.
The contents are heavenly – a macaroni cheese croquette made with a vegan queso-style sauce, which is then deep fried, and underneath is a hot kimchi sauce. It was creamy and sweet – and delicious.
It was only after my third or fourth bite that I realised that I was eating the vegan option, and realised that this wasn't actually real cheese. If Bross Bagels can pull that off, then that shows they are doing something right – as I honestly hadn't noticed.  It was topped with a tasty veggie bacon – it was thick and tasty, almost like a sizzle steak. I liked. Very much.
Switching to the non-vegan bagel, I was served up the same mac and cheese fritter, this time topped with rock sauce and real bacon, with the kimchi base.
Again, it's heavenly. The bagel has a semi-sweetness to it, which marries well with the sweetness of the queso sauce, and macaroni cheese and bacon is just a devine flavour combination. The bacon was perfectly crispy – and it didn't take me long to demolish this either. Tasty, in the extreme.
A word of warning – if you order these bagels, make sure you get a plate. The mac and cheese will spread out as soon as you bit into the fritter! I made the sensible decision to have a fork on standby!
These bagels are available at Bross Bagels on Leith Walk from tomorrow, Saturday, through to Monday.
Bross Bagels was established in August 2017 by Larah Bross, and has set the bagel scene alight with her authentic Montreal-style bagels in Edinburgh. Organic and kosher, their bagels are home-made in their Bross Leith bakery.
It's easy to why the 7th annual Observer Food Monthly Top 50 which has recently been published, featured Bross Bagels at number 10 in their annual celebration of 'everything we love in the world of food right now.'
Bross Bagels, 105 Leith Walk, Edinburgh EH6 8NP
0131 629 4560