Jacket with style and substance is the wheel deal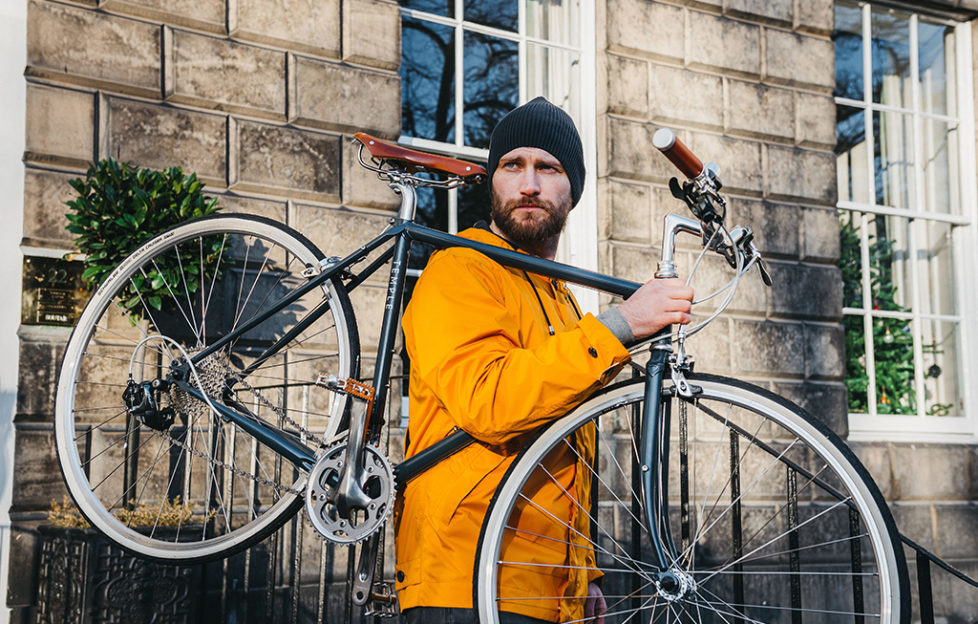 An Edinburgh couple's love of cycling inspired them to launch a stylish commuter jacket packed with features.
Meander Apparel launched its commuter jacket on Indiegogo.com, offering a multi-functional performance jacket that is equally suited to the style-conscious commuter or weekend adventurer.
Meander was founded by husband and wife team, Jill and Steve Henry. Jill boasts over 10 years experience in the fashion industry working at luxury fashion designer House of Holland and various influential menswear brands.
As keen cyclists, the couple organised a bike ride from London to Paris to raise money for children's rugby charity Wooden Spoon. However, they were unimpressed with the lifestyle clothing on offer and felt limited by a choice of garish and bright neon jackets or very expensive jackets unsuitable for cycling.
This led to the creation of Meander.
Jill said: 'We started off a couple of years ago, on what's been a very personal project. A couple of years ago, myself and my husband were doing charity cycles – we're both keen cyclists. But we noticed we could never get the kind of things we wanted to wear, which were practical for cycling but looked good too.
'We weren't able to find what we were looking for, so decided to do it ourselves. I've always worked in the fashion industry and this has provided a mix of two things I love, fashion and cycling.
'We decided to do it through crowdfunding, so we could get the cycling community behind us, and that way we could also test the market to see if other people felt the same as we did. It's been a good way to start.
'We've had people supporting us from the United States – from San Francisco and Washington, as well as in the UK. It's really exciting for us to see where the orders are coming from – it's about 70:30 from the States, especially from the California area.
'That gives us quite a bit of confidence, knowing that people want to buy our products, and are willing to wait for these jackets. We're really excited to launch the range and deliver to our customers – and hopefully we can then expand afterwards.'
Available until the end of May on the website, the Meander jacket has a Scandinavian-inspired design, to be waterproof, breathable, windproof, lightweight and packable – and to look good at the same time.
Made from high-performance Italian fabric, it's suitable for changing weather conditions, whether cycling, hiking or engaging in other adventure activities.
An ingenious back pocket design allows the jacket to fold away neatly, converting into a rucksack or messenger bag, while still providing access to the pocket. Those who don't wish to carry the jacket can roll it up and secure it under their saddle thanks to high-end vegetable tan leather straps and a custom designed dual-purpose tyre lever.
Additional features include reflective elements on the cuffs and rear pocket that can be hidden away when not cycling, as well as in the seam tape on the hood.
For the gadget-loving cyclist, Meander's new offering incorporates plenty of pocket space and an interior phone pocket with headphone eyelet.
Steve added: 'The London to Paris bike ride demonstrated the need for something that was comfortable and functional for cycling but that we could also wear when off the bike and socialising with friends after the day's riding.
'We want to create performance gear at an affordable price, which is why the garment is available direct on Indiegogo. By avoiding the high
mark up from department stores we're able to offer the best quality, sustainable, Italian materials at an affordable price point.
'Once we've completed the initial phase of crowdfunding, we plan to expand the range to fully cater for commuter cyclists and outdoor lovers, continuing to work with sustainable suppliers and recycled fabrics wherever possible.'
Jill added: 'I think cycling is taking off all over the world, especially as there's more of an infrastructure being put in place.
'We've had people trying it out and the reports we've had back have been really good. Everyone has been thoroughly impressed.
'We've used a high-end fabric. I went to three different trade shows in France and Germany, to find the perfect fit for us, and we're really happy with what we have. It ticks all the boxes – it's waterproof, it's got breathability, and has a nice soft feel.
'We've also had a lot of non-cyclists saying that it looks good, and doesn't look like a stereotypical cycling jacket.'
One of those who has tried it out is keen cyclist Vicky Stirling.
She said: 'I think it will be absolutely fine for people who are cycling to and from work, or are going out on theie bikes for an evening or weekend cycle.
'It looks good, and you can fold it up to put it into a little pouch.
'I took one of the prototypes with me when I was mountain biking on the west coast, but I don't think it's the most suitable for that.'
Click HERE for more details. Supporters can purchase the jacket at a discounted price of £189 – the future RRP is £249.