Scots raising awareness of the world's toughest cancer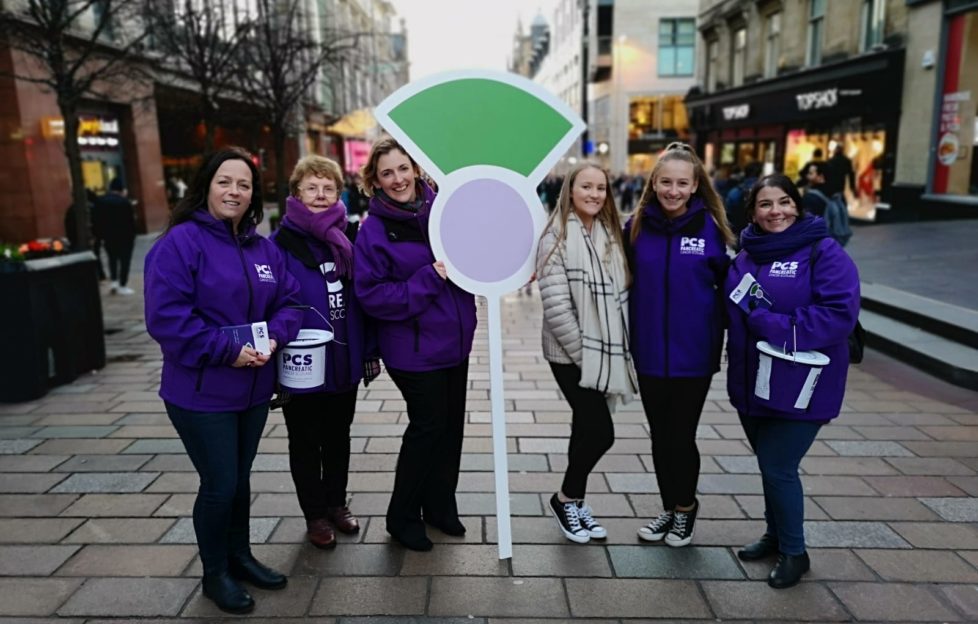 A group of dedicated Scots are getting ready to mark World Pancreatic Cancer Day tomorrow (Thursday).
This is a global movement driven by the need to raise awareness of the symptoms and risks of the world's toughest cancer, and the urgency for earlier diagnosis to improve patient outcomes.
In nearly every country, pancreatic cancer is the only major cancer with a single-digit five-year survival rate (2-9 per cent).
While death rates are declining for many other cancers, death rates are increasing for pancreatic cancer.
· In 2017, 781 patients in Scotland died from pancreatic cancer.
· In 2018, 811 patients in Scotland died from pancreatic cancer.
With barely any improvement in survival rates over the last 50 years, and a predicted increase of 49.9% by 2027, Pancreatic Cancer Scotland (PCS) has a vision to make the 2020's the decade of change, and stop pancreatic cancer becoming the second largest cause of cancer death.
As Scotland's pancreatic cancer charity, they have recently launched the 'Pan Can Clan' to bring together a growing and inspiring community of people, committed to the cause, to help effect change.
Fiona Brown, development manager, of Pancreatic Cancer Scotland (PCS), lost her mum at the age of 56 to pancreatic cancer in 2003.
Fiona said: 'Pancreatic cancer doesn't present in an obvious way. It's not possible to feel a lump like other cancers and the symptoms can be vague, poorly understood and often dismissed as less serious health concerns.'
There is currently no standard screening test or early detection method for pancreatic cancer, though research is being conducted in these areas.
Despite having shockingly low survival rates, it is possible to survive pancreatic cancer. Research shows that patients diagnosed in time for surgery are more likely to live 5 years and beyond. Knowing the symptoms and risks remains key to an early diagnosis to give patients the best chance of survival.
Yet, new statistics from a survey by Pancreatic Cancer Action (PCA) reveal that 73% of Scottish residents cannot name one symptom of pancreatic cancer. A further 67% of people couldn't name a single factor that increases the chances of getting the disease. Added to this 55% of Scotland know 'almost nothing' about the disease.
During November's Pancreatic Cancer Awareness month and in particular, on Thursday 21 November, World Pancreatic Cancer Day, a number of landmarks and buildings will be lighting up purple to help shine the light on pancreatic cancer.
Fiona explained: 'This is an effective way of starting conversations about pancreatic cancer – people talk about why landmarks, are lit purple, share pictures on social media and this helps support much needed awareness for a disease that has been left in the dark for too long. Survival rates are thankfully improving for other cancers, but we don't want pancreatic cancer to be the forgotten one.'
World Pancreatic Cancer Day provides an opportunity to join more than 80 organisations from 30 countries united in the mission to drive transformational change for all those affected by pancreatic cancer.
Fiona explained: 'We know that with earlier diagnosis and optimal treatment, patients can have the best chance of survival – so we need to work together to generate more attention, awareness and progress.'
Fiona believes that Scotland can help lead the way: 'With a collaborative approach to improving outcomes for the future, The Scottish Government and their agencies, NHS, the research community, charities and our supporters can all play a key role in helping ensure that the 2020's is the decade of change for pancreatic cancer.
'Working together as a community will be key. The voice, energy, determination and commitment of our Pan Can Clan will make a valuable contribution and help to change the pancreatic cancer story. The inspiring dedication of our supporters helps raise funds and awareness and fully embraces our belief that together we can make a difference.'
By working collaboratively across Scotland and indeed across the world, to improve awareness, education, healthcare and support, in parallel with research developments, and now with a growing 'Pan Can Clan',
PCS believe that the 2020's will be the decade that we see much needed improvement in outcomes for patients and families.
Visit https://www.pancanscot.org/ for more details.