Tartan uprising returns with a new bid for the Highlands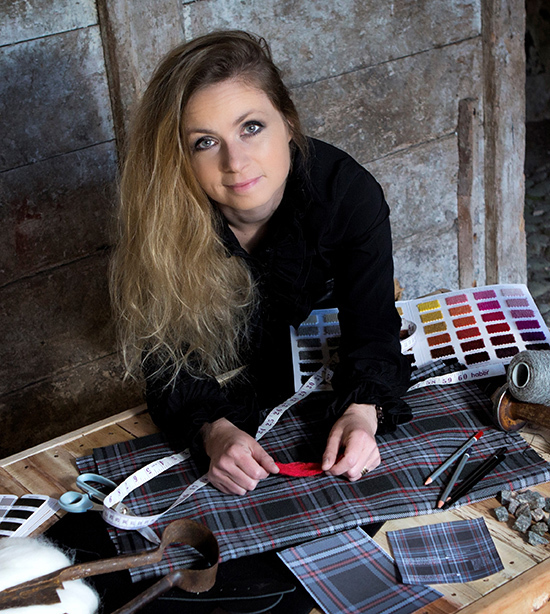 A new bid to bring tartan back to the Highlands of Scotland is underway.
Prickly Thistle's Build the Mill campaign will enable its Scottish luxury tartan design to house bring weaving back to its ancestral home in the Scottish Highlands, by launching its 'Plan B' in response to the results of a crowd funding campaign in late 2017.
The first campaign, which ran on the international crowdfunding platform Kickstarter from October to December 2017, had a target of £500,000 to help build the first tartan weaving mill to be located in the Highlands for centuries.
While the campaign had a tremendous start, it sadly didn't reach its financial target, it created significant interest in the project around the world, with over 850 backers gained during the two month duration.
It was also listed as the second most successful craft project in the world on Kickstarter in terms of the value of sales pledged, this is compared to nearly 9000 other projects.
Founder Clare Campbell (39), a native of Ross-shire, said: 'We knew that this sort of campaign at this funding level was a first of its kind for the Scottish textiles industry, and by its very nature a first for a Scottish business, as most people in Scotland are more familiar with the term crowdfunding as only an equity scheme.
'Around the world crowdfunding for rewards is one of the most popular sales platform where businesses can sell their product to generate profits that they want to invest for a specific purpose.
'I think more and more people make considered purchases when they can see a real purpose behind what the business does. The backers to our first campaign very much supported our vision and loved our locally made products.'
Also, as a result of the crowdfunding effort, the company has also gained interest and support from Highlands and Islands Enterprise and others which will allow it to create a 'pop-up' mill solution as a step towards the final building of the mill on the Black Isle near Inverness.
Clare continued: 'Our goal is still to give our clients the opportunity to weave their own piece of history through bespoke tartan designs and products, and as a result of the additional support that the campaign has created, we'll now be able to weave tartan in the Highlands for the first time in decades, whilst ensuring we deliver on our five threads of purpose which is fundamental to the integrity of the brand.'
The 2017 campaign also attracted the support of a large number of influencers on social media, including Outlander star Sam Heughan.
Clare added: 'We've been overwhelmed by the support shown by everyone, we cannot say thank you enough to them, they truly have been incredible, they have followed our story and backed us all the way through.
'I think what has resonated with them most of all is our grit and determination to bring back this industry to the Highland region. It might be an industry that is hundreds of years old but it is one that defines identity and legacy, and one that matters to everyone regardless of the age we live in.'
Although the 2017 crowd funding approach initially did not reach its financial target, it has been endorsed by some of Scotland's top financial experts.
Paula Skinner, a partner in leading law firm Harper Macleod, who specialises in advising entrepreneurs in the early stage and investment arena, said: 'In many ways the Kickstarter campaign that was launched in October 2017 could be seen as one of the most successful unsuccessful crowdfunding campaigns ever. 'Although the original fund target was not reached on that occasion, the international reach and engagement has been outstanding giving a truly solid foundation for the brand to grow and develop from.'
The Plan B campaign runs from 23 February for two weeks.
As with the initial campaign, it offers the opportunity for backers to buy from a Highland made collection of products all of which are unique and designed by Prickly Thistle, some of which form part of a limited edition range.
Click HERE to find out more.
READ MORE NEWS FROM SCOTTISH FIELD BY CLICKING HERE.