Fairtrade tartan is taken to the world by piper Louise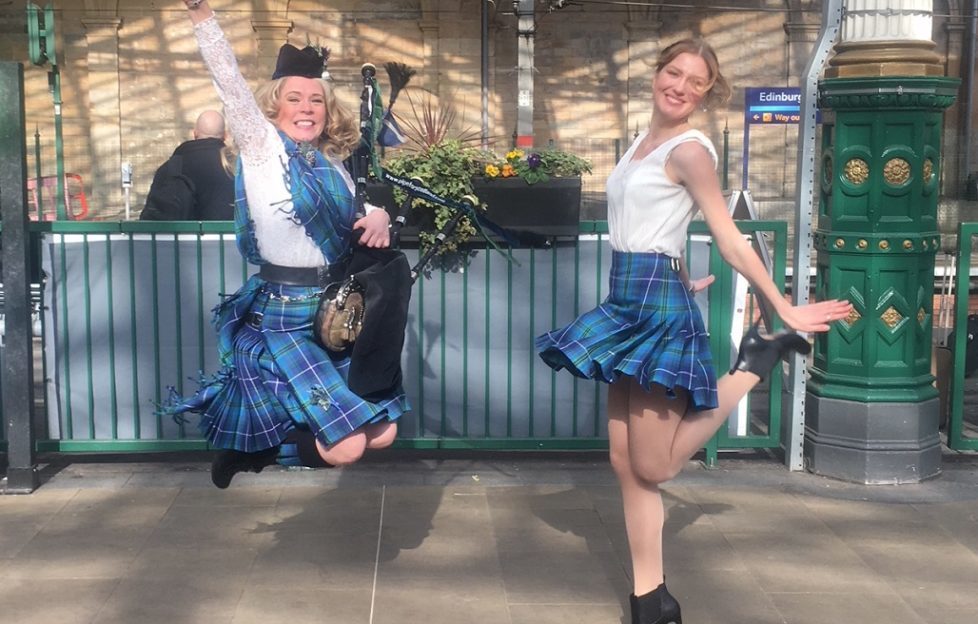 Top Scottish female piper Louise Marshall is taking her  piping skills and love of the new World Fair Trade Tartan on tour.
A leading piper for over 30 years, originally from Annan in Dumfries, Lou has formally been invited to star as the guest piper at the WOW Woman of the World Festival earlier this month, and will fly to New York to take part in the Tartan Day Parade NYC, this April, for the very first time with her colleagues on the World Fair Trade Tartan team.
Louise Marshall, official piper for The Lord Provost of Edinburgh, has this past year also played on the main stage at National TV Awards, piped the haggis on Good Morning Britain live with Philip Schofield and Holly Willoughby.
In recent months, has performed for the Delta Airlines Edinburgh to NYC flight launch alongside TV star Alan Cumming; piped at numerous cruise liner events as they dock in Scotland, appeared on This Morning TV show in London for St Andrews' Day 2017, as well as scheduling a constant calendar of weddings, corporate events and concerts as well opening and closing Edinburgh's Hogmanay party with 35 female pipers from across Scotland.
Lou first piped at a Fair Trade awards event in the city in 2006 TO promote Edinburgh as a Fair Trade City and she is now getting behind the promotion of the WFT tartan by joining the New York Tartan Day parade for the very first time. Lou will be wearing her hand-made World Fair Trade Tartan kilt as she pipes and marches her way down Sixth Avenue.
Lou said: 'Being asked by the World Fair Trade Tartan "clan" to join them in New York and represent World Fair Trade producers and suppliers around the globe is truly amazing. This has really underpinned my interest in Fair Trade as the results speak for themselves.'
Behind the World Fair Trade Tartan is Tania Pramschufer, Hand Up Events who created and registered the new tartan and Eve Broadis, Fair Trade Scotland, the power house behind brokering the partnership with the Cambodian project Villageworks.
Working in collaboration with House of Edgar, textile designers behind the tartan, the distinctive Fair Trade colours of green and blue have been replicated in the woven design.
On World Fair Trade Day in the heart of Edinburgh last May – the President of the World Fair Trade Organisation (WFTO), Rudi Dalvai was presented with a new, vibrant, and unique Fair Trade Tartan bespoke kilt hand-made by Cathy Hope from Edinburgh Based artisans – Braw Kilts.
Tania said: 'This all happened very quickly from sharing the idea with the WFTO, Scottish Government and Tartans Authority through to coming up with a process for whom and how they tartan design could be utilised.
'We also worked closely with another incredible lady Cathy Hope at Braw Kilts – as she has a wealth of knowledge and talent when it comes to the kilt-making industry and we are very grateful for this – especially when it came time to making bespoke kilts.
'Some things in life are just meant and this is where Eve Broadis from Fair Trade Scotland, a WFTO member for Scotland, made the truly amazing connection to link us up with inspiring weaver, Anak Norm at Villageworks in Cambodia – a project Eve has supported for many years. This makes it a truly circular project, with the first new tartan bags on sale last year and all proceeds shared between Villageworks and Fair Trade Scotland. It is such an incredible honour to have been able to bring the World Fair Trade tartan and kilt project to fruition and create a legacy for Scotland as a Fair Trade Nation.
'Eve brought a sample of the woven tartan made by House of Edgar to Cambodia to Villageworks to see if they could replicate the tartan on a loom – the excitement was hard to contain, as we received images and videos to show the tartan had been reproduced on a six-button handloom. As a result, there is a range of World Fair Trade Tartan products that are 100% WFTO with 100% profits going back to WFTO members.'
Eve Broadis, Fair Trade Scotland and WFTO member added: 'We are so proud to be a part of the World Fair Trade Tartan range with our Cambodian partner, Villageworks. The Tartan range has just been recognised by Fair Trade Scotland who have announced them as Scotland's first WFTO Guarantee member during Fair Trade fortnight which is running just now.
'As WFTO members both organisations encompass the 10 WFTO Fair Trade Principles into their daily working practice, and the consumer can be confident that their purchase contributes to sustainable livelihoods for the artisans and their families.'
Anak Norm, director of Villageworks concluded: 'We are very excited to be part of this new venture, which will see the new World Fair Trade Tartan, incorporated into their extensive range of bags and accessories from Cambodia. Our unique designs, combined with the skills of the artisans, make the new Fair Trade Tartan products a must for the ethically conscious consumer, wanting to buy into a truly sustainable supply chain.'