Work gets underway on £5.7million creative arts hub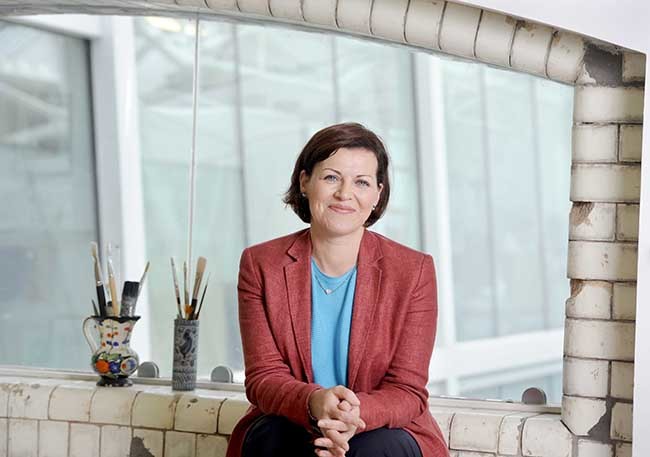 Plans to create a £5.7million arts hub in the Highlands have been welcomed.
Members of the arts community are delighted by the news of the start of a project to give the Highlands its first creative hub as a 'game-changer'.
The initial £1.2 million project is the first phase of a wider £5.7 million scheme to transform the Midmills buildings (once part of the Inverness Royal Academy and later Inverness College but now empty) into a new Inverness Creative Academy.
Work on one building is due to start early in 2018, providing high quality, affordable workspaces for 39 artists and makers is expected to be complete by the summer of 2018.
Wasps Artists Studios – Workshop and Artists' Studio Provision Scotland and established in 1977 – which is leading the project, is also fundraising for work on a second building which would provide exhibition, performance and events space, a public café, workshop areas and offices for business working in the creative industries.
Matt Sillars, who will be running a community-based photographic initiative called the Inverness Darkroom at Midmills, said: 'The arts community has been hoping that Wasps would set up a major centre in Inverness for years, so the enthusiasm was overwhelming when it was announced.'
The message was reinforced by Kirsten Body, a member of the local Arts Steering Group, who said: 'I was involved in the initial demand study for a creative hub in 2015 and was struck by the responses we got – there is a desire to feel part of a wider creative community and for the possibility of more collaboration with other creative professionals.
'There is undoubtedly a strong need for a focused, vibrant space where people can come together to share ideas.
'I'm really keen to see this new hub as a place that caters for events, provides networking opportunities as well as a gallery space for emergent contemporary artists to showcase their work and take risks. The Midmills building has huge potential to function as a production centre and true meeting place highlighting the wealth of creative talent from our area.'
Lindsay Dunbar, of rural theatre innovators Play Pieces Arts, said: 'I really welcome the exciting development of the Creative Academy. Play Pieces Arts has run a successful programme of events in Inverness throughout the years however we are often placed in a vulnerable position due to venue availability as well as limited capacity spaces.
'The creative industry hub, as well as potential performance space, would be a game-changer for not only Play Pieces Arts but for the emerging and established makers of all art forms who want to base themselves in the Highlands.'
As one of the largest developments of its kind outside the Central Belt the Creative Academy is expected to play a valuable economic role by supporting jobs and providing new business opportunities.
Tenants could include everything from visual artists, theatre groups and craft makers to media companies or businesses at the cutting edge of the digital arts.
Wasps has had great success with similar hubs such as South Block in Glasgow.
The Creative Academy will be a first for the Highlands, helping the region tap into the growing importance of the creative industries, which generates £3.7 billion a year for the Scottish economy and provides 73,600 jobs.
This is in line with HIE's ambition for the creative sector to account for 7% of the economic activity – equaling the Scottish average.
Audrey Carlin, Wasps chief executive officer, said: Scotland is a powerhouse for the arts, craft making and the wider creative industries.
'But people wanting careers, or to build businesses, in these sectors have faced major obstacles in the Highlands because of an acute shortage of quality workspace and of hubs that allow them to collaborate and generate new ideas.
'The Creative Academy has a great deal of support from the large creative community in and around Inverness.
'We are very proud that this will be one of the largest projects of its kind in the whole of Scotland and we hope it will enable creative people from all across the Highlands fulfill their ambitions and dreams.'
The project supported by The Highland Council, HIE, Creative Scotland, Inverness City Heritage Trust and McCarthy and Stone Retirement Lifestyles Limited.
The phase one work is being carried out by Elgin-based Robertson Northern.
James Gibbs, area manager for HIE, said: 'Wasps is a social enterprise with an excellent track record of bringing economic benefit to cities. This facility will allow workers in the creative industries sector to share skills and ideas and promote collaboration and innovation.
'HIE assisted Wasps' development to help grow a strong creative cluster in Inverness and bring new economic activity to the city centre.'
Clive Gillman, director, creative industries at Creative Scotland, added: 'Wasps have built a strong sustainable model for supporting our creative communities the length and breadth of Scotland. We are proud to have helped them on that journey and especially through partnerships such as that in Inverness, which will see a significant building brought back to life to support the rich creative community in and around the city of Inverness.'