The light fantastic gets off to a great start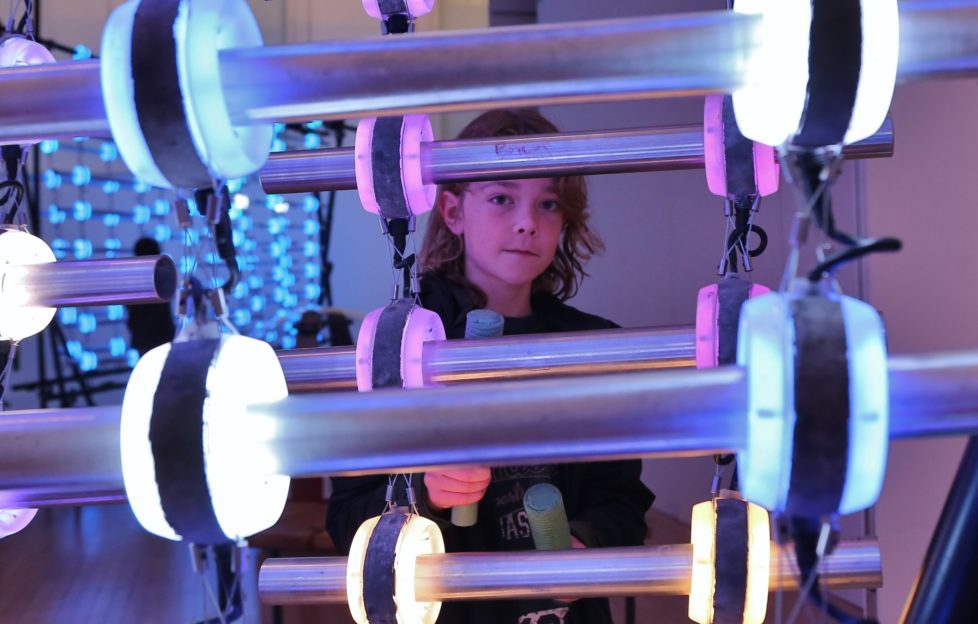 This year's Kirkcudbright Festival of Light has got off to a busy start.
The first weekend attracted visitors to a range of events and attractions including workshops to make lanterns for next Saturday's parade and fireworks.
The coming days promise activities and entertainments of all kinds, leading up to Sunday's finale which will be a performance by the Scottish Ensemble, billed as the UK's leading string orchestra.
In addition to the parade, Saturday will also see a free outdoor performance of a dance theatre production called Orographicby Oceanallover, nationally renowned for their music and amazing costumes.
Visitors to the Kirkcudbright Galleries, which opened this summer, can also see two special festival exhibits.
One is the Illumaphonium, which is an interactive, multi-sensory, music making installation created by musician and inventor Michael Davis. The semi-acoustic, semi-automatic, multi-player musical sculpture stands 3.5 metres tall and has a hundred illuminated chime bars that each respond to touch, sending wave-like patterns of light and sound across its surface.
The second exhibit is called Glass Sculpture and has been created by Swedish born glassmaker, Elin Isaksson. It reflects the coastal heritage of Kirkcudbright, in Dumfries and Galloway, and was inspired by the ideas of the children of Kirkcudbright Primary School.
Colin Saul, one of the festival organisers, said: 'We had a wonderful opening weekend – people loved the events, the gallery exhibits and we had a packed audience for our opera performance by Emma Morwood.
'The second weekend promises even more, with superb live entertainment on Saturday from Oceanallover plus the parade and fireworks, followed on Sunday with the Scottish Ensemble.
'Kirkcudbright is a great place to visit, and the quality of its light has inspired many generations of artists. It's great to have a festival that celebrates all of this.'
Sally Hobson, former head of creative learning for the Edinburgh International Festival has curated the international programme. She said: 'We are really looking forward to welcoming the Scottish Ensemble. This concert is a delightful opportunity to hear atmospheric pieces performed by the UK's leading string orchestra and it will be a fitting finale to the Kirkcudbright Festival of Light.'
Running from 5-14 October the festival has been created around the theme of light. Attractions for the rest of the festival include:
· The illuminated 18ft wicker horse in Harbour Square;
· Scottish Ballet workshops (10 October);
· Spooky Tales– discover Kirkcudbright's dark history (10 October);
· Diwali Dining Experience(11 Oct);
· Northern Lights– special illumination of key buildings including the castle (11-14 October);
· Fairy Lights– a magical village in the Soaperie Gardens (12-14 October);
· Lantern Parade and Fireworks, leaves Parish Hall for Harbour Square 6pm (13 October);
· Orographic– Harbour Square area (6.45pm, 13 October);
· Fireworks – (7.15pm, 13 October);
· Planetarium and Light Experiments(10am-4pm, 13-14 October);
· Scottish Ensemble, Chamber Notes, exploring the clarinet quintets of Mozart and Brahms, Kirkcudbright Parish Hall (7.30pm, 14 October).
Three colourful and quirky harbour beach huts, which are part of the Kirkcudbright Art and Crafts Trail, have each been turned into a miniature world: the smallest ever opera house (complete with piano), a writer's retreat and a section of a WWI trench.
Paul Bush OBE, director of events for VisitScotland, said: 'We are delighted to be supporting the Kirkcudbright Festival of Light, this year with specific funding going towards enhancing its music programme.
'Scotland is the perfect stage for cultural events, and the Scottish Ensemble concert will delight audiences from both the local community and from further afield, and will no doubt end this wonderful 10-day celebration of music, light, art and performance on a high.'
The Kirkcudbright Festival of Light is supported by Dumfries and Galloway Council and EventScotland.
For the full programme see http://www.kirkcudbrightlight.com.