Latest exhibition of Scottish art by blind painter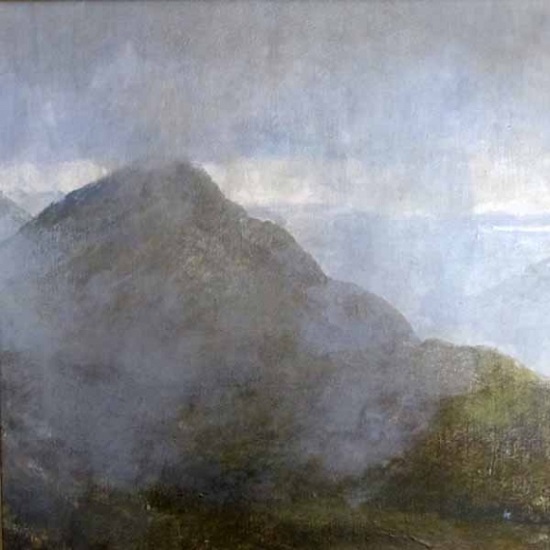 A painter's latest exhibition of work in a display with a difference.
From March 5 to March 22, Keith Salmon will exhibit 25 of his paintings alongside work by two sound engineers in Painting with Sound.
The work will be on show at the Barony Centre, 50 Main Street, West Kilbride in North Ayrshire, and Keith has worked with Microsoft to develop this idea.
Keith, who was born in Essex in 1959, is a fine abstract Scottish landscape artist.
He studied Fine Art at Shrewsbury and Falmouth Schools of Art between 1979 and 1983, before setting up a studio in Newcastle upon Tyne where he worked for the next few years.
Keith said: 'In 1989 I moved back to Wales to join my partner and together we set up a new studio. Around this time I was diagnosed as having diabetic retinopathy. My sight deteriorated very quickly and within a few years I had to stop exhibiting work and instead try to find new ways of painting, using just the very limited sight I now had left. I´m now registered blind.
'This has however, simply provided me with even more determination to continue with my artwork. In doing so, I´ve attempted to discover alternative means of working. This has involved experimenting with painting and printing techniques as well as looking at sculpture through a variety of mediums.
'We moved to Ayrshire in 1998 and by this time I had enough confidence in the new paintings and drawings to once again start exhibiting them. I now have a studio space at Courtyard Studios in Irvine and exhibit my work regularly again.
'In recent times I have tried to find ways of working that allow me to overcome the problems inherent in producing very visual material, with very limited vision. I have tried to explore my new and changing view, recording, (using oil paint and pastel) not what I see, but rather how I now see my surroundings.
'The paintings have become thicker, the paint at times almost bludgeoned into place, the surface scraped and re-built forming overlapping layers of colour and glimpsed highlights of line and form.
'Although still based on places known to me, the images I produce are becoming more distorted and broken. My drawings, built from numerous coloured lines woven together, are more like organised scribbles.
'I hope that you, can connect with these paintings, and have as much fun viewing them as I had painting them.'
READ MORE NEWS FROM SCOTTISH FIELD BY CLICKING HERE.