Jenny Saville's work is put in the frame in Scotland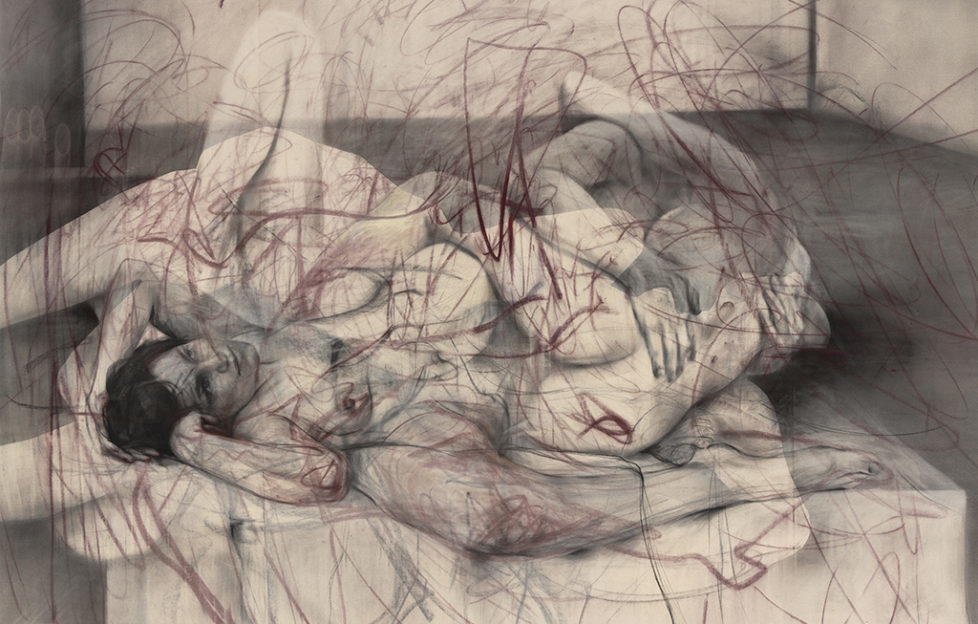 A rare, early oil study by renowned British artist Jenny Saville is now being shown by the National Galleries of Scotland.
It is being shown as part of a major new presentation devoted to Saville's work, which is now open at the Scottish National Gallery of Modern Art.
The newly acquired oil – the first work by Saville to be acquired by a UK public collection – was made in 1992 as a study for a larger painting entitled Branded that featured in the artist's acclaimed Glasgow School of Art graduation exhibition.
Study for Branded is characteristic of Saville's early paintings of female nudes, which gained her international recognition. The acquisition has been made possible thanks to the Henry and Sula Walton Fund, bequeathed to benefit the modern and contemporary collection of the National Galleries of Scotland.
Saville is a hugely successful international artist best known for her monumental depictions of the naked female form; unflinching paintings of fleshy, un-idealised bodies, often painted close-up, on a massive scale. Her 21-foot-long triptych Strategy (South Face/Front Face/North Face) reached a wider audience when it appeared on the cover of the 1994 album The Holy Bible by Welsh band the Manic Street Preachers.
Bringing together 17 works from private and public collections across the globe, this will be the first museum exhibition of Saville's work ever to be held in Scotland, and only her third in the UK. The selection will span 26 years, from iconic early paintings such as Propped (1992) and Trace (1993-4), to recent charcoal and pastel drawings, demonstrating how Saville's approach to depicting the human body has shifted over the course of her career.
Simon Groom, director of the Scottish National Gallery of Modern Art, said: 'We are delighted to be showing the very first major exhibition of work by Jenny Saville in Scotland at the SNGMA. Saville's extraordinarily powerful paintings and drawings form the centrepiece of NOW, the third exhibition in the most ambitious programme of contemporary art ever staged at the National Galleries of Scotland. Alongside her work, we will be showing a number of other artists working in Scotland and internationally, that reflects something of the extraordinary interests and range of art being made today.'
Other highlights will include a series of large-scale head paintings, such as Rosetta II (2005-6), made while the artist was based in Italy, and the premier of a major new work, Aleppo (2017-18), which will be on show at the Scottish National Gallery alongside major historic paintings from the collection. This striking new work has been hung between two world-famous masterpieces of the Italian Renaissance, Diana and Actaeon and Diana and Callisto (both 1556-9) by the Venetian artist Titian (about 1485/90-1576).
Saville draws upon a wide range of sources in her work, including medical and forensic text books, children's drawings, graffiti and online images, as well as celebrated paintings and drawings of the past.
In more recent years, Saville has created works in which she layers images, often drawing on several different sources. Working between the figurative and abstract, she has chosen to use charcoal and pastel in many of these works, attracted by the transparency they offer.
These materials allow Saville to work organically, layering and erasing her media to blend and merge bodily forms and abstract gestures.
The resulting works, such as One out of two (symposium) (2016), capture a sense of motion and fluidity. These restless images provide no fixed point, but rather suggest the perception of simultaneous realities.
Saville's first major Scottish showing is another notable milestone in her acclaimed career, which began in 1992 when the collector Charles Saatchi, champion of the generation that became known as the Young British Artists (YBA), acquired many of the works she'd shown in her Glasgow School of Art graduation display. Her paintings Propped and Trace were shown alongside other paintings such as Plan (1993) in the Saatchi Gallery's Young British Artists III exhibition in 1994, and also featured in the Royal Academy's exhibition Sensation: Young British Artists in 1997.
Subsequent exhibitions of Saville's work have taken place worldwide, among them group and solo exhibitions at the Gagosian (UK & USA), Museo d'Arte Contemporanea Roma (Rome, Italy), Norton Museum of Art (West Palm Beach, USA), Modern Art Oxford (Oxford, UK) and the Kunsthaus Zurich (Zurich, Switzerland).
The exhibition of Saville's work at SNGMA will form the centrepiece of the third instalment of NOW, a three-year programme of contemporary art exhibitions launched at the Gallery in March 2017. NOW reflects the Gallery's ambition to share contemporary art with a wide audience, highlighting the extraordinary quality and range of work being made by artists associated with Scotland, as well as those from across the globe, placing art created in Scotland in an international context, and demonstrating the crucial exchange between artistic communities around the world.
Alongside the work of Jenny Saville will be new and recent works by five artists who have explored ideas related to the body, performance, process and materials.
These will include a specially conceived installation by the South African artist Robin Rhode (b. 1976), featuring six recent multi-part photographic works in which the artist uses colour theory and geometry through which to explore art as a tool for communication. Rhode, who has won the prestigious Zurich Art Prize 2018, combines a number of disciplines and ideas in his work, including drawing, performance, street art, modernism and the work of Eadweard Muybridge, the Victorian photographer famous for his pioneering studies of figures in motion.
The works on show here capture Rhode's interventions at a specific site in Johannesburg, known for its gang culture and violence, where Rhode has made work since 2011. Rhode's beautiful and sometimes playful photographic images (which depict a performer interacting with, and animating, wall paintings made by the artist) are an insistence of the power of art to create new realities, and have a strong collaborative ethos, driven by the artist's close engagement with the young people living in the area. As with much of Rhode's work, these photographic pieces provoke the viewer with playful humour to explore deeper questions about identity and the human condition.
Also on show will be a major recent installation by Scottish artist Christine Borland (b. 1965). Positive Pattern (2016) was originally commissioned by the Institute of Transplantation, Newcastle to honour the courage and generosity of organ donors and their families, who help save and transform the lives of hundreds of people every year. Comprising five abstract sculptures produced in a dense foam this poignant and powerful work renders in three dimensions the interior spaces of carved wooden sculptures by the British sculptor Barbara Hepworth (1903-75), including Wave (1943-44), which is held in the SNGMA's own permanent collection.
A selection of four painted metal sculptures and wall-based works by Sara Barker (b. 1980) will show the ways in which this Glasgow-based artist layers materials and processes to investigate the act of making. Barker breaks apart the traditional categories of painting, sculpture and drawing, combining these and other techniques such as collage in her practice. Influenced by writers such as Virginia Woolf and Jeanette Winterson, Barker's evocative works are often concerned with both physical and mental spaces.
The compelling two-screen video work Orient 2011 by Austrian artist Markus Schinwald (b. 1973), created for the artist's solo presentation for the Austrian Pavilion at the 54th Venice Biennale in 2011, will be exhibited for the first time in Scotland. In Orient five actors are captured in a modern ruin performing gestures and movements drawn from slapstick and modern dance. The two-part work features an atmospheric soundtrack and narrated texts, spoken off-set by two voices simultaneously, producing a layering of sound and words. The highly evocative film explores the role of physical, bodily gestures in conveying the complex inner workings of the mind.
Edinburgh-based artist Catherine Street will present a new installation of works entitled A hoarding of greenery, a flow of redemption developed during a residency in November 2017, organised in partnership with the arts trust Cove Park and supported by Outset Scotland and the National Galleries of Scotland NOW fund. A hoarding of greenery, a flow of redemption explores the contrast between thinking and sensing and comprises a new single channel video, a text piece, a series of collages and a spoken-word performance, which will be staged by the artist during the run of the exhibition.
Accompanying NOW is a group display drawn from the National Galleries of Scotland collection, featuring works by Oladélé Bamgboyé (b. 1963), Miroslav Balka (b. 1958), Alex Dordoy (b. 1985), Alexis Hunter (1948-2014), Calvin Laing (b. 1988), Jonathan Owen (b.1973) and Francesca Woodman (1958-1981), which runs from 24 March to 22 May 2018. This will be followed by the Tesco Bank Art Competition for Schools, which opens on Saturday 26 May and runs until 16 September 2018.
The presentation of Jenny Saville's work is supported by the Jenny Saville Exhibition Circle – our thanks to: Gagosian; George Economou; the Amoli Foundation, Hong Kong; The Broad Art Foundation; Modern Forms and other donors who wish to remain anonymous.
NOW is being made possible thanks to the support of the National Galleries of Scotland Foundation, Kent and Vicki Logan, Walter Scott and Partners Limited, Robert and Nicky Wilson, and other anonymous donors.