Granite City preparing to hold its eighth art fair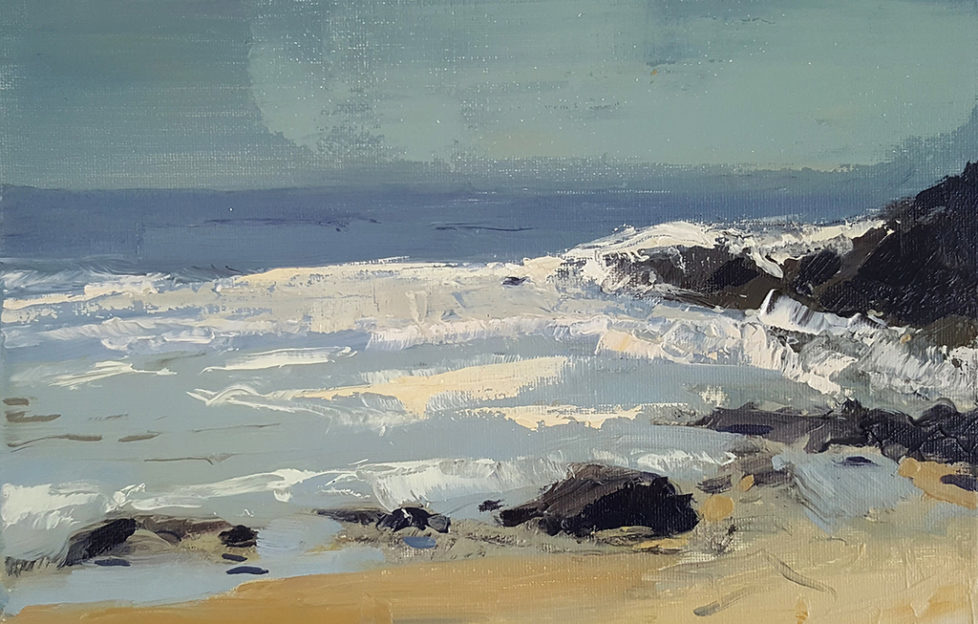 Lovers of Scottish landscapes and the wonders of our natural habitat will be spoiled for choice next month.
The eighth Aberdeen Art Fair, which again takes place at the Granite City's iconic Beach Ballroom, will have a diverse range of works, in very contrasting styles, on show throughout the weekend.
Athens born Maria Michopoulou, owner of Maria Helena Fine Art, creates passionate, utopian interpretations of nature in watercolours and, as she outlines, takes her inspiration from two totally different locations.
She said: 'I have two homes, one a heathery corner of Northern Scotland and the other a tropical island in the Bahamas.
'The morose rains, eerie lochs, brooding mountains and periwinkle mists of the Scottish Highlands are unmarred, dramatic dreamscapes of light and treasure troves of flora and fauna and my artwork is inspired by both the nature that surrounds me and by the palpable atmosphere discernible in the land.'
Coincidentally, Maria's great aunt, Robina MacDougall Purdie, was a contemporary of Charles Rennie Mackintosh and one of the first women at the end of the 19th century to study at the Glasgow School of Art. Robina was a silversmith and the family still has some of her work in its possession.
The Robertson Fine Art stand will feature work by the Fife based Scottish wildlife artist Gordon Corrins, whose paintings have proven extremely popular at the event in previous years.
The artist himself is more than delighted to combine his lifelong interests of painting and animals.
He said: 'I've always had a passionate interest in wildlife, conservation and painting both here and around the world and wanted to get involved in raising awareness of not only endangered species but also animal cruelty and mistreatment. This has led to me giving paintings or prints to animal charities and worthy causes to raise funds.'
Also exhibiting at the Beach Ballroom is Jane Bradford, who runs Jane Bradford Art out of her Newburgh, Aberdeenshire studio.
Born and raised in Peterhead, Jane studied Drawing and Painting at Edinburgh College of Art and after graduating went on to complete an MA in European Fine Art in Winchester and Barcelona before returning to live and work in the North East of Scotland.
Jane is heavily involved in her local community, and said: 'Since graduating I have worked on many art projects including being artist-in-residence at Peterhead Power Station and Peterhead Academy, teaching art to children and adults in further education, museum and school settings, and working on public art projects in Peterhead and Newburgh, where I now live.
'Newburgh of course sits on the estuary of the river Ythan and has an extensive dunes system and a windswept beach with lots of seals and birds. I am inspired by the coast and especially the coast around Newburgh. I love using colour and expressive brush/drawing marks to make my version of the sea and landscapes of North East Scotland.'
Maria, Gordon and Jane are just three of the hundreds exhibiting at the AAF with mediums including paintings, sculpture, art glass, designer furniture, photography, prints and much more with prices ranging from £50 to £30,000.
The opening times for this year's AAF are as follows – Friday 7 September, 6–9 pm (advance tickets only); Saturday 8 September, 10am–5.30 pm; Sunday 9 September, 10am–5pm.
Entrance fees on the Saturday and Sunday will be just £4 per adult with concessions at £3 and children under 15 free of charge (must be accompanied by an adult).
For further information, including a full list of exhibitors, click HERE.