Enjoy the Taste but remove the Waste of Grampian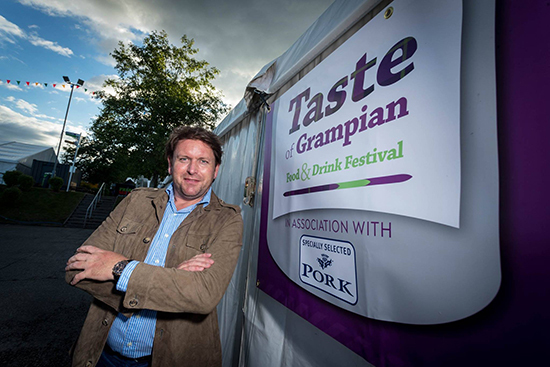 Aberdeenshire Council is aiming to help tackle the Waste of Grampian at this year's Taste of Grampian food and drink festival.
Now in its 19th year, the established event, which takes place on the first Saturday of June each year, has seen a significant increase in exhibitors and visitors, including a growing offering of evening  entertainment supplied by several local street food vendors and pop-up beverage outlets.
The event is being held at the Thainstone Centre, near Inverurie.  Showcasing food and drink producers from across the north-east and beyond, it gives visitors the chance to experience, discover and buy their produce. There are also cookery demonstrations by celebrity chefs James Martin and Gary Maclean as well as a host of local chefs displaying their talents in the kitchen.
Chairman John Gregor said: 'I would really like to see a positive change towards a more sustainable Taste of Grampian.
'Last year, we targeted food waste and we hope to build on this and encourage the food and beverage vendors to use compostable and/or recyclable materials for their food to go, at the event.
'Looking forward, to next year and beyond, we would then like to see as many of the exhibitors using compostable and/or recyclable materials for their samples, food to go and packaging as possible.'
The Too Good To Waste initiative is also being supported by One Stop Waste.
Belinda Miller, head of Economic Development and Protective Services at Aberdeenshire Council, said: 'Through its Environmental and Climate Change Policy, the council has committed to leading by example and using its influence to raise awareness and understanding of environmental and climate change issues, actively encouraging responsible practices and behaviours.
'Taste of Grampian is an ideal event to actively encourage people, of all ages, to do the right thing and put the waste that they have generated in the appropriate bin to help facilitate both recycling and composting to take place, and to encourage producers and vendors to consider the amount and type of packaging they use.
'This in turn will help to reduce the amount of general waste going into landfill.
'We would like to see a reduction in single use plastic and we all have a vital role to play in the reduction of landfill waste, so let's help make a positive difference at Taste of Grampian and beyond.'
Taste of Grampian celebrates not only the food and drink producers but all the local talented chefs and entertainers. Entry is £8 per person. Children aged 16 and under and accompanied by an adult are free. Parking is free.