Enjoy magic moments and fantastic beasts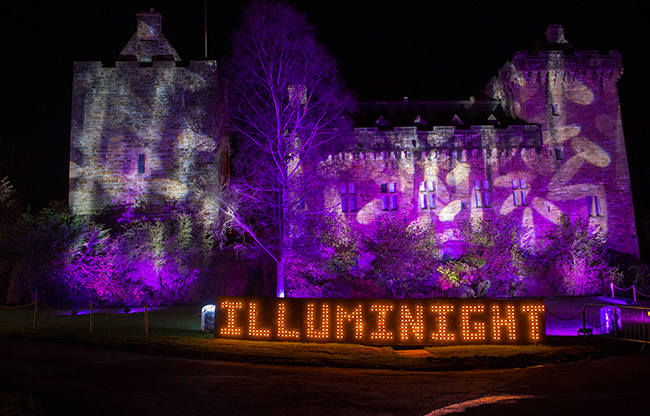 Mythical creatures and magic moments are coming to a Scottish country park.
Illuminight with Lidl returns to Dean Castle Country Park, in Kilmarnock, with this year's magical theme including some of the exciting new elements from this year's spectacular sound and light event.
The event, with the theme Mythical Creatures, is run by East Ayrshire Leisure and Unique Events.
Illuminight with Lidl will once again shine-a-light on Dean Castle Country Park, Kilmarnock, which re-opened in 2017 following a multi-million pound restoration project.
The all-new show will lead visitors on an enchanted 1.5km woodland trail, discovering mythical creatures and magical beasts in an exciting light and sound show produced in collaboration with production partners Black Light.
Through funding support from EventScotland, part of VisitScotland's Events Directorate, Illuminight with Lidl presents an all new show for 2018, with Black Light lighting designer James Gow and award-winning guest artists creating a fairy-tale journey of mystic wonder using state-of-the-art technology, projection, light, fire and sound.
James has collaborated with lighting designers Grant Anderson from GXL Design and Simon Hayes and Kate Bonney from LightWorks along with Ross Blair, Art Director of Projection Club, to bring an array of mythical creatures from mermaids and fairies to dragons and ogres to life with light, sound and specially composed music from composers Claire McKenzie and Kevin Murray.
This year, visitors to the event will enjoy two dramatic large-scale water shows in the Mermaid Lagoon and the Magic Loch, explore a Fairy Garden and tiptoe through the Ogre's Swamp.
They'll find out if they are quiet enough to cross the Goat's Bridge without disturbing what lies beneath or brave enough to enter the Dragon's Lair without waking the Sleeping Dragon.
James said: 'I am excited to be working with an extremely talented creative team to produce an all new show for Kilmarnock, whilst working closely with our partners at Unique Events and East Ayrshire Leisure.
'Our extraordinary creative team have been stretching boundaries to develop an exciting and ambitious event for 2018 including brand new interactive installations and fusing lighting, sound and video elements with unique atmospheric effects to produce mesmerising magical moments for all our visitors.'
As well as enjoying spectacular shows, visitors are invited to participate through a host of interactive installations, creating music on giant instruments, transforming woodland scenery by changing lighting through interactive controllers or making the dragon breathe billowing smoke.
2018 will also see an enhanced food and drink offering with two food villages along the trail together with warming stations offering toasted marshmallows and hot winter warming drinks – hot chocolate, mulled wine and warmed cider.
The end of the trail welcomes the audience into a finale show at Dean Castle's Fairy Kingdom before enjoying all the fun of the fair with the return of the Illuminight with Lidl funfair and a spectacular new giant wheel attraction.
Local discounted tickets providing a 10% discount for KA postcode holders have already sold-out and organisers are advising audiences to buy tickets now to avoid disappointment.
A special preview night will also be held on Wednesday 24 October, allowing visitors the opportunity to be the first to see this year's event on a discounted ticket price of £10 full price and £5 child tickets
Councillor Elena Whitham, chair of East Ayrshire Leisure Trust, said: 'Dean Castle Country Park has always been a magical place and to transform it this Autumn into a mythical wonderland with fairies, dragons, mermaids and giants is very exciting and I can't wait to make my way through the ogre's swamp and into the dragon's lair. This should be a fantastic experience with truly magical moments for all of our visitors.'
Tickets for Illuminight with Lidl are on sale through www.illuminight.co.uk. The event runs from Wednesday 24 October until Saturday 18 November 2018, daily except Mondays.
Find out more about other events in Scotland HERE.