Celebrating the artistic achievements of women
Glasgow Print Studio is holding an event to mark International Women's Day and Women's History Month 2020.
GPS will present Graphic Impact: Our Lives in Print, an exhibition which highlights and celebrates the contribution women have made to the organisation since its inception in 1972.
The exhibition features work from the GPS Archive, new works by GPS Artist Members and new works by a community engagement panel made up of members of GalGael (Govan) and Platform (Easterhouse).
Glasgow Print Studio's archive collection currently represents the work of 435 artists, of whom 34% are women. Of the eight members who founded the organisation in 1972, 50% were women: Beth Fisher, Sheena McGregor, Eileen Ormiston and Jacki Parry.
Their contributions to the development of the organisation included physically labouring to kit out the workshop, applying for funding, running the workshop for members, providing education classes and editioning prints.
The community engagement panel included nine members of the GalGael community in Govan and 10  people from Platform arts centre in Easterhouse. They each chose an archive print and made either an etching or a screenprint in response to that work. Seven professional artists from the Print Studio each selected an archive print and made a new work responding to those archive prints. Both the archive prints and the works created in response are on display.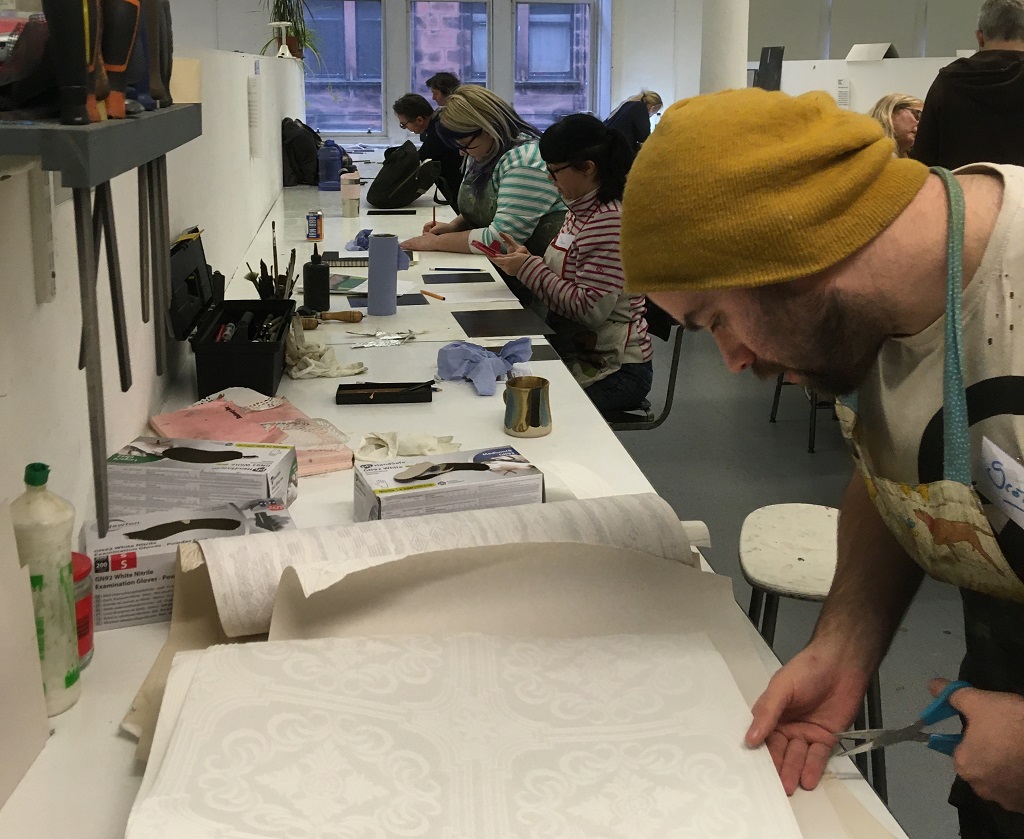 Works from the archive include pieces by Jacki Parry, Ashley Cook, Fiona Waston, Rachel Duckhouse, Monya Flanigan, Sam Ainsley, Christine Borland and Elspeth Lamb.
The seven Glasgow Print Studio members are Fiona Wilson, Maia Ronan, Helen de Main, Elke Finkenauer, Drew Mackie, Emma Booth and Mary Land.
This exhibition is part of the project Graphic Impact: Our Lives in Print, funded by the William Grant Foundation. One of the project aims is to highlight the role of women who have been involved with Glasgow Print Studio since it was founded in 1972, and celebrate their contribution.
The project has also involved the recording of oral histories from early members and staff, which will be used to make a digital resource that will be launched later this year.
The exhibition runs from 6 March–29 March. For more details visit HERE.