We Will Rock You – a killer (queen) of a musical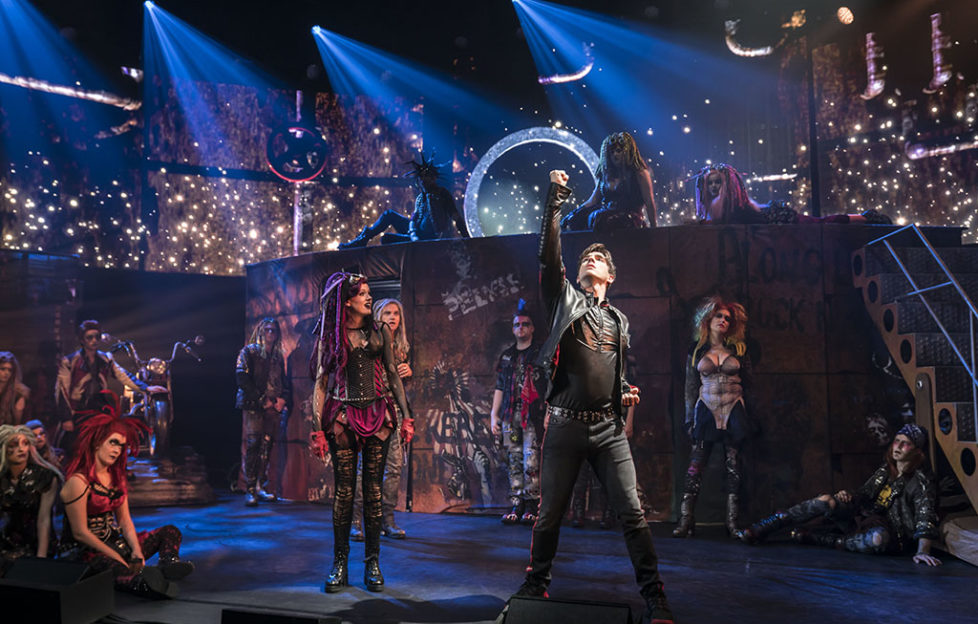 Successful band? Check. Hit after hit after hit? Check. Big fan base? Check. Straight away, you have the formula for a musical.
What did I know about We Will Rock You before I went to see it? Well. Not much. It's based around the music of Queen. The story was by Ben Elton. And… erm… that's about it.
On the plus side, I love Queen's music. I wouldn't call myself a die-hard fan, but I know and appreciate their huge catalogue of work, having been first introduced to it through their soundtrack to Flash Gordon.
We find ourselves in the future, where Earth has been renamed the iPlanet, and the population is under the control of the all-powerful Globalsoft company and its boss, the Killer Queen. The cause for this change in history? Something called… The X Factor.
Ben Elton's cynical look at modern popular culture is very much in the mould of his Big Brother spoof novel, Dead Famous, in which he takes deft swipes at those seeking instant fame and fortune, by going with the flow of what those with power want. Here, individual creativity and identity have been stripped away, to be replaced by mass-produced music, and all previous forms of rock have been removed from accessibility.
Except, there is one young man, a dreamer, Galileo Figaro (Ian McIntosh), and he meets a fellow rebel with a cause, who can't remember her name. He dubs her Scaramouche (Elena Skye). The pair fight back against the state, and escape the city to join the Bohemians. Throughout the dialogue, there's clever nods and throwaway references to song titles, which will raise a laugh or ten.
McIntosh brings a touch of a young Alan Davies to Galileo, offering a naive optimist, while Skye instantly impresses with her powerful vocals. She has a fantastic line in sarcasm, making the dialogue seem naturalistic and spontaneous, in a world that is a heightened reality.
The entire cast were absolutely on the money throughout. Adam Strong is fabulous as Khashoggi, the right hand man of the Killer Queen (Jenny O'Leary), who quickly establish a great double-act. Their facial expressions are often worth the price of admission alone.
The best laughs in the show go to Buddy, played by Michael McKell, who channels a camp Ozzy Osbourne, and absolutely steals the show during the final quarter of the show.
It's well worth listening to the words of the songs, which have been cleverly altered to fit the plot of the story. Radio Gaga features 'internet gaga', most notably of all. The character names are hilarious too – we won't spoil them for you, but they are proper laugh out loud moments for a couple of them.
Of course, it all ends in the ruins of Wembley Stadium, the home of two of Queen's most famous live concerts, and you can't go through a Queen tribute or show without Bohemian Rhapsody. There's also respectful nods to Freddie Mercury throughout.
The set and costume design is wonderful. Moving screens present us with a future city state – there's moments when they look akin to the opening titles of the fourth series of Blake's 7, while the costume and hair design reflects the late 1970s/early 80s BBC science fiction look, with velvet outfits with added studs (Blake's 7 again!), or grey mohawk hairstyles.
I was smiling throughout the show and restraining myself from singing along – I can't praise We Will Rock You any more than that.
Tickets for We Will Rock You can be bought HERE. It is in Glasgow's Theatre Royal until Saturday 28 December.