Super silverwork to go on show at National Museum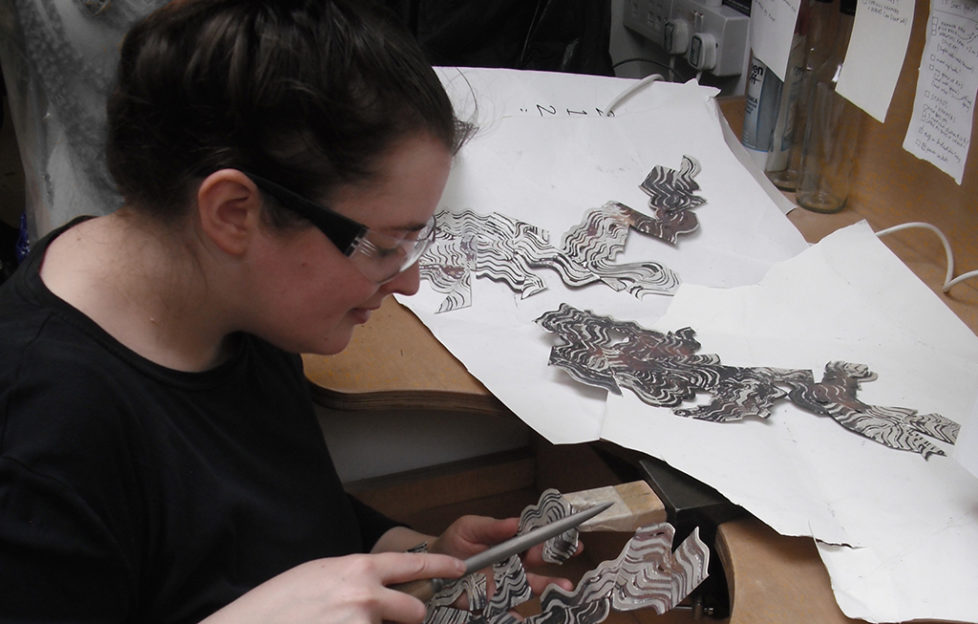 Recently graduated and early career silversmiths have been boosted as their work is to go on display in the National Museum of Scotland in Edinburgh.
National Museums Scotland is pleased to announce this year's recipients for the P & O Makower Trust Silver Commission, an exciting opportunity that supports young people in the creation of a major piece of silver which will go on public show.
Since 1974 the Penelope and Oliver Makower Trust has been commissioning contemporary silver which is loaned to the UK's national museums. Loans are currently made to the Victoria and Albert Museum (London), National Museum Wales (Cardiff) and most recently National Museums Scotland (Edinburgh). The collection consists of over 30 pieces of contemporary British silver.
The winners are Jessica Jue and Hazel Thorn, both of whom studied at the Edinburgh College of Art.
Normally only one commission is awarded but, due to the extremely high level of entrants and the generous support of the P&O Makower Trust, two awards will be made in 2019 for the first time, one to be completed this September and the second in March 2020.
This year's commission looks to highlight the work of silversmiths whose practice considers the use of colour in metal, be that through the use of patination, mixed metals, or enamelling.
The judges, made up of members of the Makower family, curators from National Museums Scotland and the enamellist Sheila McDonald, were looking for work that reflects an artistic application in this area and demonstrates the continuing excellence within the craft of silversmithing.
Hazel said: 'I moved to Edinburgh from the Highlands in 2007, to do a degree in Jewellery & Silversmithing at Edinburgh College of Art. Throughout my studies and ever since, the National Museum of Scotland has been a huge source of inspiration. I am thrilled to be working with this wonderful place, and very excited about developing a new piece for the commission!'
Jessica added: 'I am absolutely thrilled and honoured to have received this major Silver Commission from National Museums Scotland. I believe working on this piece will help me further my techniques as well as my practice as a silversmith. I very much look forward to working on this commission and cannot wait to get started!'
The Makower Trust said: 'The Penelope and Oliver Makower Trust was set up to commission young silversmiths and expose their work and creativity to the public. We are therefore delighted to have provided grants to both Jessica and Hazel and again partner with National Museums Scotland who are generously providing permanent display space for the winning commissions.'
Sarah Rothwell, curator, Modern & Contemporary Design at National Museums Scotland added: 'We are very pleased to be working with the Penelope and Oliver Makower Trust to support and promote the work of emerging silversmiths. This is the first time that there have been two commissions awarded from the same round of entries. We are looking forward to seeing the work of these two talented young artists and putting the finished pieces on display in our Making and Creating gallery, which explores the techniques and inspirations behind the work of artists, makers and designers.'
Jessica Jue is a London based jeweller and silversmith who explores a wide range of traditional techniques, which are used to craft beautiful sculptural designs. Jessica has undergone her training at Edinburgh College of Art and Bishopsland Educational Trust, where she developed her passion for metalwork.
Jessica is drawn to the themes of balance and harmony, creating a sense of movement and rhythm within her collection of work. The fluidity of form allows a visual narrative to pass between all her pieces. Her visual inspiration is often drawn from organic forms, where she extracts their playful curves and manipulates the shapes through techniques of raising and chasing, while also exploring various textures.
See more of her work at https://www.jessicajue.com/
Hazel Thorn utilises a combination of base and precious metals with chemical patination to produce contrasting colours. Her material experimentations inform the artistic output of her forms, creating dramatically sculptural vessels and forms that often reference the landscape and geology of the highlands. She has dedicated her practice to refining her craft in the pursuit of what is now her trademark technique.
Find out more about here work at https://hazelthorn.co.uk/