Tune in this weekend to the story of Scottish pop music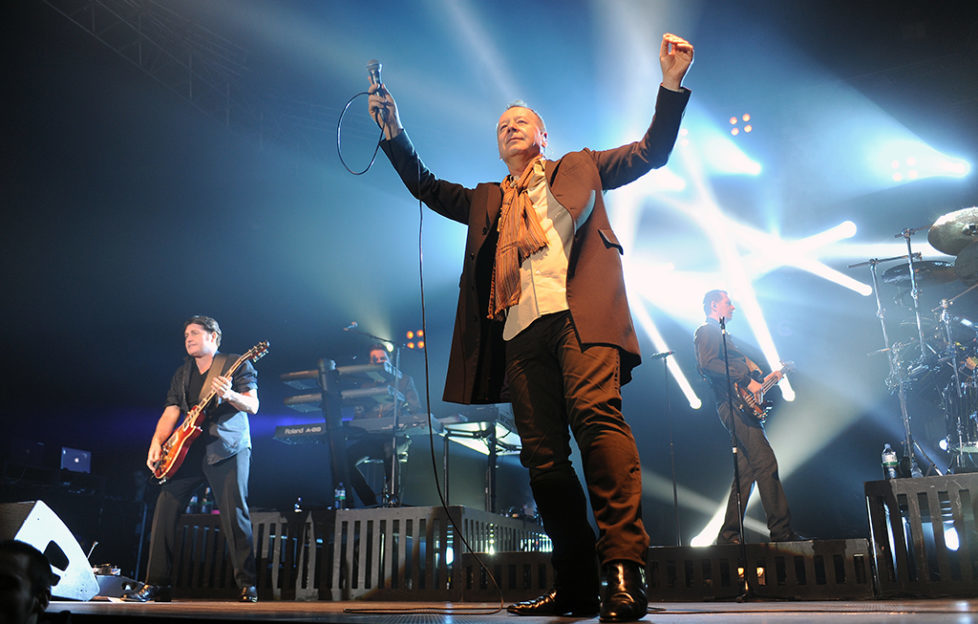 A radio documentary series telling the story of Scottish pop music is being broadcast over the coming weekends.
BBC Radio Scotland has produced The Story of Scottish Pop, a new four-part radio series exploring the pop, rock, alternative and dance music that made its way from Scotland right across the world.
Presented by Vic Galloway, he said: 'It's astonishing that this tiny country on the very edge of Europe has achieved so much in music, with no signs of the ongoing success slowing down.'
With insights from big names, key players and local legends who put Scotland on the global musical map, the first programme was broadcast last Sunday, and featured the land of pure pop.
Contributions came from Simple Minds' Jim Kerr, Clare Grogan from Altered Images, Wet Wet Wet's Tommy Cunningham, Lorraine McIntosh and Ricky Ross from Deacon Blue, Pat Kane from Hue and Cry, The Proclaimers, Del Amitri's Justin Currie, Alan Gorrie of the Average White Band and Alan Longmuir from the Bay City Rollers, amongst others.
Clare Grogan recalled her thrill at featuring on Top of the Pops with Altered Images.
She saod: 'I think we were quite good at being overwhelmed and over excited and really happy about it.
'We were dead happy because we were in a band, we were just out of school, we got signed to a major record label and then we got to be on Top of the Pops with a really big hit record…what was there not to be happy about?'
The programme also explored the impact and influence of America and London, the rise of the Scottish accent and what it means to be 'Scottish' in the world of pop.
The second part will be broadcast from 2-3pm this Sunday, looking at the harder seam of rock running through contemporary Scottish music.
It's all about uncompromising attitudes and loud guitars as Vic discovers how Shirley Manson cut her teeth musically, why Biffy Clyro are still humble and relives Simple Minds' punk roots.
Other rock insights come from Twin Atlantic, Honeyblood, Fish from Marillion and Nazareth's Pete Agnew, amongst others.
Twin Atlantic's lead singer, Sam McTrusty, explains the role Biffy Clyro played in shaping their rock careers while Shirley Manson reflects on 10 years with Goodbye Mr MacKenzie, which paved the way for Garbage.
She said: 'Even looking back on it now, it was my real experience of rock'n'roll. I mean proper debauched, outrageous punk rock. Nothing else has ever fazed me, I've lived through it with Goodbye Mr MacKenzie so by the time I became successful with Garbage I think people thought that they could shock me and I was unshockable, truly.'
Artists reflect on Scotland's role in their rock identity, why Scots live audiences are second to none and why live music is the beating heart of all rock groups.
In the third episode, to go out on July 1, also from 2-3pm, it takes a side step into the world of dance music.
Presenter Vic said: 'Whether your tastes are for deep bass, something you can shake a glow stick at, or music that'll just get you moving, Scotland has done surprisingly well when it comes to all things electronic.'
As well as pop provocateurs The KLF, Scotland is the birthplace of The Shamen (a group who went from their underground, psychedelic roots to No.1 in the UK pop charts) and Calvin Harris – the most successful male pop star in the USA since Michael Jackson. And without Scotland's burgeoning dance label Soma the world might not have been introduced to Daft Punk.
As well as Scottish artists who've found success making dance music the scene has spawned world renowned DJs. In this episode Vic speaks to Keith 'Twitch' McIvor from Optimo, Eclair Fifi and Slam.
The programme also features contributions from Mylo, Jon Campbell from The Time Frequency, Brian D'Souza (aka Auntie Flo) and Primal Scream's Bobby Gillespie.
The Story of Scottish Pop is part of BBC Scotland's summer celebration of Scottish music.
In the radio series finale, The Story of Scottish Pop looks at the best alternative and indie music to come out of Scotland.