They've got designs on glory during Glasgow event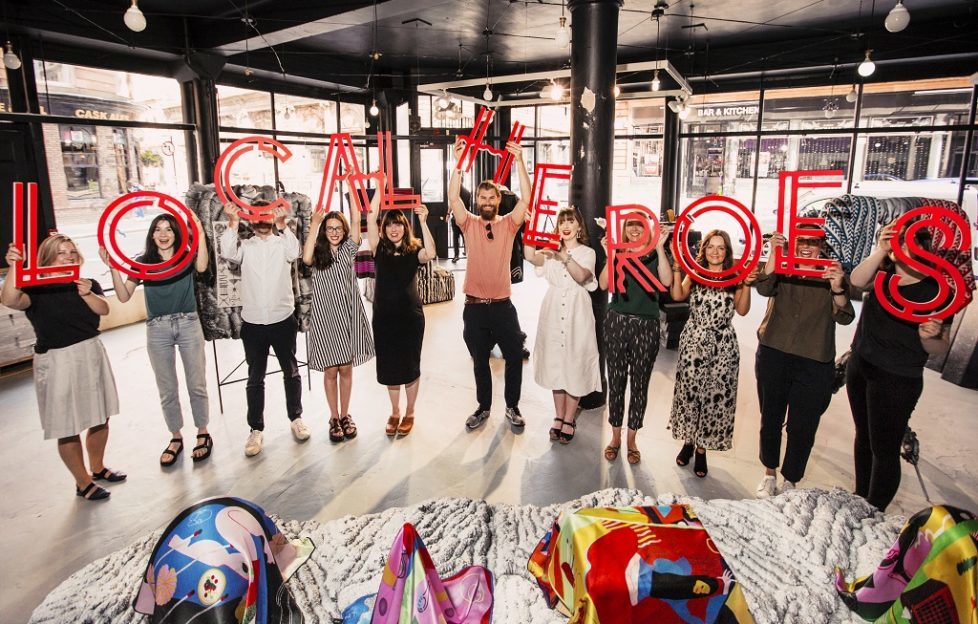 A new exhibition and shop created to coincide with the European Championships is set to open this weekend.
Made In Glasgow by Local Heroes  is an innovative and interactive city showcase of high quality design created to coincide with the hosting of the Berlin/Glasgow 2018 European Championships.
Running from 28 July to 12 August 2018 Local Heroes in partnership with Glasgow Chamber of Commerce, the temporary space is at 58 Albion St in the heart of the Merchant City and it will be transformed into a futuristic showroom.
Showcasing over 30 high quality products designed in the city including 12 exclusive commissions, Made In Glasgow by Local Heroes is an exciting three week-long celebration of design where every exhibit is for sale.
The limited series of special commissions will celebrate the spirit of the new European Championships with designs that are emblematic of Glasgow's creative energy, vitality and ability in design. Special commissions include the Glasgow Raincoat by Love and Squalor x Alice Dansey-Wright, a Banana Bumbag from Trakke and a pair of Merino blanket scarves by Green Thomas in exclusive LOCAL and HERO colourways.
Displayed in an immersive exhibition environment designed by Glasgow artist Steff Norwood, the show acts as a catalyst for audiences to explore design culture with a limited edition magazine also being produced and a series of special events being hosted in the space.
The project brings together the talent at the forefront of Glasgow's design scene turning the city's Merchant City quarter into an epicentre of contemporary design for a limited three week period. Part of the cultural programme running alongside the 2018 European Championships, Made In Glasgow by Local Heroes will transform a former retail space in the heart of the Merchant City.
Building on the success of 2016 international design exhibition Local Heroes at Edinburgh Airport curated by Dr Stacey Hunter, vibrant Scottish design is once more in the spotlight as Stacey teams up with artist Steff Norwood. The pair reimagine how we engage with design and designer products. The futuristic showroom space will feature large geological sculptures which act as 'plinths' for the products from 20 of Glasgow's most exciting designers.
Curator Dr Stacey Hunter said: 'Scotland excels in every design sector. Local Heroes wants to make high-quality design one of our country's key cultural exports.
'International events such as the Berlin/Glasgow 2018 European Championships offer the opportunity to highlight exceptional design and make it highly visible to a diverse audience. Glasgow is where the majority of Scotland's flourishing independent design community is based, from individuals, through to design agencies, studios and makers.
'Our pop-up exhibitions and shops like Made In Glasgow by Local Heroes provide a dynamic physical environment to present some of the best examples of Glasgow-made design excellence and innovation. Our events offer a unique opportunity for tourists and residents to appreciate and purchase souvenirs that celebrate Glasgow's contemporary design landscape.'
Clive Gillman, director of creative industries at Creative Scotland added: 'Made In Glasgow by Local Heroes is an opportunity to see and buy the work of talented emerging designers and makers during the European Championships, and an opportunity for visitors and locals to see that beyond the homogenous high street lies a wealth of local brilliance.
'We're really excited to be supporting this design showcase in celebration of Glasgow's hosting of the European Championships. Go see it – and buy something special that you'll treasure.'
Stuart Patrick, chief executive Glasgow Chamber of Commerce concluded: 'Glasgow has a thriving design sector which plays a major part in contributing to our city's economy and this exhibition is a wonderful way to showcase a range of design excellence.
'Complementing and supporting partner activity on the Glasgow Investor Pitch, Local Heroes have worked closely with design businesses to produce a high profile exhibition and event where citizens and visitors can see, experience and purchase high quality design products during the European Championships.'