Author to perform War Horse to mark Armistace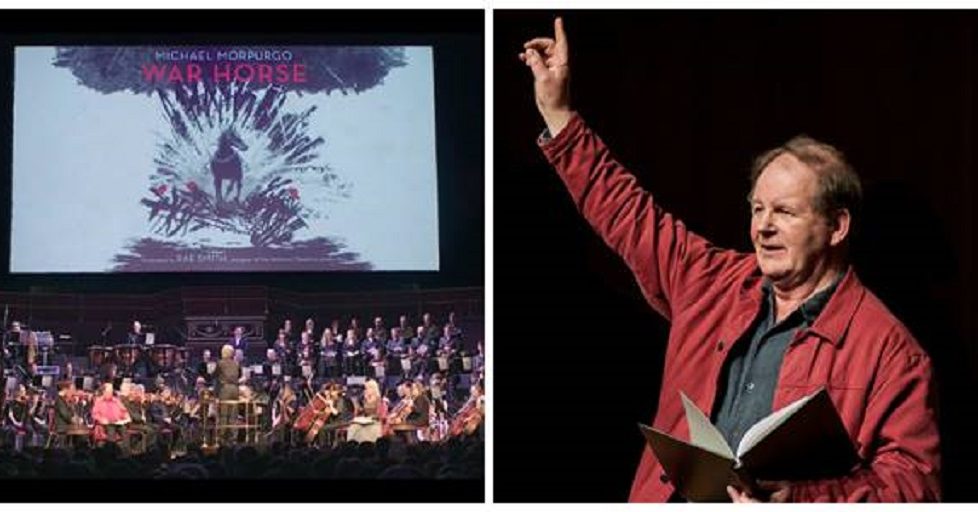 Michael Morpurgo's emotionally-charged story War Horse is to be given a special performance in Scotland.
It will be narrated live at Edinburgh's Usher Hall by the multi award-winning author, with specially arranged music performed by the Royal Scottish National Orchestra.
It will be read at Edinburgh's Usher Hall on Sunday 18 November as part of the venue's Sunday Classics series. He will be joined by co-narrator, the BAFTA Award nominee and much-loved actress Juliet Stevenson.
Alongside the narration will be specially composed music performed by the Royal Scottish National Orchestra, and live drawing by acclaimed artist Rae Smith. Vocal soloist Ben Murray will also join, following his own appearance in the National Theatre's production of War Horse.
When young Albert's beloved horse Joey is sold to the cavalry and shipped to the horrific brutality of First World War France, the boy embarks on a perilous mission to find him again – and bring him home.
Michael Morpurgo's captivating novel has touched the hearts of millions with its tale of deep friendship surviving amid the horrors of war. It has been transformed into both an award-winning stage show by the National Theatre, and a critically acclaimed film directed by Steven Spielberg.
In the month marking the centenary of the end of the conflict, this special event returns War Horse to its original conception.
The author himself reads his emotionally charged story live, with a specially arranged score by Adrian Sutton inspired by music from the National Theatre production, and songs by John Tams. Award-winning British designer Rae Smith recreates live her exquisite illustrations from Morpurgo's book.
This is an extraordinary event for children, adults and families alike, celebrating the power of friendship in the darkest of times.
With a history dating back to 1871, The Royal Scottish National Orchestra has played an integral part in Scotland's musical life, including performing at the opening ceremony of the Scottish Parliament building in 2004.
Led by Danish conductor Thomas Søndergård, who was appointed RSNO Music Director earlier this year, the orchestra are renowned both at home and worldwide. There's no better group of musicians to take Scottish audiences on Michael Morpurgo's emotional journey to the Western Front, almost exactly 100 years since the First World War came to an end.
Councillor Amy McNeese-Mechan, vice-convenor, culture and communities committee said: 'As we prepare to mark the centenary of the Armistice, this performance will provide a fitting and particularly touching reminder.
'We're delighted to welcome Michael Morpurgo to read his enthralling tale live at the Usher Hall for this unique event which, along with a specially arranged score performed by the Royal Scottish National Orchestra and live drawing from talented illustrator Rae Smith, is set to bring War Horse to life spectacularly.'
War Horse: The Story in Concert – Centenary Concert will take place on Sunday 18 November at 4pm, at the Usher Hall, Lothian Road, Edinburgh.
Tickets are available at www.usherhall.co.uk priced from £13.50-£35. Full time students are entitled to tickets for £10 which can be booked in advance. Under 16s are entitled to free tickets when booked with a paying adult.