Nevis Ensemble tours Nevis Water Stories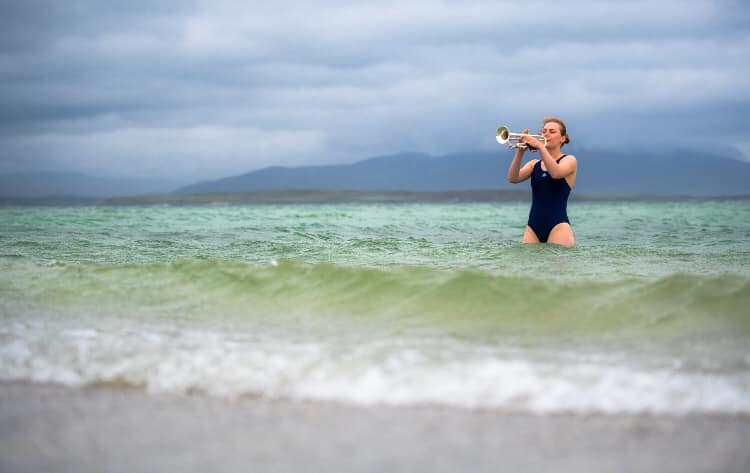 Nevis Ensemble is to give 60 chamber music concerts in nine of Scotland's local authorities as the culmination of the orchestra's Nevis Water Stories projects as part of the Year of Coasts and Waters 20/21.
Delayed from 2020 due to the pandemic, chamber groups will premiere new works written by four composers, following an Open Call, in collaboration with young people and community groups in four areas of Scotland: Aberdeen: Lisa Robertson (young people from across the city); Isle of Eigg: Fergus Hall (the whole island community); Saltcoats: Harry Gorski-Brown (primary school children); and Port Seton: Huan Li (adults with learning disabilities)
Taking place between 16 and 26 November, and visiting Aberdeen, Aberdeenshire, Argyll and Bute, East Ayrshire, East Lothian, Edinburgh, Glasgow, Highland, and North Ayrshire, performances will take place in a variety of community and social care venues, such as schools, hospitals and care homes, as well as public spaces and venues such as St Margaret's Braemar, Dunbar Battery, Aberdeen Art Gallery and Scottish Maritime Museum.
Returning to live audiences over the last few months has been important for Nevis Ensemble's musicians, and we are delighted to be able to visit some of our regular venues for the first time since the onset of the pandemic, as well as visiting many new places for the first time.
The new music being performed takes inspiration for the local heritage, stories and natural environments of each location, thematically led by participants. In Saltcoats, Harry Gorski-Brown worked with schoolchildren in Saltcoats, based on their experiences of going to the beach and all of the sights, sounds, and smells that come with living by the sea. Bridging acoustic and electronic music, he has written a piece for string quartet and electronics, with recordings of pupils speaking text and singing, overlapping the strings.
The performance tours, as well as the community composition projects that have taken place through 2021 are supported by Scotland's Year of Coasts and Waters 20/21, and Scotland's Events Recovery Fund, established by EventScotland in conjunction with funding from the Scottish Government to help Scotland's events sector plan and deliver events in response to Covid-19.
Nevis Ensemble chief executive, Jamie Munn said: 'We are so pleased to be able to get our musicians back out on the road and as part of the Year of Coasts and Waters 20/21, and do what they do best – give the communities of Scotland fun and energetic performances. We can't wait to hear the new works specially written for these performances alongside communities, and to celebrate the environments and histories of each place.'
Paul Bush OBE, Director of Events at VisitScotland, said: 'Events play an important role in our communities and EventScotland is delighted to be supporting Nevis Water Stories as part of the Year of Coasts and Waters 20/21.
'The importance of human interaction, connection and shared experiences has never been stronger so it's fantastic to see this activity, inspired by our coasts and waters, take place across a range of settings enabling both audiences and the orchestra to share their love of performance together in the same place, at the same time.'
Since August 2018, the award-winning Nevis Ensemble has given hundreds concerts to people across Scotland, performing everywhere from a farm in the Borders, and supermarkets in Glasgow to the summit of Ben Nevis itself, and the remote islands of St Kilda, whilst collaborating with organisations to run projects for those experiencing homelessness, women seeking refuge from domestic violence, children in care, young carers, older people living with dementia, and refugees.
Find out more at https://nevisensemble.org