Young pipers serenade Ukraine's football team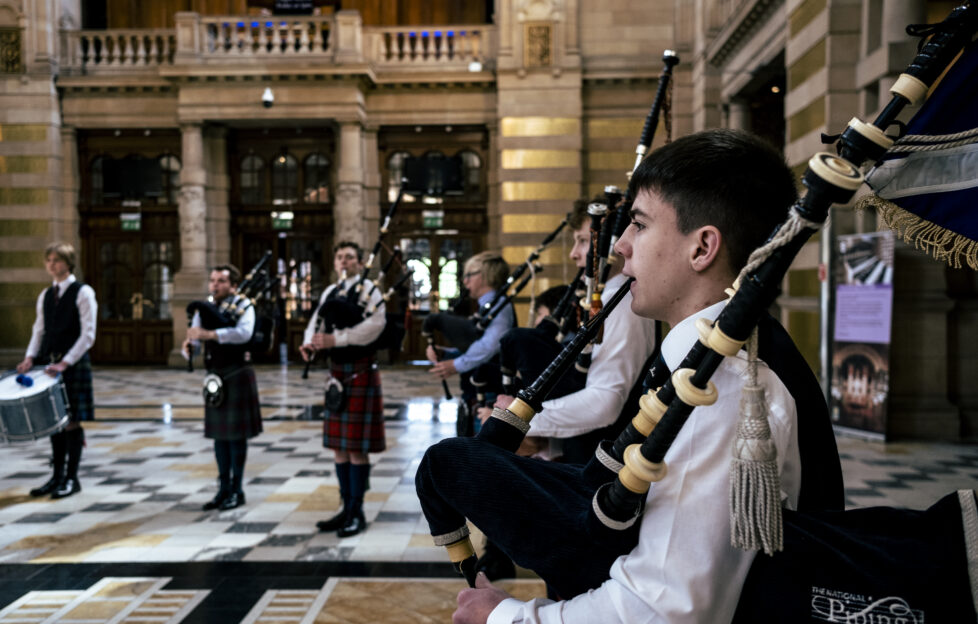 THE National Youth Pipe Band of Scotland welcomed the Ukrainian national side to Glasgow this morning ahead of tonight's World Cup qualifier at Hampden.
The young pipers played the Ukrainian national anthem at Kelvingrove art gallery and museum to welcome the team and its supporters to Glasgow.
Alastair Campbell, Tony Blair's former spin doctor, came up with the idea for the performance while receiving a piping lesson six weeks ago from Finlay MacDonald, director of piping at the National Piping Centre.
MacDonald said: "As a nation, we of course want Scotland to win tonight, but we are 100% behind Ukraine in the bigger battle they are facing."
Campbell added: "Music is the international language of the soul and it is terrific that this group of Scottish pipers have learned the Ukrainian anthem and will be playing it as a way of honouring and supporting the people of Ukraine as their football team comes to Glasgow.
"Scots around the world will want Scotland to win the match and go on to qualify for the World Cup finals.
"But there is also such goodwill towards Ukraine and the people of Ukraine and I am sure many of them will hear about and appreciate this musical gesture.
"It will confirm once more the enormous support for them in their struggle against the Russian invasion.
"Their anthem is a beautiful piece of music, very soulful and actually quite haunting, and unlike many national anthems it can be played on the single octave scale of the pipes."
Read more news and reviews on Scottish Field's music pages.