Street orchestra set to visit the Outer Hebrides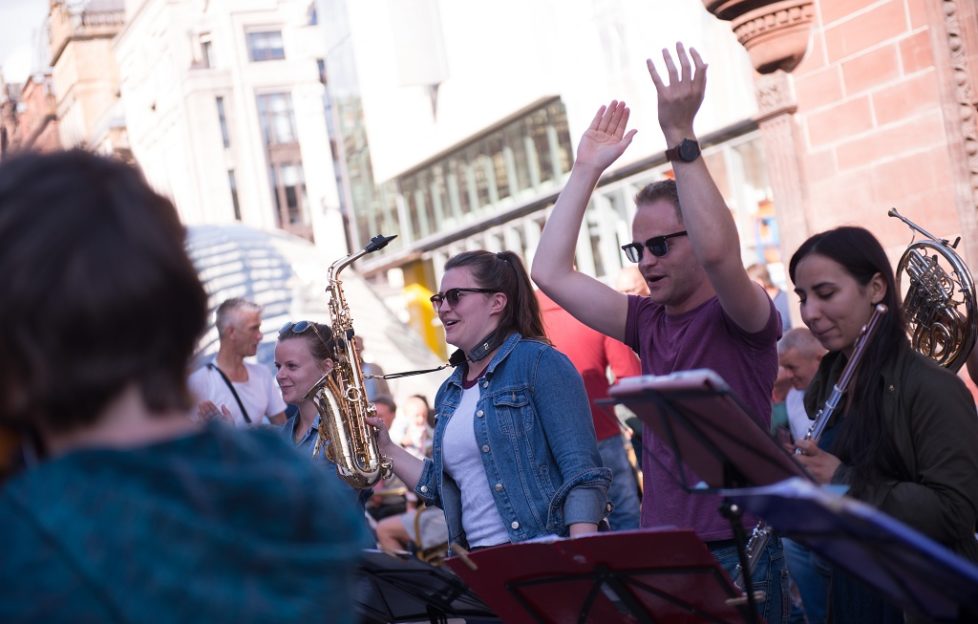 Nevis Ensemble, Scotland's street orchestra, is taking its 40 musicians to venues around the Outer Hebrides this month as part the biggest ever tour of the islands by an orchestra.
Conducted by Holly Mathieson and Jon Hargreaves, this relentlessly energetic group will give 35 concerts in public spaces and community venues in many venues including Barra and Harris from 19-28 August.
A highlight of the tour will see the whole orchestra travelling on four chartered boats to Hirta, the main island of St Kilda, on 24 August. They're the most remote group of islands in the British Isles, and were evacuated in 1930. The archipelago is now home to a million seabirds, National Trust rangers and military personnel.
The ensemble will give the world premiere of a new work by Rufus Elliot, based on the composer's experiences of hitch-hiking around the Hebrides. It is part of an ongoing commissioning partnership with the Royal Conservatoire of Scotland.
Other repertoire includes works by Handel, Mozart, Debussy, Lutoslawski, Shiori Usui, as well as pop music by A-Ha, Toto and arrangements of Scottish ceilidh tunes.
At Taigh Chearsabhagh Museum and Arts Centre, the orchestra will interact with Caolas na Hearadh (The Sound of Harris), a site-specific sound installation by artist Joshua Bonnetta, and after a hike to the top of the Old Man of Storr on Skye for a concert, will perform at Eilean Donan Castle before returning to Glasgow for a final concert for audiences in the city.
With the support of Creative Scotland, An Lanntair, The Robertson Trust, Caledonian MacBrayne, Witherby Publishing Group Charitable Trust, Foundation Scotland, and William Grant Foundation, Nevis hopes to bring its inimitable style, energy and passion to audiences around the Hebrides: reaching as many people as possible through its mission to bring music to everyone, everywhere.
Nevis Ensemble's artistic directors Holly and Jon said: 'This tour is Nevis' most ambitious venture yet. The logistic challenges of touring in the Hebrides mean that orchestras have not visited much in the past. Not only are we overcoming those hurdles, but also adding in a trip to St Kilda to the mix. We have a lot of great music programmed, and we can't wait to share it with the islands.'
Full performance listings can be found at: https://nevisensemble.org/2019/07/10/nevis-ensemble-hebrides-tour