Peter and the Wolf gets a special Scottish makeover for the jazz orchestra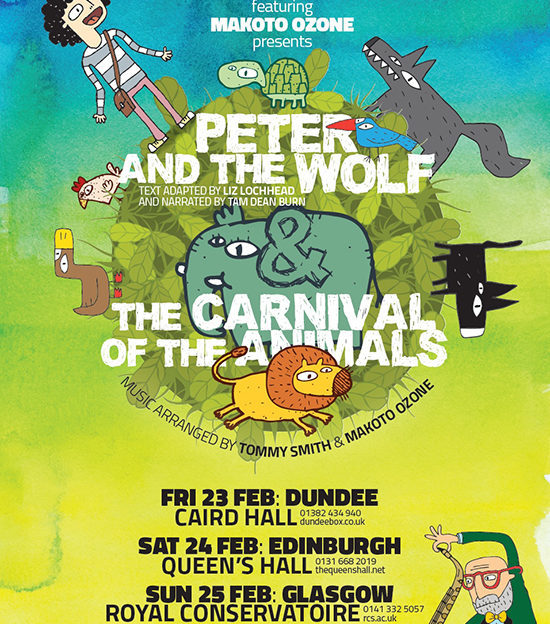 A traditional story has been given a Scots makeover, for the Scottish National Jazz Orchestra.
They will perform Liz Lochhead's take on Peter and the Wolf (orchestrated by Tommy Smith) and The Carnival of the Animals (orchestrated by Makoto Ozone).
This month, virtuoso pianist Makoto Ozone and leading Scots actor Tam Dean Burn join the SNJO for a cavalcade of family concerts that feature fresh jazz interpretations of two eminently familiar pieces of popular classical music: first Prokofiev's cautionary tale of Peter and the Wolf, with narration in Scots specially written by former Scots Makar, Liz Lochhead, and then Saint-Saëns' famous Carnival of the Animals given an original spin by composer Makoto Ozone.
Peter and the Wolf is widely adored as a children's classic and has been translated into the jazz idiom by Tommy Smith who understands the power of music to tell a story.
These original performances promise a wonderful evening of spoken word and descriptive music suitable for all. Tam Dean Burn will expressively narrate Liz Lochhead's new version of the story, while the SNJO provides vivid musical character sketches to fire imagination and stir emotions.
Tam Dean Burn is a respected and versatile Scottish actor familiar to both theatre and TV audiences for his prominent roles in The Cherry Orchard, Stephen Berkoff's Messiah, and as McCabe, the River City gangster. In 2017, he appeared with the SNJO at the Edinburgh International Film Festival in a moving tribute to the Scottish poet and playwright Tom McGrath.
Saint-Saëns' Carnival of the Animals is a dizzying, dazzling, zoological roundabout that might have been built for the benefit of jazz musicians. It is not difficult to imagine the different instruments in the SNJO creating pictures in sound, and conjuring creatures from just a few notes on the page. Quite how it will sound is anybody's guess, but with Makoto Ozone involved, it's guaranteed to be fast, furious and enormous fun.
Makoto Ozone, the guest pianist for both pieces, is famously in demand as a soloist, as much with international symphony orchestras as he is with jazz luminaries like Gary Burton and Branford Marsalis.
He has previously collaborated with the SNJO for Smith's epic version of Rhapsody in Blue and for Jeunehomme, their enormously successful re-invention of Mozart's early composition as a contemporary jazz concerto. They are delighted to be reunited once more for this concert series to innovate, educate, and above all, entertain.
The performances will take place on:
Friday, 23 February, at The Caird Hall, Dundee (01382 434 940).
Saturday, 24 February, at The Queen's Hall, Edinburgh (0131 668 2019).
Sunday, 25 February, Royal Conservatoire of Scotland, Glasgow (0141 332 5057).