Classical pair share their knowledge at national music school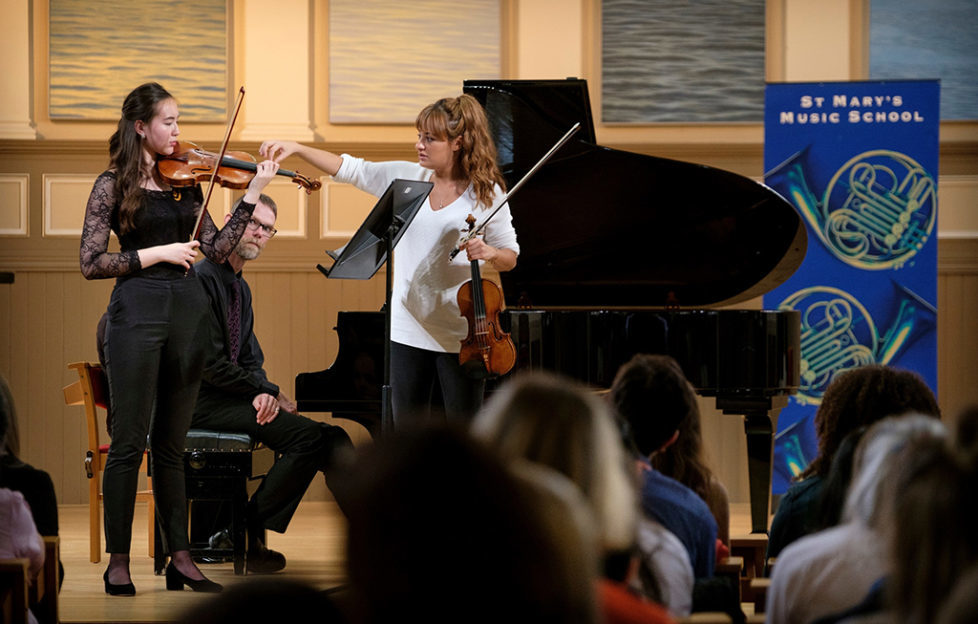 Classical musicians Nicola Benedetti and Steven Isserlis feature in a new short film showing them tutoring pupils from Scotland's national music school.
Entitled Playing, the film showcases two of the musically gifted youngsters who have studied at St Mary's Music School in Edinburgh as they highlight the message that learning music is a life-long passion that never stops.
Violinist Sophie Williams, 19, and cellist Hugh MacKay, 18, discuss their emotions as they prepare for public performances and outline their plans for the future as they prepare to leave Scotland's only specialist, independent music school for further study and careers as professional musicians.
The Edinburgh teenagers were filmed receiving inspirational teaching sessions with Sophie working with Nicola Benedetti at a Masterclass in Edinburgh and Hugh with Steven Isserlis in London.
In the film Steven said: 'The most important thing for a musician is to move their audience, to talk to them. Nerves are not such a bad thing, a little memory-lapse, a little slip doesn't matter to an audience. If you don't have nerves, then you are so sure of yourself, you are not interested. You need vulnerability as a musician so you "talk" with an extra intensity.'
His view is echoed by Sophie who added: 'When you are performing solo you feel very vulnerable and when you learn to deal with that, it makes you stronger as a person.'
Hugh agreed: 'It is a mixture of excitement, anticipation and nerves. The more you can focus yourself on just what you have to do, it is really important to perform really well.'
The film, the third in a series of four films brings the advice of one of the greatest composers of the Romantic era to life, taking inspiration from the book Robert Schumann's Advice to Young Musicians Revisited by Steven Isserlis.
Schumann's book, first published in 1850, received a modern focus when updated in 2016 by Steven Isserlis, the internationally renowned British cellist who is also a Vice-President of St Mary's Music School.
The book provided the inspiration for the school to highlight the most important aspects of being a musician; it follows the sections in Isserlis' revisit where he describes the processes of practice, composition and performance. The advice has been updated by Isserlis' own commentary, making the volume an inspiring read for aspiring young musicians.
The first title in the film series Practising was released in November 2017, Composing in March 2018 and the final title On Being a Musician is due for release in the autumn of this year.
The commentary in the four films has been provided by one of St Mary's Music School's most famous past pupils, television personality and singer, Alexander Armstrong.
Dr Kenneth Taylor, Headteacher at St Mary's Music School, said: 'Playing highlights the work of two of our S6 pupils whose journeys as they prepare to leave school to embark on the next stage of their music education. It is available to view online on the school website and our first two films have proved very popular, with tens of thousands of views since their release.
'This year's leavers this year are going on to study at an impressive list of destinations including the Royal Conservatoire Scotland, Royal Academy of Music, Royal College of Music, Trinity Laban Conservatoire of Music and Dance, Royal Birmingham Conservatoire, University of Cambridge, University of Glasgow and the University of Performing Arts in Vienna. Everyone at St Mary's Music School wishes them all the very best for the future.'
Members of the public who would like to hear St Mary's Music School pupils perform in concert are warmly invited to the school's next public performance A Shropshire Lad, which takes place at Queen's Hall on Monday 25 June at 7.30pm.
The programme will include the School's Senior Orchestra, directed by William Conway, featuring Marcus Farnsworth, baritone, singing English Song Cycles: Butterworth's "Six songs from a Shropshire Lad" and Vaughan Williams' "Five Mystical Songs." The Choristers of St Mary's Cathedral and the School's Junior and Senior Choirs, String Ensemble and Jazz Ensemble will also feature in this summer celebration.
Tickets are available from St Mary's Music School (telephone: 0131 538 7766) or from Queen's Hall Box Office (telephone: 0131 668 2019 or www.thequeenshall.net).