Red carpet premiere for Robert the Bruce film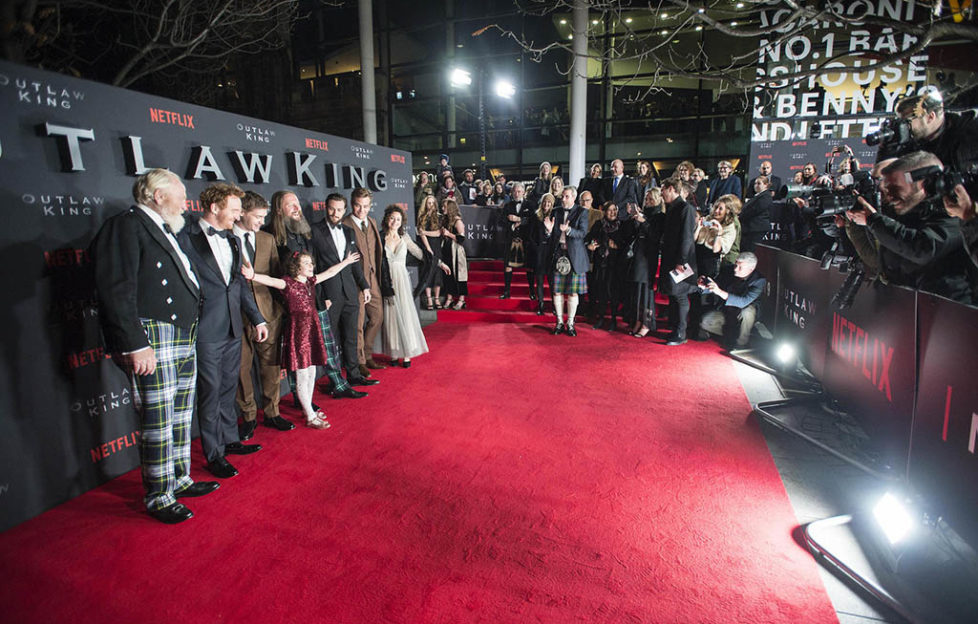 Friday night saw the stars of the highly anticipated Netflix movie Outlaw King, gather in the capital for the Scottish premiere.
The film focuses on the story of Robert the Bruce and his transformational journey from defeated nobleman to outlaw hero during the brutal and oppressive occupation of mediaeval Scotland by Edward I of England. Robert is crowned king of Scots and despite the bloody consequences, manages to bring together a group of men ready to stand with him and fight against the huge might of the English King's army and his volatile son, The Prince of Wales.
Scottish Director David Mackenzie said: 'This is a story that hasn't been told before and it's kind of been caught up in legend and myth.
'I'm really glad to be here in Edinburgh showing the film to a Scottish audience for the first time but I'm a little bit nervous to see how people respond. The one thing I can say for certain is that we tried our hardest to make this as accurate and right as possible while also being an entertaining movie.'
One of the main ways that the film tries to stay true to the narrative is by being filmed entirely in Scotland.
He added: 'As far as I know it's the biggest homegrown Scottish film ever made and I'm very happy about that fact and also that our little Glasgow company managed to attract the finance to bring it to this big operation here. We've done ourselves proud and I hope that means that more things like this happen.'
The role of Robert the Bruce is played by American actor Chris Pine whom you might recognise from Star Trek, Wonder Woman and Hell or High Water (also directed by Mackenzie).
Pine, who says Talisker Bay on the Isle of Skye is up there with his favourite spots on the extensive list of filming locations, felt compelled to do his homework before taking on the iconic role: 'I tend to be a lazy researcher but realised I had to do my due diligence and read as many books as I could about him, I spoke to some really great and very intelligent professors of history and visited places like Bannockburn and other sites. I like the fact that his allegiances weren't straightforward, at least in the beginning.'
While some might have assumed a Scottish actor would have played the iconic figure, Dunbartonshire-born James Cosmo who plays Sir Robert VI de Brus, the father of Robert the Bruce, assured viewers that Pine didn't need his assistance with the Scottish accent and that Pine had definitely done his research for the role. Cosmo also featured in Mel Gibson's Braveheart, the obvious go to comparison for fans and critics alike and said: 'When I was in Braveheart they had to make me look like an old man but in Outlaw King they didn't have to try so hard!'
Fellow Scottish actor Tony Curran who plays Angus Macdonald, said: 'We're just artists and story tellers but we're telling the story of our past, of a Scottish past, of an English past and of a British and almost a universal past. It's the kind of thing that gets your attention as an actor.'
The film, which arrives on Netflix on 9 November, goes someway to depicting the complex and emotive story of Scotland's Wars of Independence by providing an insight into this specific period of 1305 -1307.
The violence in the film leaves little to the imagination, with battle scenes and gruesome executions a plenty. The film has been described as the ultimate David v Goliath story, a sentiment I would have to agree with, although being able to see the film on the big screen is the best way to appreciate the full scale of the production, not to mention the beautiful shots of the Scottish landscape.
Pine adopts a rather believable Scottish accent with only a few moments that reveal it's not his native accent. The romance between the Scottish King and his new wife Elizabeth de Burgh, played by Florence Pugh, is a significant factor in the film's ability to entertain and adds a welcome source of light in an otherwise brutal crusade.
Director David Mackenzie hinted at the possibility of future instalments by saying: 'There are opportunities to tell this story beyond this film.' So this might not be the last we see of the King of Scots.