Children all over Britain will discover Scotland's beauty with new TV series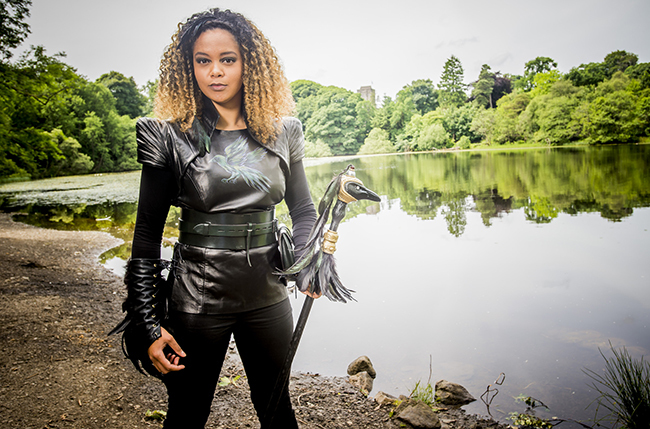 Scotland's natural beauty is to introduced to another generation thanks to a new children's television show.
CBBC fantasy adventure gameshow Raven is back, having been recorded this summer in the unspoilt wilderness of the Cairngorms National Park.
The original Raven, which won several BAFTAs and inspired three spin-off programmes, gathered a massive cult following when it was aired between 2002-2010.
More than 2500 children from all over the UK applied to be on the show with 500 then chosen for audition in London, Manchester, Bristol, Birmingham and Glasgow. From there, the numbers were whittled down again to select the final 32 contestants.
The show sees children compete for warrior names and in various games, and the overall winner goes forward to a Grand Tournament. The warriors come from all over the UK, living as far north as Orkney and as far south as the Isle of Wight.
Fans have been eagerly awaiting a first look at the show since it was announced in June that it was coming back.
The first of 15 30-minute episodes kicks off on Monday December 4 at 3.50pm on CBBC, with an installment following every weekday until the Grand Tournament final on December 22.
The star is Aisha Toussaint, 22, from Clydebank, who takes over the mantle of Raven from original star James Mackenzie. She calls on a band of brave contenders to test their courage, strength and agility in a bid to become her one True Warrior and help her fight her nemesis, the evil sorcerer Nevar.
Already a star of BBC Scotland drama River City, Aisha loved her first foray into children's TV.
She said: 'I was a huge fan of the original show myself when I was younger, so to be cast as the new Raven was a dream come true for me. I loved every minute of filming and really enjoyed working with the kids – they were great fun and totally up for any challenge they faced. I hope both the original audience and new viewers will enjoy it.'
Aisha, landed her first acting role as Jules Belmont on BBC Scotland's River City in May 2016 while she was still studying for her BA in acting at New College, Lanarkshire.
She's still a popular face in the weekly drama and filmed Raven from July-September 2017 during River City's summer break – and admitted it was a challenge to shoot in the wilds of the Cairngorms.
Aisha, who was born in the Seychelles, said: 'It was, but it was never a chore because the location was so utterly stunning. I really hope the audience will appreciate the true beauty of where we filmed in Scotland because there could have been no better backdrop, it's phenomenal. It was a real privilege to be there.
'I know the big difference is that Raven is now female and that's very relevant today. We've got a female Doctor Who for the first time ever and now we've got a female Raven. It's brilliant to have such positive role models for girls. Raven is not just a female role model, though – she's a brilliant role model for all young people. She's intelligent and strong, but also very caring and protective. The relationship between her and the warriors is sometimes that of teacher and student, but she's also a guardian and protector who mentors the warriors and I think showing that softer side to her is really important.'
Nick Gunaydin, the series producer, said: 'Aisha came to the audition with a huge piece of wood she'd found in a wood and she used it as a staff. It helped her get into character and we instantly loved her. She had been a big fan of the show as a kid and that came across effortlessly. We could tell she really understood what Raven was all about.
'Aisha's enthusiasm was unparalleled. She also came across as a really caring Raven, which is exactly what we were looking for. We thought she would be great at mentoring the young warriors – and she was.
'Filming on location in the middle of the Cairngorms was always going to be a challenge. The biggest of which was safety. Having so many kids, crew and chaperones plus some big complex game riggings, we had to make sure everything was checked and double-checked.'
Aisha concluded: 'I can't wait to see how all the special effects come together. I know so much work has been put in on that front make it all appear really magical and I'm sure the finished product will look stunning. Other than that, I just hope everyone loves the show – both the original fans like me and the next generation who I hope will enjoy it as much as I did when I was a kid.'