Film festival will hit the screen for Hidden Door event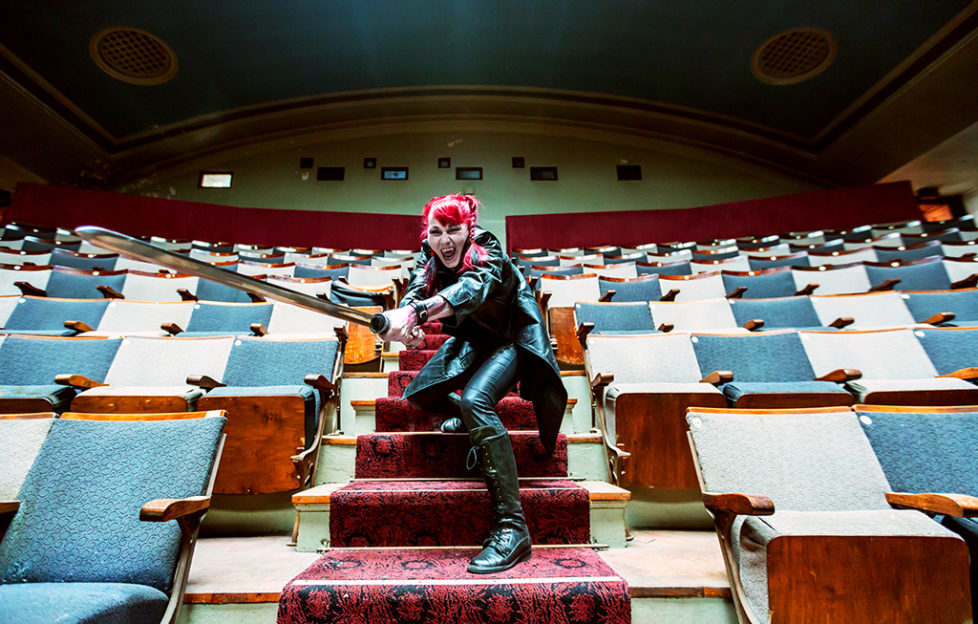 It's just over a week until the film programme at this year's Hidden Door Festival gets underway.
Running from Friday 25 May-Sunday 3 June, the Hidden Door Festival will welcome back long-time collaborators and launch into fresh partnerships, brings together old and new as film, food, live music and performances combine.
Celebrating film history and anticipating new horizons of cinematic experience, the programme unites film, food and music within the culturally important Leith Theatre and the glorious former State Cinema, rediscovered for this year's festival.
Alongside curated nights from various Scottish film institutions and a collaboration with The Skinny, this year marks the selection of the first ever Hidden Door Jury Prize.
The Hidden Door Jury Prize is a clear manifestation of Hidden Door's founding ethos, celebrating innovation and providing a platform for emerging filmmakers. After receiving a large quantity of submissions, the shortlist has been carefully chosen by film programme assistant Holly Hooley and pre-selectors Bethan John and Carys Evans.
The In Competition Showcase will offer the chance to see the shortlisted films, and will take place on Wednesday 29 and Thursday 30 May. The awards ceremony on Saturday 2 June will see the winning filmmaker, as chosen by BAFTA-Scotland-nominated filmmakers Siri Rødnes and Duncan Cowles, receive a cash prize of £500.
Whilst the Hidden Door jury prize ushers in the new, theyare also excited to celebrate cinematic history with showcases of classic films, each screened with a distinct 2018 twist.
Presented in partnership with The Skinny, Hidden Door will be screening The Cabinet of Dr Caligari on Thursday 31 May, accompanied by a live score from six acclaimed electronic composers and musicians — The Reverse Engineer, Midi Paul, Matthew Collings, WOLF, Heir of the Cursed and HQFU. With the evening culminating in a rousing live set from electronic producer Makeness, the sights and sounds of this unique event will fill every corner of the old Leith Theatre.
Jamie Dunn, film editor at The Skinny, said: 'Nearly a century old, The Cabinet of Dr Caligari is still a mind-bending knockout. We can't wait to hear what this line-up of electronic artists come up with to accompany the film's nightmarish set design of crooked streets, warped walls and twisted staircases.'
David Martin, creative director of Hidden Door, added: 'The six musicians lined-up to play the live soundtrack for this event are some of the best, most creative and innovative electronic composers and performers working in Scotland today. With the "old"being brought to life by the "new", this event will be quintessential Hidden Door.'
In addition to our screening of The Cabinet of Dr Caligari, the festival will also be presenting pioneering Soviet silent documentary Man with a Movie Camera on Friday 1 June with an original live score provided by Edinburgh's foremost instrumental inventors Sink.
New Media Scotland are helping commemorate the 80th anniversary of the opening of Leith's State Cinema with a screening of Disney's 1938 animated classic Snow White and the Seven Dwarves, on Saturday 26 May. This will be an enchanting, immersive and multi-sensory experience, bringing the silver screen back to this historic venue for one last time.
In a night of vampire thrills, Edinburgh International Film Festival will be celebrating the 20th Anniversary of the seminal horror-thriller Blade, starring Wesley Snipes as Marvel's vampire hunter, with a truly immersive cinema event staged on Sunday 27 May in partnership with Hidden Door Festival and supported by Sir Ewan and Lady Brown. This visually spectacular cinematic event will feature hip-hop electro beats from DJ Nasty P and DJ EH-1, and will look and feel like walking into the trailblazing film which paved the way for the Marvel universe as it exists today.
Mark Adams, EIFF's artistic director, said: 'We are thrilled to present our special event EIFF Play: Blade, which will take audiences on an exciting journey into the heart of the Blade legacy, with seamless integration of this trailblazing film into a dark and mysterious vampire club night. We are delighted to be partnering with the brilliant Hidden Door Festival at the spectacular Leith Theatre –it really will be a thrilling night to remember.'
Hidden Door will continue collaborations with KinoKlub, who will open the film programme on Friday 25 May with a curated evening of shorts, and the Scottish Queer International Film Festival, who will be showcasing the work of influential queer filmmaker Chantal Akerman on Tuesday 29 May.
2018 also marks the date of the festival's first ever collaboration with Scottish Documentary Institute, who have curated a programme capturing a cross-section of life in Scotland. Highlights for the Sunday 3 June screening include BAFTA-nominated Mining Poems or Odes which was screened at the Sundance Film Festival to wide acclaim, and Breadmakers, a lyrical portrait of life in Edinburgh's Garvald bakery.
Edinburgh Short Film Festival will be screening an eclectic mix of shorts on Friday 1 and Sunday 3 June, including the winner of the best short film at SXSW Film Festival, Kristian Haskjold's romantic drama Forever Now. ESFF will also close our film programme on Sunday 3 June with a selection of animated shorts curated by Yulia Kovanova, one of the filmmakers shortlisted for the Hidden Door Jury Prize. Highlights include Robin Joseph's Oscar-nominated Fox & The Whale.
One of the stand-out nights of the programme comes on Monday 28 May, in the form of The Tasting Place, a multi-sensory, interactive cinema event curated by Africa in Motion Festival. The festival will be pairing short films providing experimental snapshots of life from all over the continent with samples of food ethically sourced from different countries in Africa.
Curated Evenings are produced in collaboration with: Africa In Motion, Edinburgh International Film Festival, Edinburgh Short Film Festival, Kino Klub, New Media Scotland, Scottish Queer International Film Festival, Scottish Documentary Institute, and The Skinny.
Returning for its fifth edition, the non-profit and volunteer-run multi arts festival Hidden Door this year heads back to Leith Theatre, following the huge success of last year's festival –continuing what was started to transform the theatre into the major arts venue the city needs. Picking up the festival's tradition of discovering forgotten spaces, the festival will also take up residency in Leith's empty and derelict former State Cinema building.
With 10 days and nights of music, theatre, visual art, film and spoken word, the festival will transform these empty spaces with the help of some of the best creative talent from Scotland and beyond.
Hidden Door 2018 is supported by the National Lottery through Creative Scotland, Baillie Gifford, Thorntons and other generous partners, funders and sponsors.