Edinburgh Craft Beer Festival: 'It's a real Leith block party!'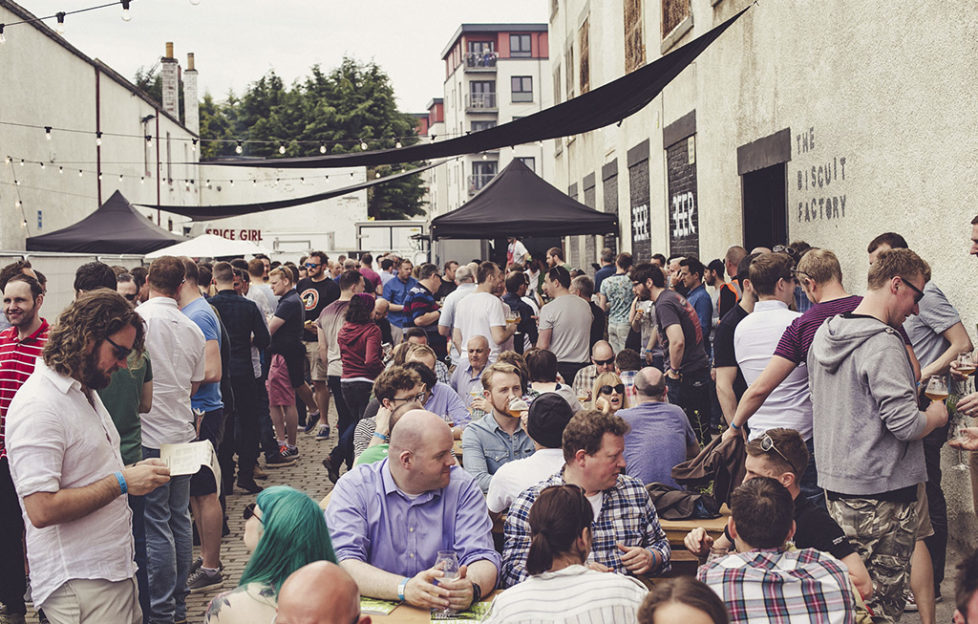 With just over a week until Edinburgh Craft Beer Festival gets underway, Scottish Field speaks to the festival's organiser Greg Wells about what to expect at this year's action-packed, three-day event.
What's the purpose of the Edinburgh craft beer festival?
To celebrate modern beer culture and the breweries themselves, both those from Edinburgh and Scotland, but also because it's an international and global scene – the very best from all over. Beer is changing and we want to help drive that.
This is the second Edinburgh Craft Beer Festival – how will this year's event build on the success of last year?Bigger and better – always.  We've taken more space so it's really a Leith Block Party! We've got more breweries from further afield, and more Scottish breweries too. More space for more food and the Pitt Street guys have an incredible menu lined up. We're also launching an official beer, which we brewed with Tempest over in Gothenburg, as well as a beer made with all female brewers and the cohort at Heriot-Watt. We also ran a UK-wide competition  for the best new breweries. They are awesome and will be making their Edinburgh debit.
What brewers will be showcased? How do you select them?
Oh, so many! We select more than 40 on pure quality based on how creative they are and how well they execute. Beer is art, so we're looking for impact, not just any old thing with craft slapped on the front.
How many visitors are you expecting?
We're expecting 3,500 visitors over the three days.
You're showcasing lots of international brands but how will you provide a platform for Scottish craft beer producers?
We've got a lot of Scottish breweries too, and the SBA (Scottish Brewers Association) are running a bar, which is great. It's important for the best local breweries to be put alongside the best from elsewhere. Quality is the key, not just where you're from, so guys like Tempest, Fierce, Pilot etcetera. are so very, very good. It's great to have them alongside people like MIkkeller and Stillwater Artisanal who have a truly global following.
What are the music highlights at this year's event?
There's so many, but to have Mogwai come along is my personal highlight.
You are running 'Raise the Bar' as part of this year's event – how does it work?
It was an open competition so any brewery under two could enter. Then a panel including some of the very best craft brewers got together to judge the entries. The final four are very good. Alas, no Scottish breweries made that cut and we were gutted about that, but fair's fair. I think Cross Borders and Merchant City are quite exciting and will definitely be up there in the next year or so.
You now host the craft beer festival in London, Bristol and Edinburgh – will you add any other locations to your line-up next year? Anywhere in Scotland?
They keep us so busy! Maybe – we'd love to but we'll see. Our next big plan is an outdoor, music festival with great beer as it's foundation.
Is it true that the festival is run entirely by volunteers?
That's not entirely true. We do put a call out for volunteers, but we also have paid positions and team. Our core team is about six-strong now, then another five or six come on for the event itself. The volunteers' positions are to help on the bar. We know there's some negativity or controversy about this but we actually pay our volunteers with a free session as they want to come to hang out with the breweries. We've had bankers, lawyers and doctors do this. One year in London we decide to pay – but temporary bar staff were much less motivated and didn't get into the spirit of things the way our volunteers do who choose to come. The profits from the festivals pay for the day-to-day running of the business.
What else can festival-goers look forward to this year?
Lots! There are so many little events happening with Edinburgh Beer Week. There's whisky, wine, cider and more at the festival as well as some games action. There's also a shop which will have some super special beers to take away.
What are your plans for the future of the festival?
To take over the castle, have Rihanna headline it, fire quality beer out of gigantic water cannons at thousands of beer geeks, while Timberyard do a tasting menu to feed everyone!
Edinburgh Craft Beer Festival 2018 will take place from Friday 25 to Sunday 27 May at the Biscuit Factory in Leith, Edinburgh. For more information and to purchase tickets, go to www.edinburghcraftbeerfestival.co.uk