Clan Morrison chief enjoys returning to Scotland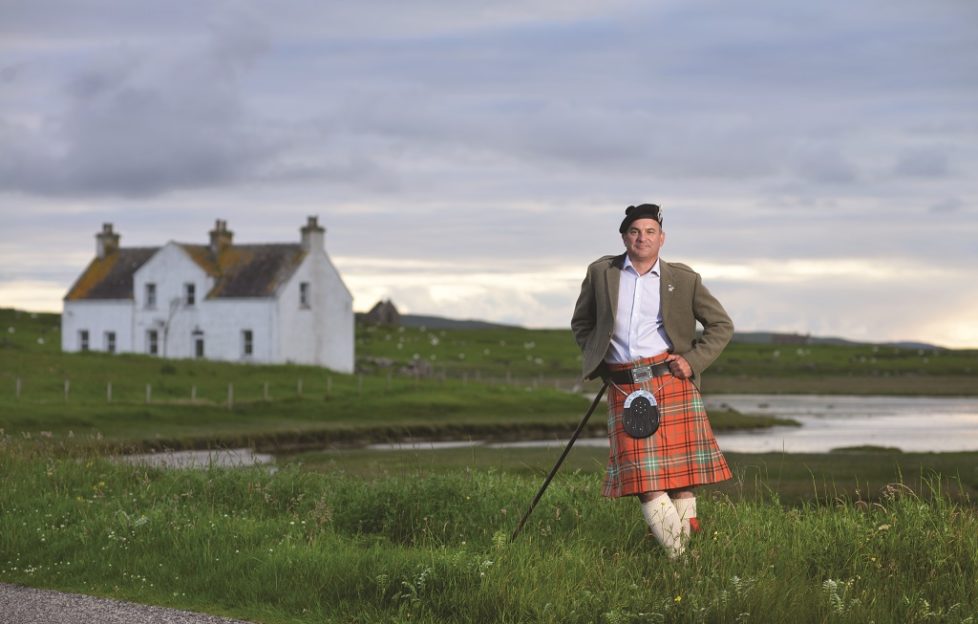 Currently based in New Hampshire, Ru Morrison of Morrison spends at least a month each year at his family home of Ruchdi on North Uist with his wife Rochelle and their two children.
It is an idyllic setting within a tight-knit island community where walks on the beach are plentiful and Ru's kids play with the children and grandchildren of those he grew up alongside.
'I feel honoured and lucky to sit here knowing that my previous generations are from here,' Ru says. But it isn't a home that was originally affiliated with the Clan; historically the Morrisons are associated with Ness in Lewis, and Dùn Èistean (Hugh's Castle), an inter-tidal sea stack on the north-east coast of Lewis.
'In Ness, nearly everybody is called Morrison,' Ru explains. 'We were the law judges there for a lot of the time and we held swathes of Western Isles that were not under control from Edinburgh.'
Just south of the Butt of Lewis, close to the Port of Ness, lies Dùn Èistean, where the Morrisons of old built a fortress off the eastern shore.
'My dad opened a bridge to it, and Glasgow University carried out anarchaeological dig there recently,' Ru says. 'They uncovered traces of life, the layout of buildings, and there were places where you could have pulled out some little boats.'
The Morrisons are also historically aligned to the now uninhabited island of Pabbay; the coat of arms reads 'Teaghlach Pabay', meaning Pabbay family.
'Pabbay is an island out here in the Sound of Harris, and it was another stronghold for the Morrisons,' Ru says. 'If you step out the front door here you can actually see the top of the island. The Morrisons of Pabbay were quite important; if you look on a map you can understand why, because it controlled the Sound of Harris.'
After the dissolution of the Lordship of the Isles in 1493, life in the Hebrides became much more turbulent, and the Chief of the Clan Morrison and his six closest male relatives were murdered by the Chief of the MacLeods. The Clan Morrison was thus broken and remained so for more than 300 years.
In 1909, the Clan Morrison Society was founded in Scotland with the express purpose of finding the person with the best hereditary claim to the chiefship, and reconstituting Clan Morrison under his leadership.
This goal was finally attained more than 50 years later when, in 1965, Ru's grandfather, Dr John Morrison of Ruchdi, was asked by the Lord Lyon to resurrect the clan. His lineage could be traced back 13 generations to the Morrisons of Harris, the hereditary keepers of the Dun of Pabbay.
'He was quite a humble man, and he wasn't a young chap, so he took it on with a lot of thought,' says Ru. 'My dad, Dr Iain Morrison, inherited the Chiefdom from him in 1974 and I took it on in 2010. In some ways, I'm still feeling my way into it. I think being Chieftain of a clan isn't about you, it's about representing every other member of the clan.
'In the States, there's the Clan Morrison Society of North America – they have an annual meeting I try to go to every other year. My cousin Andrew, the third Viscount Dunrossil, is also very involved with that. We go to clan gatherings and Highland games in the States too, and we go every year here – it's fantastic.
'Around the world, and particularly in America, there's a lot of feeling about being Scottish and looking into ancestry. It's something that people hold very close. They are proud of their Scottish heritage. I think because a lot of Scots left, and maybe left without really wanting to do so, they really held on to home.'
With no specific ancestral seat, the Morrison Chief has been resident at Ruchdi since the clan's resurrection. 'There's no castle or anything; we are just a modest home,' Ru says. 'This was John Morrison, my great, great grandfather's, house. He is buried in the old cemetery up here, you can still make out the gravestone. Then there's the new cemetery – my grandfather is in there, and so is my dad, my granny and one of my dad's cousins, the second Lord Dunrossil.'
The house itself dates back more than 200 years, and encompasses a room which was once a shop run by one of John's brothers.
'There are still ghastly hooks in the ceiling from which you would hang meat,' says Ru. 'Apparently, people used to come up the back trail to here from St Kilda to do their shopping.'
Born in Lambert, Ru has been coming to the house since he was a boy. 'My grandfather passed away in '74 when I would have been about six, so I don't have much memory about him, but my granny, Dorothy, used to live up here and it was great. She was a fantastic person. People had a lot of respect for them as a couple and it was a fun family to come from.
'We used to spend our summer holidays up here and I remember when I was a lad chopping peat for my granny outside the front step so she could start the fire. There was a range in the back and it used to belch smoke because the chimney didn't draw properly. In the dining room there used to be an oil stove and that used to belch smoke too – there's still a smell of diesel as you walk into the house, and I wasn't sad to see it go when we ripped it out.
'We've been doing work to the house and it has a nice feel – it's very hard to leave. My grandparents came to retire here, my dad retired here and we plan to do the same as soon as it is possible – 10 years if we're lucky. Of all the many places I've lived in the world, this is where I would call home.'
A fondness for Ruchdi and North Uist is in the Chief's genes. 'It's just lovely coming back where it really is like a family,' he says. 'There is a very strong community spirit. My dad passed on the love of the place and that's what I'm trying to do with the kids as well – give them a sense of place. It is a place to be loved and cared for, and the people around here are special.
'The first time I brought my wife over here, when my son was about four months old, we went to the post office to send some postcards back to America. When we told the postmaster where we were staying he said, 'Oh, you're a Morrison of Ruchdi, that's a great family,' and he could list all the brothers and who was doing what.
'I have loads of cousins because my great grandfather had eight kids – one of them passed away in infancy, but there's this large family out there and they all feel a connection with the island. There's a whole load of Morrisons of Ruchdi and you meet them in the most amazing places.'
When Ru's great grandfather Seoc (Jock) was born in 1840, North Uist was a place in decline. The population had been reduced by the Clearances: people were initially moved off the land by force, then left through choice as stories came back of better lives elsewhere. Jock left for a life at sea.
'He left North Uist and went and worked on boats for a while, and was the bosun on the ship that laid the first transatlantic cable from Newfoundland,' Ru says.
'I've been there and I did think "Wow, my great grandfather has been here and stood here." I'm an optical oceanographer – I look at light and the colour of the ocean, work with weather services and run forecast models – so maybe it's in the genes.'
Jock went on to make some money from diamonds in South Africa, before returning to Scotland and buying a farm in Turrinturk, just outside Oban.
'He came back a relatively wealthy man and was able to buy some land,' says Ru. 'It was in the late 1800s and early 1900s when Oban was at its height. The railway had arrived and it was up and coming – it felt like a stepping stone to something more cosmopolitan.'
From Oban, Jock moved his family to Edinburgh for his boys to attend school, with many of them going on to university.
'They were the first generation of my family to go to university, and they became doctors and lawyers,' Ru says.
'Some of the boys died in the wars, but we had the first native Gaelic speaker of the House of Commons, William Morrison, and the first Lord Dunrossil. Then my grandfather became the first Chief – so he did quite well, my great grandfather.'
William 'Shakes' Morrison – so nicknamed because of his penchant for quoting Shakespeare, was speaker when Queen Elizabeth was crowned.
'My cousin Andrew and my Aunt Mary have been pulling together the family archives and found a seating plan or a menu or something from the coronation in '53,' Ru says. 'Shakes was the speaker at the time and my Aunt Mary was there; she remembers watching the carriages.
'There are still some things here in the house that I haven't gone through yet, though I have found a letter from the Queen. When my grandfather first had a gathering, I think it was in 1970 in Aviemore, she sent a telegram saying congratulations, so that's quite a fun one to have found.'
There has been a host of notable Morrisons over the last century, the most famous of which will come as a surprise to some, thanks to his more commonly-known alias. 'There's the Margadale family – John Granville Morrison was the first Baron Margadale and there's Morrison Bowmore whisky,' Ru says. 'It doesn't have Morrison on the tins anymore because a company from Japan bought them out, but Morrison was in there.
'But the one we all know is John Wayne,' he adds. 'His original name was Marion Morrison. I remember seeing his signature in the tent at one gathering – he had applied to become a member of the clan society.'
This feature was originally published in 2016.