Colouring book aims to get drivers behind the wheel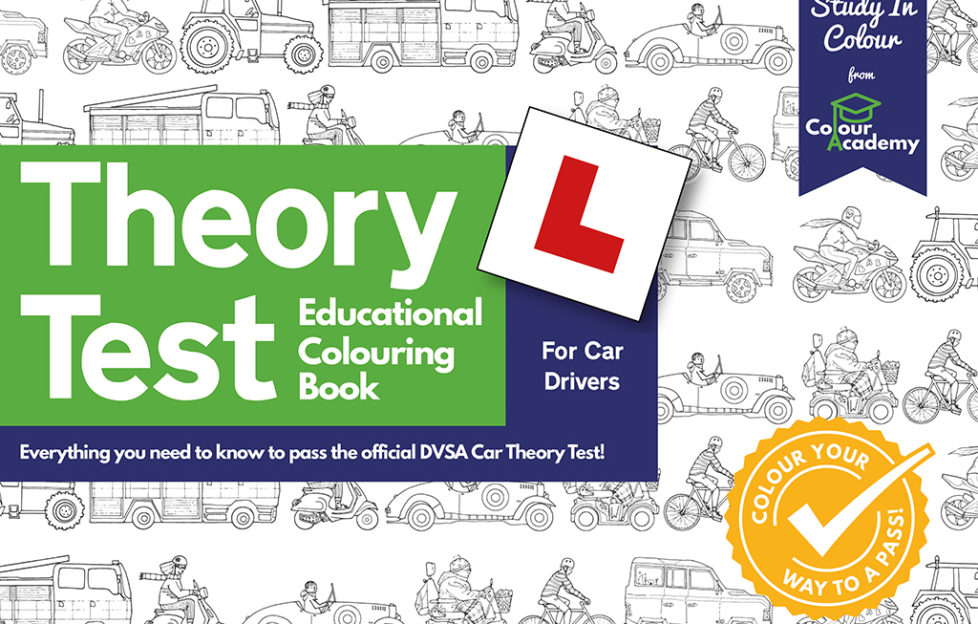 A Scot who failed to pass his driving theory text has used his own experience to help others get through it.
Award-winning Edinburgh-born entrepreneur Matthew Carter has created the world's first educational colouring book for the theory test, based on research indicating that colouring has a positive effect on memory.
Designed to engage learners with diagrams not descriptions, this innovative new study method aims to improve the pass rate for the UK Car Theory Test, for which over half of attempts currently end in failure (DVSA).
The Theory Test Educational Book for Learners: A Colouring Book' is the first in a series titled 'Study in Colour' from new publishing house Colour Academy Books.
Born from an idea had by founder Matthew Carter, and illustrated by award-winning architecture student Katie Forbes, the book has been endorsed by numerous driving instructors and by testers of the book, who have used it to successfully pass their theory test.
An 'offline' learning solution, free from distractions associated with online aids, the 'Educational Theory Test Book' contains concise learning points, paired with beautiful illustrations to explain the learning points. Readers can then colour in the illustrations, making it easy to commit the theory to memory.
Matthew is the founder and managing director of Colour Academy Books, a winner of the Scottish EDGE, Young EDGE award 2018, a Strathclyde University Rising Star and participant in RBS Entrepreneur Accelerator programme, among other awards.
He said: 'After studying with my own colouring book, I passed on the second attempt. These tests are vital to ensure new drivers understand road safety; the study done prior to the test is what shapes good drivers.
'I failed my own theory test shortly after graduating with a Masters in Product Design from Strathclyde University. As I trudged home from my test, I was looking at all these people sitting in their cars and I thought, I've got a degree but I still can't pass the theory test. I had used many different ways to try to memorise the answers, from monotonous apps to boring textbooks. It was then that I realised I needed to do more than learn answers by rote.
'The driving theory test is a crucial part of improving road safety. We need to know and remember this material so that we are better drivers.
'I already knew that the way I remember best is through visual learning, so I created a large colouring poster (similar to the Where's Wally? picture books) to help me remember all I needed to know for the test. I passed on my second attempt and realised I could make this learning approach available to others.
'It is commonly thought that the vast majority of the population retain information best through visual learning. The current theory test practice materials are the most effective method of learning for less than half of the population. Through my research, I realised that a new, visual method of learning would help a huge number of people. Very early on into the development of the product, however, I realised there was far more information than we could ever fit on a poster.
'So I recruited my friend Katie as an illustrator and set about creating my first book that used diagrams and not descriptions to engage young people in learning.
'Educational colouring improves learning, understanding and memorisation due to a number of phenomena. Colour Academy books are all designed with concise textual learning points linked to made-to-colour illustrations. Because the linked illustration provides a visual explanation or clarification to the learning point, it's a lot easier to visualise and understand new concepts.'
Anatomical colouring books have been used for more than 40 years to train doctors, and there is good evidence to suggest that colouring and drawing have a positive impact on memory.
Colour Academy Books apply the same approach to their range of educational colouring books.The first is designed to help trainee drivers absorb and retain every single aspect of driving theory, and Matthew has plans to create educational colouring books for other government tests in the future.
Matthew added: 'Many students today will use a theory test revision app or website to study for the exam. However, with all the notifications, distractions and addictive social media apps also installed on their phone, learning is often interrupted, if practiced at all. Screen time is becoming an increasing concern for many parents and creating a physical book helps students spend more time offline.'
Illustrator Katie Forbes, originally from Tain, is an award-winning architecture student at the University of Strathclyde. Earlier this year, she completed an exchange at the Bauhaus University in Weimer, Germany. Katie brings a unique style and humour to the colouring book series.
The Theory Test Educational Book for Learners: A Colouring Book is available for £14 from Colouracademybooks.com.