40 years of Scotland's largest rural performing arts festival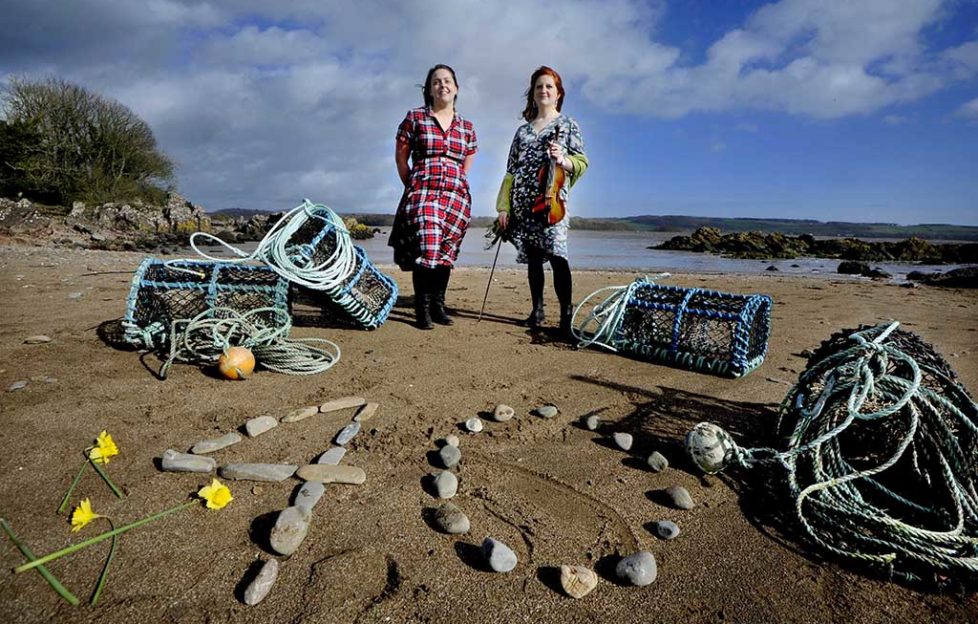 Scotland celebrates the 40th anniversary of its largest, rural performing arts festival this summer.
Dumfries & Galloway Arts Festival is unveiling its eclectic programme of 50 performing arts events delivering comedy, theatre, dance, music and spoken word.
The 10-day festival (24 May–2 June) launches its 40th Anniversary programme packed full of performing arts events, including UK award-winning performances, to be enjoyed in village and town halls, theatres, arts centres and pubs in almost every postcode of south west Scotland and working with new venues, Moat Brae; The Birthplace of Peter Pan and The Bridge in Dumfries.
Lost at Sea is a lyrical tribute to Scotland's fishing communities and recognition of people's undeniable relationship with their own coastline. The 40th Anniversary programme of Dumfries & Galloway Arts Festival centres on everyday challenges and triumphs with the themes of love, loss and a sense of place woven throughout it.
Written by Morna Young and directed by Ian Brown, the play features an all-Scottish cast of well-known faces including Tam Dean Burn (Outlaw Kings, River City, Moon Dogs) at the helm as the skipper.
Having worked across the creative industries for the last 15 years, the festival's new Director, Dani Rae, an experienced cultural producer who left the Edinburgh Festival Fringe Society in 2018, has returned 'home' to deliver this special year's programme of Dumfries & Galloway Arts Festival.
Her aim is to increase regional audiences and appeal to visitors coming from further afield, developing the well-respected charity whose aim is to encourage accessibility to high quality performing arts events in the rural economy.
Dani Rae, director of Dumfries & Galloway Arts Festival, said: 'It's a real privilege to return home and programme the 40th Anniversary of Dumfries & Galloway Arts Festival which has been part of the creative life blood of the region since 1979.
'As well as the ten-day festival we work year-round delivering Arts Live, supporting venues and artists throughout the region to bring the best performing arts to our communities and encouraging them to try something new. Part of the essence and original focus of those who pioneered the very first arts festival in 1979 was to enable local communities to be able to see the highest quality shows without having to travel to the cities. I very much want Dumfries & Galloway Arts Festival and Arts Live to build on this legacy going forward.'
Kicking off the Festival Opening night at Easterbrook Hall in Dumfries (Friday 24 May) is a powerful and poignant piece of theatre and World Premiere, Lost at Sea, presented by Perth Theatre at Horsecross Arts and written by playwright Morna Young, who offers a personal tribute to the fishing communities of Scotland.
With much of Scotland being a stone's through from a fishing community and Dumfries & Galloway having more than 200 miles of coastline, Lost at Sea shines a new and unique light on what is still the UK's most dangerous profession at a time when fishing rights are, once again, top of the political agenda. Inspired by Morna's loss of her own fisherman father, it explores universal themes of loss, family, community and the challenges facing traditional industries and features the voices of fishermen and their families in their own words – with music, songs and Scots language performed in the region which was home to Robert Burns.
During the High Street Take Over – Picnic at the Plainstanes (Saturday 25 May) in Dumfries, audiences will be treated to some free surprises with a spotlight on local, talented musicians and street acts programmed by the festival's Young Promoters' Group. On the same day in Moffat, Stellar Quines, in co-production with Imaginate, presents This Girl Laughs, This Girl Cries, This Girl Does Nothing, a contemporary fairy tale about three sisters who separate to enjoy their own adventures and follow their dreams and meet up again in later life.
The ten-day cultural feast welcomes the good doctor of folk Martin Carthy and his twice Mercury Prize-nominated daughter, Eliza (Saturday 25 and Monday 27 May) who collaborate in their uniquely charismatic and visceral style, performing in both Moffat and Newton Stewart.
In the east of the region, tributes to the UNESCO Year of Indigenous Languages and Year of Conversation are offered in Sanquhar with recitals from Lowlands Scots Poetry (Sunday 26 May) and the brilliant team from Knockengorroch who present a new work from Oran Bagraidh in Carsphairn where audiences have the unique opportunity to hear what is believed to be the last remnant of Galloway Gaelic (Tuesday 28 May).
The remarkable, hilarious and heart-lifting true story of Team Viking, about a dying best friend who was promised a 'full Viking burial' is presented by Tangram Theatre (Monday 27, Tuesday 28 and Wednesday 29 May) offering a brilliant combination of storytelling, live music and comedy and staged right across the region in three locations; Gatehouse of Fleet, Moffat and Lochans.
Dance lovers are in for a treat with a new production from Joan Cleville Dance, The North, supported by the Rural Touring Dance Initiative, which delivers elements of cinematic visual and sound design with original music from Mogwai regular Luke Sutherland and an eclectic soundtrack from Wagner to Frank Sinatra, performed in new venue The Bridge, Dumfries (Wednesday 29 May).
Comedian and actress Lucy Porter will join the 40th party in Lockerbie for one night only, performing her 2018 Edinburgh Fringe hit Pass it On (Wednesday 29 May). Also treating audiences to a spot of stand-up is the bi-sexual, OCD daughter of an Irish Catholic Deacon, Catherine Bohart performing her much lauded show Immaculate (Friday 31 May) in one of the region's newest venues, Moat Brae in Dumfries.
Scottish Opera is hitting the region's roads with their marvellous pop-up opera truck re-creating the fully accessible Glasgow Theatre Royal to delight family and friends with A Little Bit of Magic Flute, A Little Bit of Lolanthe and Puffy McPuffer & the Crabbit Canals, all performed at Gretna (Thursday 30 May) Logan Botanic Garden (Friday 31 May) and Crawick Multiverse near Sanquhar (Saturday 1 June).
Multi award-winning gig theatre, an electro-beat poem about friendship, grief, rave culture and the pull of the big city, Electrolyte, presented by Wildcard Theatre, is performed by six multi-instrumentalists who seamlessly integrate live music with expert storytelling, taking to the towns of Annan (Thursday 30 May) Castle Douglas (Friday 31 May) and Stranraer (Saturday 1 June).
Emmerdale and Brookside actor John McArdle leads an all-star cast in hit comedy The Red Lion by Patrick Marber, as Rapture Theatre offer a treat for audiences who'll love this story about a battle of wills over the 'beautiful game' in both Stranraer (Friday 31 May) and Dumfries (Saturday 1 June).
Scottish Ensemble perform the closing concert of the 40th Anniversary of Dumfries & Galloway Arts Festival with Home and Horizon (Sunday 2 June) a suite of music, song and spoken word inspired by Dumfries & Galloway. Stars from the festival's last forty years join forces with the inimitable Scottish Ensemble, curated by Alison Burns and featuring the exceptional home-grown talent of Emily Smith, Robyn Stapleton, Wendy Stewart, Aaron Jones, Clare Mann, Jamie McClennan and award-winning writer Tom Pow.
Lorna Duguid, Multi-artform Manager, Creative Scotland, said: 'Dumfries & Galloway Arts Festival is a key organisation in the delivery of performing arts and culture in Dumfries and Galloway. It has, and continues to be, an important keystone for access to high quality programming for the area and this year's 40th anniversary programme is no exception, reaching new audiences and venues across the region, with work from some of Scotland's most exciting artists.'
For the full programme for the 40th Anniversary of Dumfries & Galloway Arts visit www.dgartsfestival.org.uk