Woodland wonderland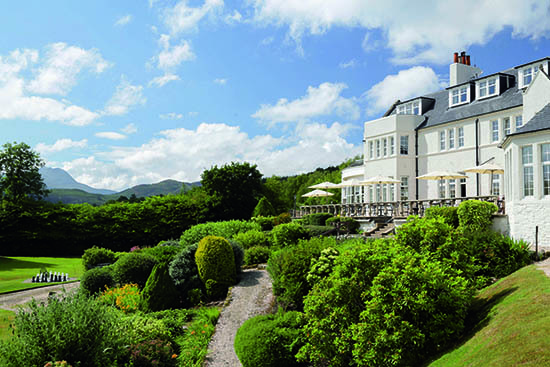 Macdonald Forest Hills Hotel and Spa sits on a small hill overlooking the glorious Loch Ard, just outside Aberfoyle. The road seems to get progressively narrower as you drive around the north side of the loch and just when you think that there can't possibly be a hotel with 53 bedrooms, two suites and 65 self-catering lodges anywhere near here, it appears through the trees.
The hotel has recently undergone a £3.5 million renovation and it shows. The public areas are decorated in a warm palette of colours, there's certainly a nod to Scotland, but there's not so much tartan that you feel queasy after a couple of G&Ts.
I was shown to my suite, with a huge bay window with stunning views over the hotel's grounds and over Loch Ard. I spent an inordinate amount of time staring out over the water and being distracted by the cheeky wild goats who graze in the grounds. I know they're the bain of the grounds keepers' existence and that they eat the majority of the plants that they painstakingly tend, but for me they are a really beguiling addition. When I eventually dragged myself away from the views I discovered that my suite was huge with a gorgeous king canopy bed and decorated in calming heather and hillside tones. I already knew that his hotel had class, but the copy of the latest issue of Scottish Field on the side table confirmed my conclusion.
The hotel is just a stone's throw from Glengoyne Distillery and a tour of the facilities here are a fascinating and delicious way to spend a morning. Glengoyne is the only distillery in Scotland that makes whisky in both the Highland and Lowland whisky producing regions. The spirit is distilled in the Highlands and matured in the Lowlands.
My afternoon was taken up canoeing on Loch Ard. What seemed like a real challenge from the shore, turned out to be a really pleasant paddle amongst families of water fowl across to the small island where a chilled bottle of fizz awaited my arrival.
Pre-dinner drinks on the terrace were a great way to wait for a dinner that I was looking forward to very much. Partly because the rowing really works up an appetite, but mainly because I was looking forward to sampling a dinner created by James McCulloch Thomson, the hotels' new executive chef, a chef with over 30 years of experience. I was not disappointed. The menu was firmly rooted in Scotland's larder, kicking off with haggis pomme dauphine with a whisky jus. The treacle roast loin of venison was cooked to perfection and served up with a pomme anna, a haunch croquette (which very nearly stole the show) and a pumpkin veloute. The only reason that the haunch croquette wasn't my favourite part of this feast was the show stopping dessert. The classic tarte au citron was served warm with a raspberry gel, meringue and compote. The pastry was perfectly crisp and buttery, providing a glorious receptacle for the light and creamy interior. I wasn't the only one waxing lyrical about this pud, with many of my fellow press and media types making appreciative noises and only half-jokingly enquiring about seconds.
The morning brought a hearty breakfast followed by a wander around the grounds and a visit to the Leisure Club and Spa. There are a wealth of treatments on offer as well as a large pool and gym for anyone feeling energetic. My therapist was lovely and I left the club post-massage feeling relaxed and refreshed.
The Macdonald Forest Hills Hotel isn't far from the central belt, just 40 minutes from either Edinburgh or Glasgow, but it is situated in such beautiful countryside that you will feel as if you've been whisked away to a glorious rural retreat for the weekend.
www.macdonaldhotels.co.uk/our-hotels/macdonald-forest-hills-hotel-spa/