Enjoying the delights of our uninhabited islands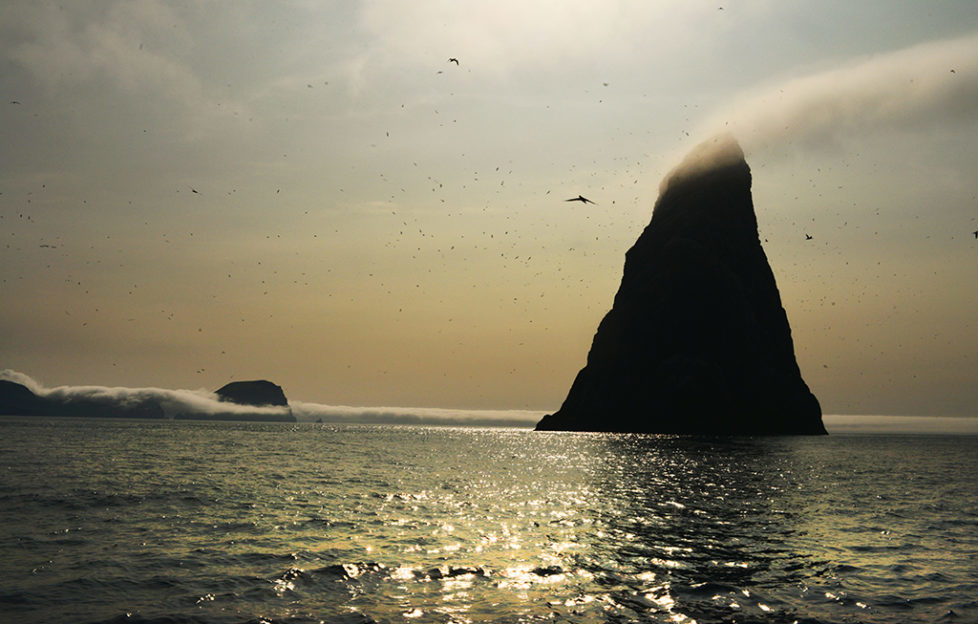 Engines roar up and we head out from Uig harbour on the Isle of Skye ready for what is billed as the 'ultimate tour' by operator Go To St Kilda, where I, along with six others, will attempt to disembark and camp on several of Scotland's uninhabited islands.
St Kilda is the UK's only UNESCO Dual World Heritage Site and National Nature Reserve, so it is with some surprise as we enter Hirta village bay to see 18,591 gross tons of the Pearl II, lying at berth.
The liner was there as part of a 'Cultural Cruise', sanctioned by the National Trust for Scotland and operated by Saga Cruises.
Being one of the over 50s I should not resent seeing others enjoy visiting St Kilda. To be clear, I have no umbrage with fellow tourists, they have as much right as I have be on the island. It is not the folk I dislike.
It is the ship's loud tannoy echoing over the island that gets my soay sheep up. We listen to passengers being duly piped onto the quay to the tune of the Skye Boat Song. A Scottish folk song, about the escape of Bonnie Prince Charlie over the sea to Skye, after his defeat at Culloden in 1746. I just didn't think it was appropriate on St Kilda in 2018!
Our skipper, the expert Derek Gordon, along with his crew Ian and Niki, get us all onboard again and we set off for the sea stacks on the island of Boeray. The second largest island in the archipelago, where the men of St Kilda would go to harvest the gannets. It is stunningly beautiful in scale and ferocity.
The weather conditions will not allow an overnight stay on the island so we head off to Carloway on the Isle of Lewis to bed down at the Gearrannan Blackhouse Bunkhouse. The sea state is sufficient to inflate Eoin McIntyre's lifejacket. Enough said about poor Trevor, who was on empty as we pulled into the harbour at Carloway.
A beautiful start the following day and we are headed to Sula Sgier about 10 miles south west of North Rona. Famous for its gannet colony, we set foot on the island about a fortnight after the Guga hunters, men from Ness, Isle of Lewis, had spent three weeks harvesting the birds there, an annual ritual.
There is no source of water on the island so it will, apart from the Ness men, continue to be uninhabited. My thoughts pass to the women of Ness, who must have an extremely strong constitution to wash their working togs. As we make our way to North Rona we savour how many Scottish words there are for smells. Boufin' came tops.
Another calm evening and Integrity drops anchor to allow us to be transferred by dingy onto North Rona. Located 44 miles north of the Butt of Lewis we see in our first night of wilderness camping.
No sooner have we made camp and John Allan is transmitting to the rest of the world. Affectionately known as a radio ham, John's sole purpose of the trip is to transmit his whereabouts, something that has never been done on North Rona.
I heard his dulcet tones from my own tent: 'GSL the 44 Geoff, you're 55, all the fives, fifty five QSL. Roger, roger, roger,' whatever that meant. Curious the lengths we British will go to get away from it all! Gathered round in the darkness, stories are exchanged before turning in under the stars.
The following morning, with all our gear packed away, the ship's company head down slippery sea cliffs ready to board and set sail for Handa, an island off the west coast of Sutherland. Several hours later, we pull into Kinlochbervie to fuel the boat – and ourselves. The place was pretty much deserted. One café remained open, called Worth A Look, so we did.
One short of a football team unexpectedly descends. I saw the lady re-count us, just in case. The orders arrive sporadically allowing time to admire the salt and pepper cellars shaped as toilet seats. A notice in the bathroom told us that staff 'were aware of the rising water levels when flushed, and not to be alarmed'. An hour of my life slips by, before sipping hot tomato soup, which I'm glad to say did not come out of a tin.
In the meantime, our skipper Derek had happened upon another fellow with a boat, by the name of David Forbes. With true Highland hospitality, David leads us off to a wonderful little sea loch, Ceann na Saile, where we were shown into a house his grandfather had built for a retired British Admiral, Walter S. Parnall.
The place was a time capsule. The decorations and furniture pre-dated World War I. With no electricity the place was festooned in paraffin lamps which gave off their characteristic perfume. A horn gramophone was wound up by David and the room filled up with music from a 1920s jazz band. Surreal.
Once more we headed out to sea, making for Handa Island, where we were to camp for the night. The sunset was beautiful with everyone busy making camp and getting some hot food on the go before darkness.
One couple recounted stories with the rest of us, especially his near miss as he got off the dinghy at Sula Sgier. Suitably fortified with some wine we all headed back to our respective tents for another night under the stars.
Handa island had a population of 65 in 1841 but a subsequent potato famine forced the inhabitants to emigrate. It is now part of the North-West Sutherland National Scenic Area and we all took the opportunity to walk to the cliffs the next morning to get the magnificent views back to mainland Scotland.
Back onboard the Integrity we headed south west to the Isle of Lewis, another choppy crossing, before rounding the Shiant Isles to view the magnificent basalt columns, rising up over 150 metres high.
A short crossing back to Uig in Skye rounded off our trip, one I would highly recommend for those with an adventurous spirit. Derek and his crew could not have been more attentive to our needs and are indeed worthy ambassadors to these Scottish Isles.
Our visit was organised by Derek Gordon of Go To St Kilda. Click HERE to visit their website, or email enquiries@gotostkilda.co.uk for further information.