A perfect weekend getaway with something for all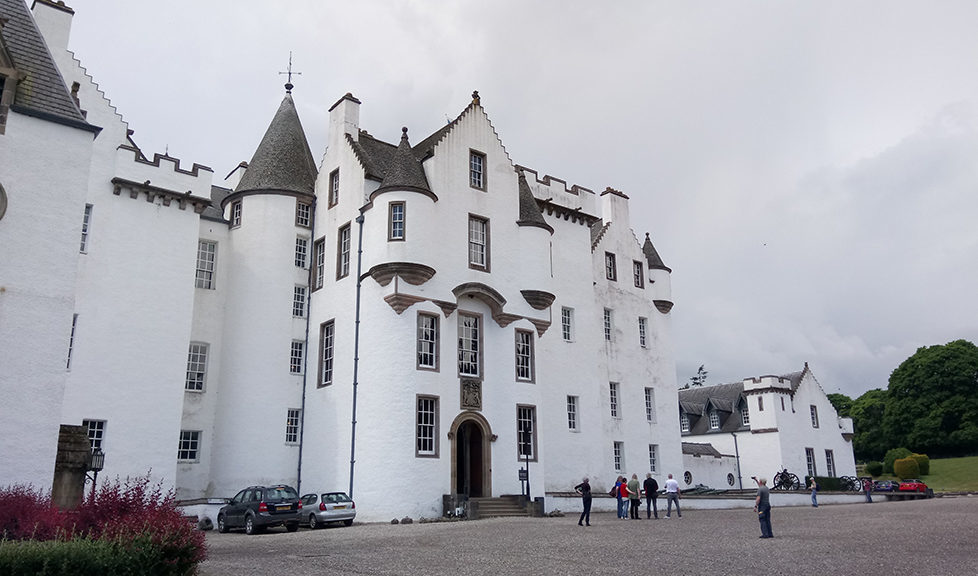 Scotland is one of the most beautiful countries in the world, with so much to see and do, without travelling far from home.
Whenever my daughter Katy has been away, it's normally been to visit family in the south of England, or jetting off for a foreign break, so this was something new for her when we travelled to Perthshire.
We were invited to spend the weekend at Blair Castle, where we had the delight of being one of the first guests to stay in their excellent new woodland lodges, which opened recently at the historic site.
Designed in a Scandinavian-style with a contemporary feel, the Woodland Lodges provided us with a home away from home within the 145,000 acre estate. We stayed in the Bhac lodge, and felt at home straight away. As soon as we opened the door, we knew we were going to have a good stay – especially as it had that new home smell. Very welcoming indeed.
We had a wander around, finding we had a little veranda with a table and chairs, perfect for outdoor dining, but given the large number of midges that evening, the only eating going on would have been us, with the pesky insects looking for blood!
We enjoyed a look around the village of Blair Atholl, which was picture postcard perfect, with beautiful homes sitting on the river, a well-presented church, and a handy village shop.
After finding we could hook up to the wifi signal, which kept Katy happy, we enjoyed a pleasant evening.  Our food was provided for us, with delicious chicken and green peppers with mash, followed by a chocolate dessert. Perfect.
Waking up on Saturday morning, we had to get ourselves ready quickly, as we were being taking on a Land Rover safari.
We were met by Sandy, who worked on the estate for well over five decades. Warm and friendly, he made Katy and I very welcome as we set off down remote tracks, taking us into Glen Tilt. Within a couple of minutes, a roe deer ran across the road in front of us – to the delight of Katy. It stopped, trying (and failing) to hide behind a tree, letting us watch it for a couple of minutes before it moved off.
We carried on along the path, taking in the remote, dramatic and tranquil areas of the estate. We passed a large number of hikers and campers, making their way through the glen. Sandy gave us an insightful commentary as to what everything was, sharing his experiences from a life on the hills, from his cold nights in a bothy with no power or running water, to taking TV chef James Martin out.
At one point he brought the Land Rover to a stop, getting out his binoculars, having spotted some deer high on the hills. Even with the visual aid, they were hard to spot, but it just proves that Sandy and his fellows know what they're talking about, and where to look. Their experience is everything, as Sandy pointed out various bits of flora and fauna along the way. Many of the deer at currently calving on the higher ground, so we didn't get to see many up close.
We moved through the peaceful glen to the steep hillside, rising to a height of 2700 feet, so we were above some of the clouds, which sadly slightly hampered our views of the highest house in Scotland – but the scenery will stay with us forever. Sandy returned us, safe and sound, back to our lodge, and parted with a warm, friendly handshake.
It was lunchtime, so we made our way to the Tullibardine restaurant. If you're hungry, this is ideal, with a good selection of hot and cold meals to be enjoyed, a wide selection of drinks, and cakes that are to die for. I can heartily recommend the carrot cake, and would have happily eaten the whole thing, not just a slice of it!
At this point Katy had the opportunity to try pony trekking, but it was a tad overwhelming for her, and chose not to – even though the pony she would have ridden has the same name as her mum! However, we were still made welcome to watch as preparations were made, and we got to pat the pony too.
We took full advantage of this time, though, to explore the grounds of Blair Castle, starting off in Diana's Grove. This took our breath away – we were talking amongst some of the tallest trees in the whole of Britain, and were taken aback by the heights of some of them. I actually felt dizzy following one all the way to the top. It was good timing too, as we were protected from the light downpour that started at this time, and we only had our light jackets with us!
From the wood, we made our way up to St Bride's Kirk, a ruined old building but still structurally sound, with many gravestones of note in its ground. What surprised us was that, despite its great age and obvious abandonment, some of the old glass windows were still in place.
From the kirkyard, we made our way downhill to the beautiful walled Hercules Gardens. With a large pond in the middle, we made our way around it at a gentle pace, enjoying the magnificent blooms and their pleasant aromas as we went. Katy in particular was taken by the number of ducks in here, especially when we spotted one mother duck taking her 10 ducklings for a stroll beside us.
We returned to Blair Castle, where we were met by our tour guide, Willie, who took us around the castle, answering all of our questions with ease. He explained the history of the building, how it had grown from when it was just a tower built during the time of the Crusades, to the impressive construction we were standing in.
The castle itself is stunning, and we were quite surprised when we saw just how thick the walls were at one point, and were made clear at a point where an addition had been made over the years.
A real highlight was the Victoria section, celebrating not just the visit of the celebrated ITV series to Blair Castle, but also the real-life Queen Victoria, and her connections to Perthshire. We were fascinated to learn that Prince Albert was, shall we say, very poor at field sports?
Our tour over, we were free for the rest of the day, and carried on walking around the castle grounds, and returned to our lodge.
On Sunday morning, we were up bright and early, to check out – done with a very heavy heart – and to head for our first activity of the day.
Katy and I were rather excited to try the Segway experience, run by with Segway Ecosse. It was located beside the caravan park office, which is a lovely building, with plenty of activities inside to keep the children amused, as well as a good shop.
We were both slightly apprehensive stepping onto our Segways, but within a minute Katy and I were both at ease, making our way around the training area at pace. I even found a slight incline, that led the Segway to bounce a little as I went over it.
Our group was then led on a trip around the castle grounds, making our way along pathways and proper roads, and we loved every second of it. Our instructor was always amusing and kept the group entertained, especially the younger ones.
Our Segway session ended with a speed race, and it was great fun pressing the machine all the way to its top speed… of 12mph.
The visit concluded with a mountain biking session. I hadn't climbed on a bike in 27 years, so it was a bit of a nervous start for me, but, as they say, it's a habit you never forget. Katy, who always enjoyed cycling, led the way to start with, as we made our way along the country paths, to go up towards the castle, and around some of the grounds. It was a pleasing, relaxing way to conclude what was an excellent stay. I can't recommend it highly enough.
I reckon we'll be back.
A short break is typically from Friday evening to Monday morning and prices start from £280 for a one bedroom lodge
To find out more on the pricing and to book click HERE. 
To find out about the activities, click HERE.