A break in the sun is ideal before the summer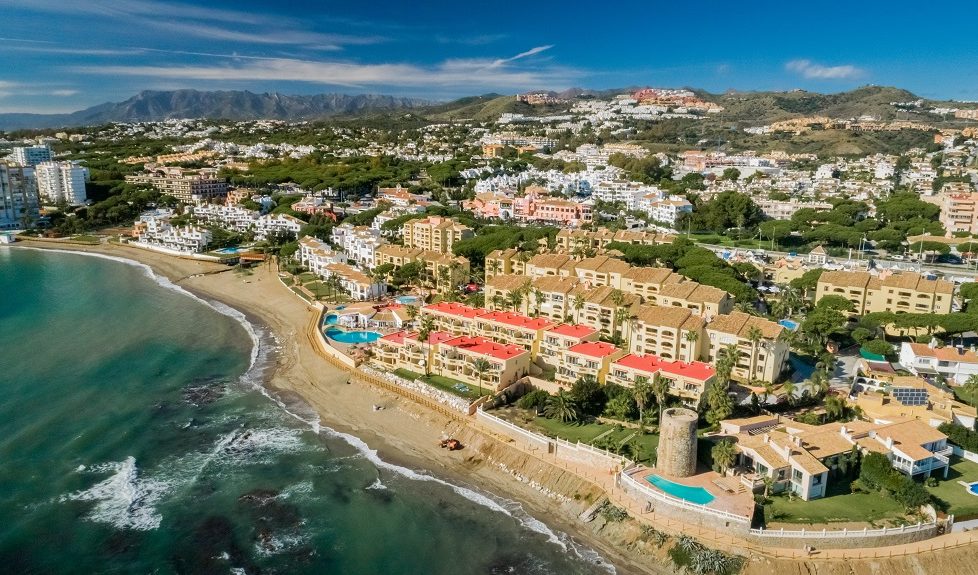 It's been a long winter and despite the distinct lack of snow and thankfully no repeat of the horror that was last year's Beast from the East, we've still had our fair share of grey and dreich days to contend with.
Longing for a vitamin D top up, a short break to the Costa del Sol, Spain's sunniest area seemed the perfect solution.
Macdonald Dona Lola Resort is situated right on the seafront in Calahonda, a small town half way between Fuengirola and Marbella and only a 30 minute drive from Malaga Airport. The first thing that struck me about the resort is the beautiful gardens, borders containing sub-tropical flowers and palm trees wind colourfully along the pathways that lead through the apartment buildings. There are yet more flowers surrounding ponds and miniature waterfalls, which provide homes for fish of varying shapes and sizes and (much to the delight of my daughter) terrapins.
Despite arriving late in the evening we were checked in efficiently and helped to our apartment with our luggage. Dona Lola is the largest of four Spanish resorts owned by Macdonald Hotels and offers a range of apartment sizes.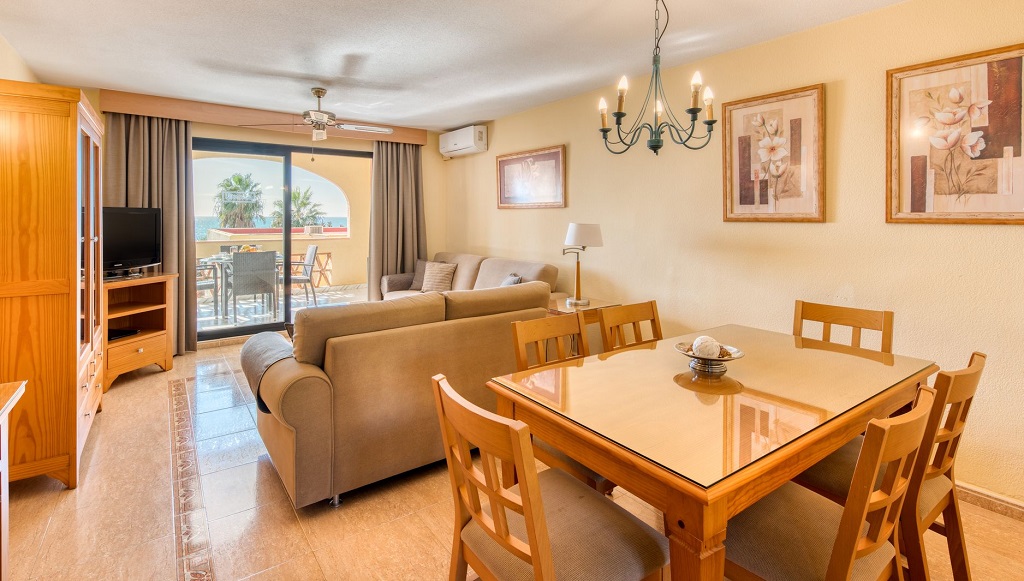 Ours had one bedroom and a generously sized, living/kitchen/dining area, leading out onto a balcony with ample space for two sun loungers, a table and four chairs. Perfect for dining al fresco. With views out along the Mediterranean coast and all the way to North Africa this was the perfect spot to enjoy a glass of Rioja.
The bathroom was spacious with ample towels provided, there were also robes and slippers to use during our stay and toiletries which are extremely handy for anyone travelling light. I was particularly impressed that as well as towels for use in the apartment we were provided with towels to use at the pools or in the leisure club too.
The kitchen was really well equipped meaning that we could prepare meals to enjoy out on the balcony and the dishwasher was a very welcome addition. Who wants to wash dishes when they're on holiday after all? The apartment had air conditioning, but stayed lovely and cool throughout the day meaning we didn't need to use it. It was spotlessly clean throughout, in fact the entire resort was spick and span, even around the areas by the pool and close to the beach.
For anyone who has stayed in a Macdonald hotel in Scotland you will know that they do really great leisure facilities. And Dona Lola is no exception. There are three outdoor pools, one heated that is for grown-ups only, one big pool and one little pool with a sloping floor which is perfect for wee ones.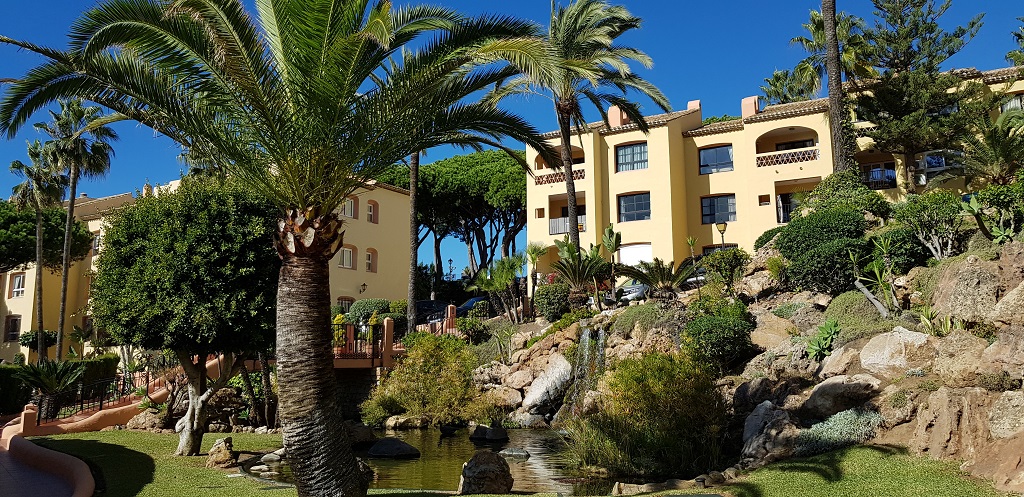 If you're not brave enough to venture into the cold water outside then there are indoor leisure facilities in the form of a pool, spa pool, sauna, Turkish bath and fully equipped gym. You can even pamper yourself with a beauty treatment at the on-site salon, Cardenas Masajes & Estetica. There are also tennis courts and a programme of classes to keep you active. And it's worth noting that if you are a golfer there are at least ten world class golf courses all within a ten minute drive.
There are a couple of mini markets and a handful of restaurants right beside Dona Lola and several supermarkets within a few minutes' drive, so supplies are always close at hand. We enjoyed several lazy lunches on the balcony, nibbling tortilla, jambon and olives with freshly baked bread and a chilled glass of cava.
We also treated ourselves to dinner at La Plaza Beach Restaurant which is right by the pool. Here the staff couldn't have been friendlier and there's a dizzying choice of food on the menu as well as very reasonably priced drinks – it wouldn't be a holiday if you didn't partake in at least one pina colada, right? We enjoyed a huge cheesy, garlic bread and some bruschetta with delicious tomatoes to start and then my amigo went for a pizza.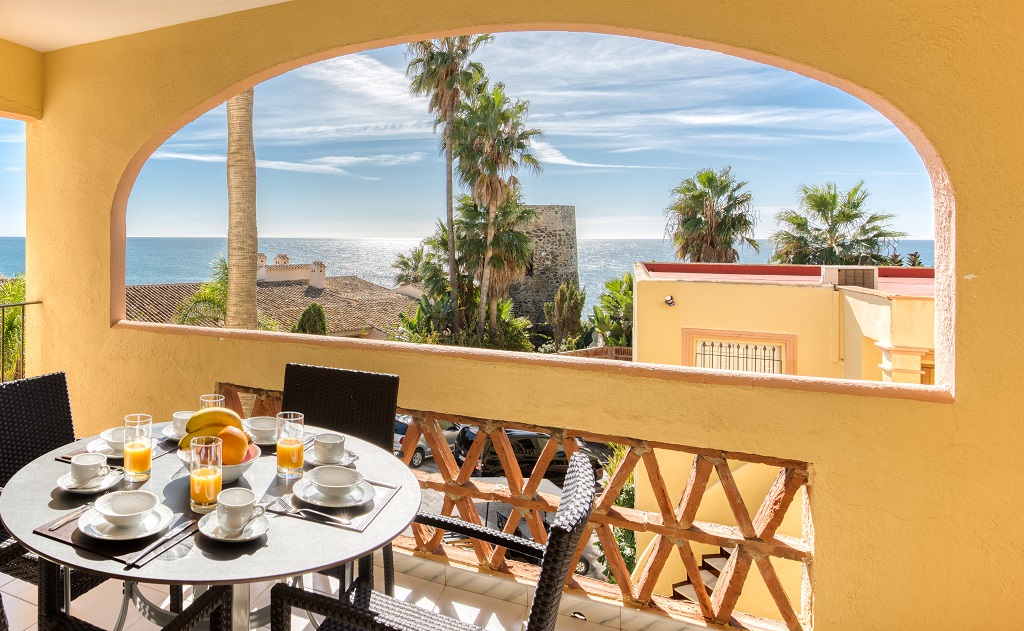 I was hankering after something more traditionally Spanish but in order to enjoy the paella you had to order it for two people, so I compromised with the seafood risotto, and I'm very glad that I did. This was a huge portion of rice in a rich tomato sauce, jam-packed with prawns, mussels and squid. I'd recommend ordering the lemon sorbet for afters, even if you're full. It is served like a slushy in a cocktail glass and is just the most refreshing way to end a meal.
A stroll was definitely in order following dinner and the resort has direct access onto the Malaga Coastal Path (Senda Litorial de Malaga). This new boardwalk runs parallel to the sea connecting the resorts along the Costa del Sol. It's perfect for a sunset stroll to work off your dinner in the evening but also provides pedestrian and bicycle access to enable visitors to explore the coast and neighbouring towns.
We spent a most enjoyable morning walking along the wooden path to Cala de Mijas to have a browse around the shops and sit on the lovely sandy beach.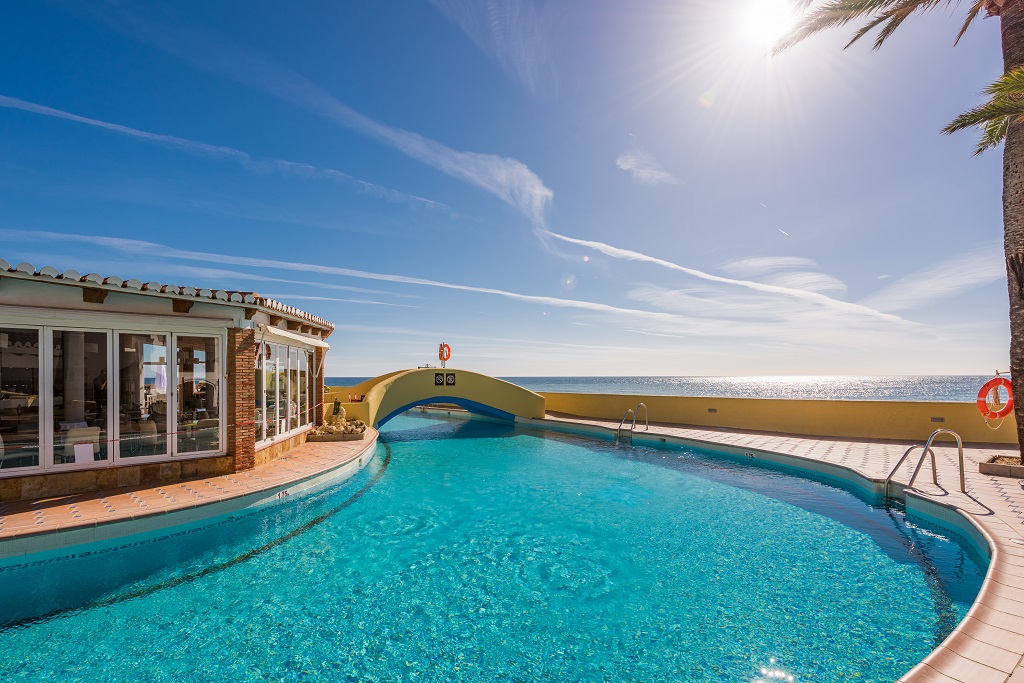 The beaches are incredibly well maintained and tidy and there are handy little showers to wash the sand off your feet at regular intervals which were very much appreciated.
Dona Lola is well-placed to make the most of the tourist attractions in the region and a trip to the nearby waterpark at Cala de Mijas or Tivoli World (30 minutes drive) with fairground rides and attractions is sure to go down well with the youngsters. If you prefer the finer things in life, then Marbella is just a short drive away, with its fine dining, shops, buzzing night life and marina packed with yachts its worth a visit to soak up the atmosphere even if it is a little over your budget.