There's far more to Denmark than Vikings, bacon, pastries and Lego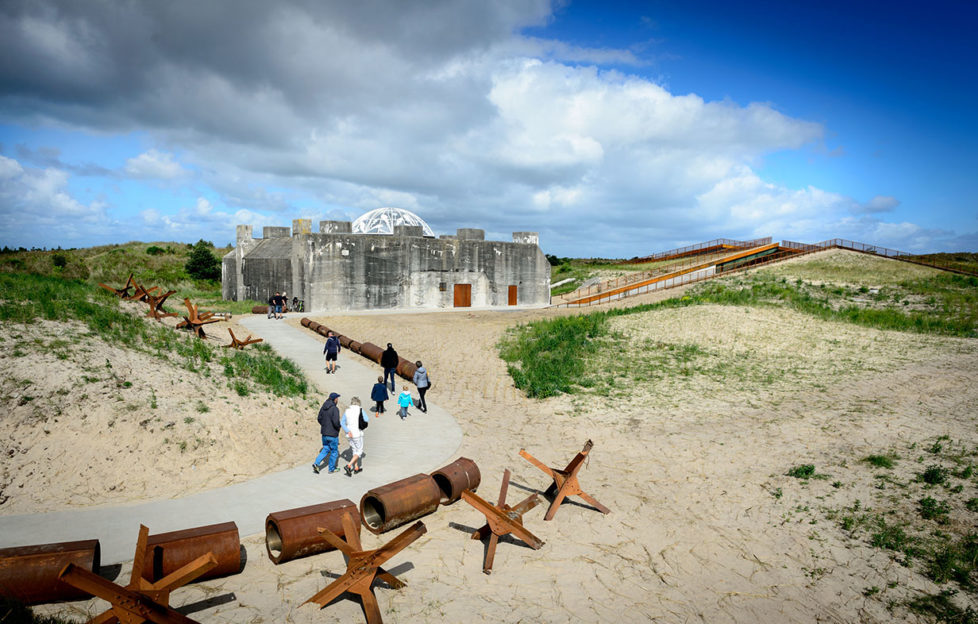 There's more than one gem to be found on Denmark's west coast as I found out on a recent trip to western Jutland.
What do you think of when you imagine Denmark? Vikings, bacon, pastries, possibly? Lego, Hans Christian Andersen and Noma, probably. And you'd be right, but there's more, much more.
Flying direct to Esbjerg airport from Aberdeen with BMI is a mere hop across the North Sea at just over an hour. You are greeted in this seaport city by Man Meets the Sea, a striking sculpture created by artist Sven Wiig Hansen. From Esbjerg airport it is a short drive to the ferry that will transport us to Fano. This small island is a popular destination for tourists, who mainly come from other areas of Denmark and from Germany, many of whom have thatched-roofed summer houses on Fano.
We enjoy a sunny alfresco lunch at Sonderho Kro, the oldest inn in Denmark. For those of you who thought of Noma and scandi-style cuisine when I first mentioned Denmark it will probably be of interest to know that much of the produce used in that restaurant and many others across the country comes from this rich, agricultural area.
We sample herring, chicken, eggs and had our first taste of some of the incredible local and seasonal ingredients that are foraged right on the doorstep of this inn. Many of these ingredients are incorporated into the delicious schnapps which each restauranteur makes and seems to accompany every meal, we tried rosehip, lemon balm, walnut, mint and a vast array of flavours during our stay.
A wee stroll around the island post-lunch gave us time to appreciate the quaint buildings and discover the small, but perfectly formed art museum that provides a glimpse into how much life here is inspired by its seafaring heritage. Look out for the Staffordshire Dogs that sit in the windows of many houses here.
In the days when the men of the island were very often away at sea, their wives – in the knowledge that their husbands would most likely be enjoying a woman in every port – used the dogs to advertise the fact that they were alone and might like some company. If the dogs were facing into the house it meant that their husbands were home, but if they faced out then it was safe for suitors to go knocking.
As well as its impressive architecture and food, Fano, like much of this part of Denmark, has sand by the bucket and spade load. The beaches are so immense that you need to drive over the sand to traverse them.
They provide the perfect environment for beach sports and this is where I had my first taste of blokarting, for the equally uninitiated, think wind-surfing on the beach. This fun sport is remarkably easy to master and before long we were all scooting over the vast expanse of sand.
It was also here that we caught our first glimpse of collectors out hunting for one of Denmark's other gems. Danish gold, or amber, can be found along the shoreline, especially in winter or following a storm. This 30-50million year old tree resin is the world's oldest precious stone, admired by the Vikings and Romans and still used by artisans to create beautiful jewellery today.
Thirsty work indeed and followed up by a beer tasting with Claus Winther at Fano Bryghus. Here they brew a dizzying range of craft beers. And if you need convincing of their brewing credentials then know that their beers have graced the drinks menu of the aforementioned Noma. My personal favourite tipple was flavoured with heather and honey, and I promise I wasn't feeling homesick.
Wild heather grows freely on moorland in this part of western Denmark, in fact if it wasn't for the lack of hills there are places where you could be forgiven for thinking that you were in Scotland. Especially when you spot a herd of red deer grazing amongst the heather, an eagle soaring overhead and a field full of Highland cattle or belted Galloways, both of which are popular beef cattle here.
Our first night in Denmark was spent at Kellers Badenhotel on Fano, this small restaurant with rooms is a popular place to eat for locals and tourists. Our stay happily coincided with a wine-makers dinner consisting of a seven-course tasting menu designed by owner Lars Bonde Sejerup, Claus Skov (more on him later) to pair with champagnes from Henri Geraud. The evening was full of yet more gastronomic Danish delights and the French fizz certainly made the evening go with a pop.
Day two dawned equally sunny and began with a visit to the Wadden Sea Centre. I was blown away by the award-winning architecture of this homage to the nature of this world heritage site. The mudflats span 500km along the coast of Denmark, Germany and the Netherlands and are home to a vast array of wildlife.
Inside, the sea centre is equally impressive in design terms and information. The exhibits are interactive, providing the perfect environment for children and their grown-ups. Guides are on hand to take groups out into nature, but our tour of the exhibits with Klaus Melbye was both informative and inspiring. Klaus, like many of the Danes who we met on this short trip to Denmark, is so passionate about what the Wadden Sea has to offer that you can't help but feel enthused and uplifted.
Heading just a little inland we took lunch at Vester Vedsted vineyard. This is one of only four vineyards in Denmark and is a small family business. The grape varieties grown here are specifically designed to withstand the cold climate of Denmark and despite not normally plumping for a rose, I would certainly recommend giving it a whirl.
The lunch platters of cured meats, cheeses and yet more foraged fayre went down a treat and the home baking was to die for. Make sure to leave time to browse the range of antiques and local produce that surrounds you as you eat.
Next stop was Ribe, the oldest town in Denmark. The cathedral here was built in the middle of the 13th century, but has been added to over the years. Here, traditional architecture and sepulchral monuments sit side-by-side with artwork by contemporary Danish artist Carl Henning Pederson, who created colourful mosaics and stained glass as well as an interesting mural on the roof of the chancel in the 1980s.
A guided walk around the town reveals Denmark's oldest house, harbour and pub. In the modern centre of the town we uncover a tasty treat in the form of Temper Chokolade, a chocolate and coffee shop run by Canadian Tim Ibbitson and Dane Maria Juhl Andersen.
The couple create the most beautiful sweet treats from the finest Valrhona chocolate combined with local delicacies like plums from Maria's grandmother's garden and strawberries that they grow in their own garden, all of which look almost too good to eat. Try the flødeboller, a Danish speciality consisting of Italian meringue coated in chocolate.
Think a high-class Tunnocks teacake and you're not a million miles away.
Ribes Vikings is the place to go to discover how these Danish warriors lived. As well as a vast array of artefacts there's a room where children and their grown ups can dress up, fight and generally live like a Viking until their heart's content.
Dinner and a night at the Hjerting Badehotel, a New England style retreat right on the beach followed. Here we sampled more seafood in the shape of mussels and some of the local beef which really impressed as we watched a glorious sunset. A stroll along the boardwalk style promenade reveals more modern Danish architecture with the beachfront properties that look out across the North Sea and the giant hammocks that are suspended from large vertical tree posts. The perfect place to chill out on the beach, but the design also effectively breaks up the flat views of the land, wooden boardwalk and horizon.
The last full day of our Danish adventure began with a visit to Tirpitz in Blavand, a unique museum built into a sand dune beside a German bunker which was part of Hitler's sea defences during the German occupation of Denmark in the Second World War. The building is barely distinguishable from the series of sand dunes that pepper this coastline until you are standing on its roof. The design is striking, but at the same time in-keeping with the landscape, created entirely from concrete, metal, wood and glass.
The museum houses a collection of amber, including a huge model of the Sydney Opera House; an impressive interactive homage to life on this coast throughout the centuries and the story of the war through the eyes of both Germans and Danes. It is connected to the bunker by an underground tunnel which leads into the belly of the concrete beast, providing an atmospheric environment in which to imagine the ammunition being loaded into the overhead cannon as it scanned the horizon for an invasion from the sea or air. The clever use of lighting, storytelling and the ever present Danish design flair make this a must-visit attraction.
A speedy lunch at Ho Kro, a traditional inn just a few minutes drive from Tirpitz, where I particularly enjoyed the smoked salmon, was followed by a hefty but worthwhile climb up Blavand Lighthouse and a stunning bird's eye view of the coastline. A quick visit to Hr Skov Deli allowed us to sample Claus Skov's beers and some amazing liquorice. I am a convert as I didn't think I liked liquorice. Another thing the Danes do very well. Claus is a great ambassador for the produce of this area and his deli is packed full of local delicacies.
The drive through the Danish North Sea Nature Park on route to Henne Molle a Badehotel allowed us to get up close to nature again. The park is home to red and roe deer, eagles, otters, kingfishers and yet more incredible, deserted beaches. We ended another glorious day running through the sand for a swift dip in the North Sea before dinner. Feeling invigorated we devoured our dinner of shrimps, veal and panna cotta which was rounded off by meeting the Mayor of Varde while watching the sunset in the sand dunes.
Our last morning in Esbjerg allowed time for a visit to the Fisheries and Maritime Museum in the town. Here we learned about industries new and old with exhibitions on fishing and oil. There's also an aquarium and seal pool at the museum where you can watch the seals being fed or just enjoy their graceful gliding through the glass pool wall. The museum cafe is a little bit special too, with views out to sea, the fayre at MS Smag is what you might expect from a fine-dining restaurant rather than a museum cafe, although I'm assured there are plenty of child-friendly dishes on the menu too.
Homeward bound I reflected on a whistlestop tour of Esbjerg and its surrounding coastline and countryside. This is the ideal place to travel with children, everywhere we went catered for families and Esbjerg is only an hour's drive from Legoland. For many Scots this makes a trip to Legoland in Denmark a speedier and cheaper alternative to heading south to Legoland in Windsor.
But in my experience it would be a waste to just travel through this beautiful part of Denmark. Living in Scotland I think we sometimes think that we have a monopoly on history, but here there is so much to discover. It is undoubtedly a foodie's playground with dishes that are as achingly beautiful as they are delicious. The ethos of foraged, fresh and local cuisine is one that has existed for so much longer in Denmark than in Scotland, where we are only just beginning to truly appreciate what grows on our doorstep.
Flybmi offers one flight per day between Aberdeen and Esbjerg, Monday to Friday. Fares on the route start from £94 one way and include 23kg of hold luggage, allocated seating, complimentary in-flight drinks and snacks and online check-ins or speedy 30 minute check-ins.
www.flybmi.com or call 0330 333 7998. Start your holiday in style with access to The Northern Lights Lounge at Aberdeen Airport, where you can enjoy a well-stocked bar and a great selection of hot and cold food with a local influence while getting the best view of the air traffic coming and going.
Click HERE for more information on visiting West Denmark.