There's unusual places to stay Down on the Farm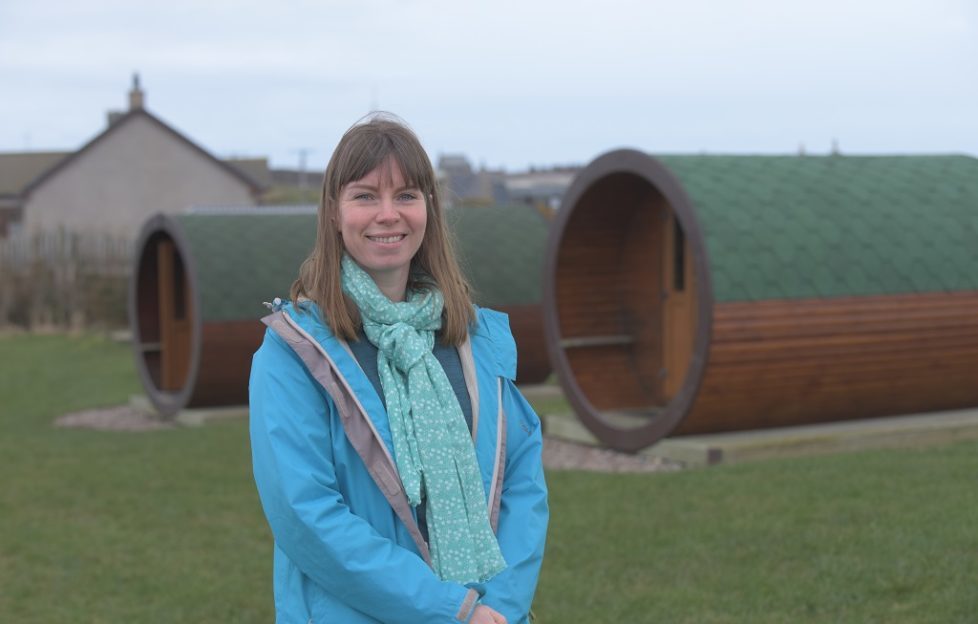 Glamping – donning a pair of muddy wellies, lighting a roaring campfire and cuddling up to enjoy a hot chocolate and an oozing toasted marshmallow is an increasingly popular pastime.
Understandably, switching off those familiar 'pings' of modern technology that compel us to direct our attention to a blue screen holds great appeal to many. It is, however, safe to say that few people have spent the night in a tube-shaped 'Hobbit' hut.
Set along the North East coast of Aberdeenshire, Carole and Matthew Short's Down on the Farm provides countryside enthusiasts with a unique and quirky glamping experience. From High Seas Hobbits to a Coastal Carriage, a Harvest Hut to a coffee house boat, the amenities are far from ordinary.
Having decided to extend their family's farming business and maximise their 200-acre plot of land, the Fraserburgh couple invested in their first 'Hobbit' in 2012. Inspired by George Clarke's Amazing Spaces television series, the Smartie tube-shaped accommodation, suitable for up to four people, was an unexpected success. As demand for holidays on the farm grew, the Shorts expanded the business further, acquiring a second 'Hobbit.'
This was closely followed by an old railway carriage and a Harvest Hut, which were both converted into three-bed spaces.
Carole said: 'Every time we thought, "Right that's it – we're done," and then other opportunities just kept coming our way. We then got a reputation in the local area for doing things up and for being a bit quirky, saving dilapidated stuff that was ready for the bonfire. So we ended up getting the boat.'
Although its sailing days are well and truly over, Carole and Matthew set about transforming an old boat into a cosy coffee shop. Serving up homemade scones, teas and coffees to both staying guests and passers-by, it is open on weekdays from 10am until 3pm.
Since opening their holiday lets, the Shorts have been awarded a bronze Green-Tourism award for being environmentally friendly, but Carole explains that it's just the way they live: 'We're really quite thrifty people and we try to "make-do and mend" – we get more satisfaction out of turning something old into something useful again than we would going to a shop and buying something new.'
Having scored highly on innovation, they are now working towards their silver award.
'The hut and the carriage have got compost toilets, and there's a bush shower in the carriage. The Hobbits have electricity though, and they've got a flushing toilet and a proper shower. The toilet for the Hobbits is in an old whisky barrel.'
Aware that many people visit the site as a means of escaping the pressures of modern city life, the Shorts are keen to develop the site's farm-experience.
Allowing people to immerse themselves in the rural environment, Carole explained: 'We do our best to introduce people to our animals and let them get up close and pet them. At lambing time, we get a lot of people coming and feeding the lambs, getting cuddles.'
Despite time being tight on the working farm, Carole believes that Scotland needs to further develop agri-tourism, and is keen to provide people with educational experiences when she can: 'At the minute, it's very informal. But we had some Americans here at the beginning of March and they asked, "Have you got any hairy cows?" So we took them up to see our Highland cow, Eilidh – who we got in November – and her wee baby, Fraser, who's about one and a half years old.'
With over 300 cows, 100 sheep, four accommodation lots, as well as two young children to look after, Carole and Matthew are spinning a remarkable number of plates. As such, they are looking into ways of utilising the rural experience more, but in a time-effective, self-directed way.
For the aspiring stargazers on site, the Shorts hire out 'dark-sky boxes' – cosy blankets, hot water bottles and hot chocolate are provided, along with astrology guides to steer guests through the stars. With no light pollution spoiling the night sky, the campfire sets have sparked visitors' imaginations.
'In an age where everybody's constantly checking their phone and taking iPads with them on holiday – people come here because we don't offer that. People often look for holidays where they're forced to read books, enjoy each other's company, play boards games, and look at the view', Carole says.
Highlighting the many beauty spots of Aberdeenshire, she explains that their guests often spend time exploring the coast: 'There are little fishing villages that they like to go to – they're like stepping back in time.'
With beaches, caves, and a lighthouse museum nearby, there are plenty north east curiosities to discover.
As the saying goes, good things often come in small packages, and in Carole and Matthew's case this could not be truer.
With no current plans to add any more accommodation sites, Carole added: 'We're not corporate, we're not fancy. We're not big and we're proud of that. I think people appreciate coming here and having their own little place. We've spread our accommodation out across the farm so that each place has its own space.'
Matthew and Carole are heavily involved in the Discover Fraserburgh group, and also work in partnership with VisitAberdeenshire, helping promote the North East 250 trail and local businesses. Proud to support nearby producers, Down on the Farm guests can buy a hamper of local goods, ranging from Brewdog beer and Summerhouse Drinks' lemonade to traditional Dean's shortbread, all of which were made within an hour from the farm.
Looking to the future, the couple explain: 'There's a lot of competition in glamping now. We just want to keep making sure people come back.'
As they continue to enjoy meeting people from all walks of life, Carole and Matthew's business is sure to remain a rural holiday favourite.