The train taking to the streets of Stirling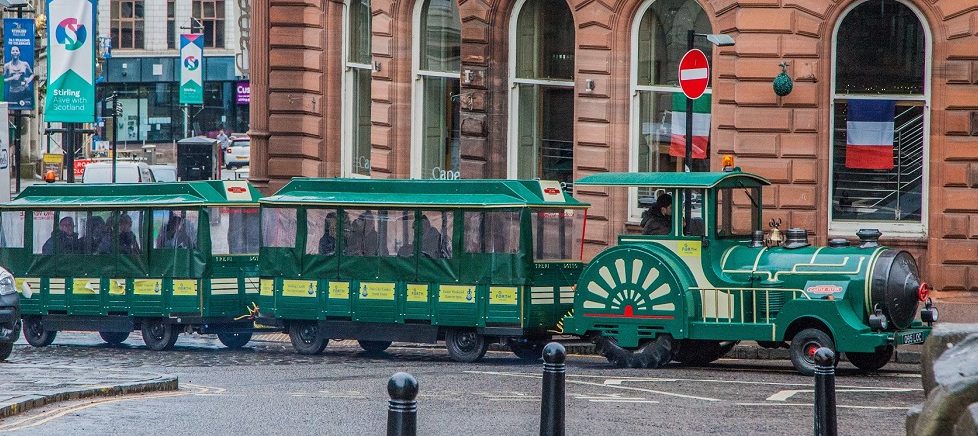 The Stirling Landtrain has returned to the city's streets for the Easter holidays.
The train is running daily until Friday April 12 and over the Easter weekend taking visitors from the city centre via the Top of The Town to Stirling Castle and back.
Meanwhile a host of improvements, including a new commentary system, are planned for the popular tourist attraction run by the city's Business Improvement District, Go Forth Stirling.
Go Forth Stirling Chairman Andrew Mitchell said: 'The board has been looking at ways to improve the service provided by the Landtrain which is popular with families and tourists.
'In the coming months we aim to introduce a GPS commentary system to tell users all about the businesses and landmarks along the route.'
There are also plans to give users a printed leaflet with an illustrated map and key which lists all businesses in the BID area as well as local attractions and to make the route slightly longer.
Andrew added: 'We have listened to feedback from traders and come up with a range of enhancements which we hope will lead to more people visiting the shops, restaurants and cafes on the Landtrain route.
'The board will seek more feedback from users and businesses once these changes are underway.'
The Landtrain picks up passengers near Our Place Café in Murray Place then runs up to Stirling Castle via King Street, Spittal Street, St John Street, Castle Wynd and the Castle Esplanade.
On the return journey it runs via Broad Street, St Mary's Wynd, Queen Street and Barnton Street.
There are Landtrain stops en route to the Castle at St John Street, near the Old Town Jail, and on the return journey at Broad Street using the bus stances.
Customers are charged £1 each way for the train – free for children under 5 – and it is running approximately every half hour from 10am until 5pm.
Meanwhile, future plans include the launch of a competition to come up with a new name for the Landtrain.
Part of the five-year Go Forth Stirling Business Plan, the Landtrain was introduced last Easter with the aim of operating through the main tourism months and providing a key link between traders and the Castle.
A dedicated Facebook page has been set up for the Landtrain with information about running times. For more details, visit www.facebook.com/GoForthStirlingLandTrain