Skye's tourism industry continues to flourish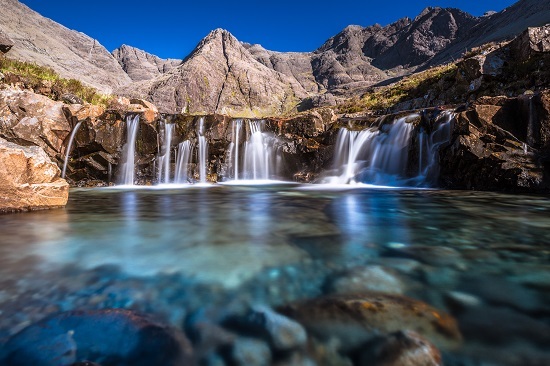 An increasing number of requests from film and TV production teams to shoot on the Isle of Skye is boosting the island's revenues.
The increasing challenges of Skye' tourism industry were discussed today at Highland Council's Isle of Skye and Raasay Committee during a report to councillors by the council's principal tourism officer, Colin Simpson.
Mr Simpson outlined the council's role in tourism; presented figures on the level of Skye tourism and updated members on the council's initial and proposed bids to the Scottish Government's Rural Infrastructure Fund.
He explained that the council's tourism remit involves the provision of advice, business development planning and management and countryside access in the development and infrastructure service.
Mr Simpson said: 'As we all know, tourism has been doing well and the estimated 2017 figures for Skye are 660k visitors, spending 1.6m overnight stays with an economic impact of £145m.
'This is reflected by the increase in tourism Highland-wide with Highland visitor attraction numbers up 10.5% to the end of June 2018.
'We are seeing great opportunities for tourism on Skye with good and improving access to the area; new developments include the growth of the cruise industry, increasing requests from film and TV shoots to locate in the area; and the development of the events industry.
'Visitor behaviour is changing in the area and creating "honeypots"; the unknown of Brexit and the ever increasing need of providing funding and match funding for tourism development all adds up to a challenging tourism environment that needs more investment if it is to thrive.'
Mr Simpson updated members on the progress of local applications for the Scottish Government's Rural Tourism Infrastructure Fund, including a £300,000 award to the Fairy Pools project to develop visitor facilities, including toilets, at the Glenbrittle pools and waterfalls; and £100,000 award for road access improvements and parking at Neist Point lighthouse, which are two of the first three pilot projects awarded.
Highland Council has received three applications in the first round for: Storr Toilets and Motorhome Facilities; Portree Car parking and Motorhome Facilities; and Blabheinn Parking and Toilets. In the next funding round the council anticipates receiving further applications for the Sleat, and Fairy Glen areas and perhaps for more motorhome facilities.
Councillor John Finlayson standing in as chair in the absence of Councillor John Gordon, thanked Mr Simpson and his team for their hard work over the current tourism season.
He said: 'It is without doubt that the tourism challenges experienced here on Skye, while mirrored in some ways in other parts of the Highlands are unique on Skye due to their individual locations.
'There are many infrastructure challenges on Skye which affect tourists and also locals alike and while development and infrastructure and community services are doing their best to support the issues presented here and we welcome their continued support, we still need to work together to identify funds to support the unique issues we face and also attain more successful Rural Infrastructure Funded projects in partnership with local communities.'