Scottish hotel is fun for all the family after TripAdvisor awards win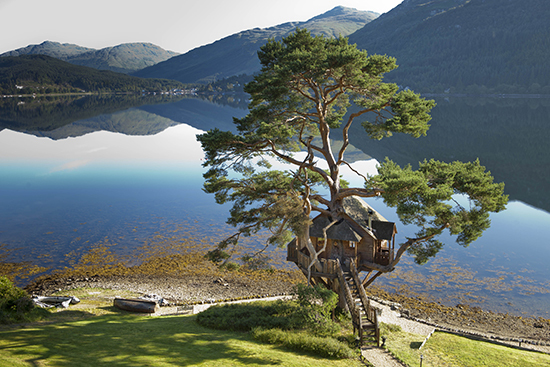 A Scottish hotel has been recognised as a winner in the Hotels for Families category of the 2018 TripAdvisor Travellers' Choice awards for Hotels.
The Lodge on Loch Goil came out on top in the category, with the Travellers' Choice award winners based on the millions of reviews and opinions collected in a single year from TripAdvisor travellers worldwide.
In the 16th year of the awards, TripAdvisor has highlighted the world's top 8095 properties in 94 countries and eight regions worldwide.
This year, the awards celebrate hotel winners in 10 categories, including Top Hotels Overall, Luxury, Bargain, Small, Best Service, B&Bs and Inns, Romance, Family, All-Inclusive and Value for Money. The hallmarks of Travellers' Choice hotels winners are remarkable service, value and quality.
Iain Hopkins, managing director of The Lodge on Loch Goil, said: 'Winning the Travellers' Choice Award is a huge honour for us.
'We put a lot of emphasis on our customer care, ensuring every guest has a truly memorable stay with us, so it's a real achievement for the whole team here and a reward for their hard work.'
Brooke Ferencsik, senior director of communications for TripAdvisor, said: 'This year's Travellers' Choice awards for Hotels recognise thousands of exceptional accommodations that received the highest marks for overall experience, including service, amenities and value, from travellers worldwide'
'The global TripAdvisor community informed this list of winners that will inspire and help travellers find the hotel that's right for them as they plan and book their next amazing trip.'
From 152 reviews, 97% rated The Lodge on Loch Goil as 'Excellent'.
Visitor Eilidh Fraser said: 'Want to feel like you are royalty in your own beautiful country home … this is the place.. Alice and the team made us feel like we were a- listers from start to finish and went above and beyond to give us the perfect wedding and stay… I have never felt so happy and no one had ever made me feel like these guys have. The lodge – unreal, views – breathtaking and the treehouse … well it's a treehouse that adults can go into! Magic was born here.'
Rebecca McCann from Edinburgh added: 'Our wedding was held in the magical treehouse. It was simply wonderful and I still feel like I'm floating on a cloud. Alice and her team were so friendly, welcoming and attentive to all of our needs – I can't thank them enough. The decor in all of the rooms is beautiful and all of the food throughout our stay was excellent. There is enough space in the Lodge for guests to socialise or to find a quiet corner to themselves for a bit of peace. The grounds are tidy and well tended and it was lovely to walk around. We had an absolutely amazing time and we would stay again in the blink of an eye.'
READ MORE NEWS FROM SCOTTISH FIELD BY CLICKING HERE.